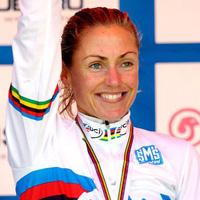 Photo ©: Rob Jones
On top of the world: The Gunn-Rita Dahle FlesjŚ diary 2007
Norwegian cross-country mountain bike racer Gunn-Rita Dahle FlesjŚ is probably the best female rider this relatively young branch of the sport has ever seen. World champion in 2002, 2004, 2005, and last year as well, plus Olympic champion in 2004, and rarely beaten in her reign as World Cup champion from 2003 - 2006, she has a breathtaking palmares.
Dahle says her success is due to an unrelenting focus - she describes herself as a '24-hour athlete' - and the constant support of her husband and coach Kenneth FlesjŚ. Follow her exploits on Cyclingnews as she continues her bid to stay number one in 2007. Or, for more Gunn-Rita, see her personal website: www.gunnrita.com
January 30, 2007
Hot sun and snakes on the road
Here in Africa we use sun-screen with SPF of 40 every time we go outside, and Lene runs over at least one snake a day. Even though we've all got ourselves fantastic tans, we've also had more thunder and lightning than we've ever experienced before. It pours down in torrents and the flashes light up the night every night, but in morning we awake to sun and blue skies even so.
We've been down here for three weeks so far, and Lene has been with us this last week. Time flies, so it's a good thing we still have ten days to go before we get on the plane and leave for home. It's becoming a habit of Lene's to run a snake each day when out training on her bike. Luckily they haven't been the largest types of snakes, and so far it's all gone well. We've even said hello to Mister Cobra during our stay. Kenneth had this week's Jan Teigen (a Norwegian pop-singer) jump the other day, so it's necessary to be aware of where one places one's feet when leaving the house.
Apart from this, we met a couple of monkeys while we were out cycling the other day. Apparently they're not that usual in this part of the country and at this altitude, so we were lucky. Most of our cycling takes place on broad dirt-roads where few cars drive and where we have a good view of things that creep and crawl. The main roads here have heavy traffic, so we mostly keep off those and have managed to find many great round trips and climbs, so we manage to do both long distance, interval training, and high intensity training.
Today I've had a day of rest, with swimming and an hour on the rollers. Kenneth and Lene have cycled an hour and run for an hour. Tomorrow we're going to do intervals up a climb, a tough intensity stint on Saturday, and four hours of long distance on Sunday. We've been able to train according to plan and find our days passing very fast down here.
Now we're sitting in the living room, full of good food, after a delicious home made dinner. We work as a team, also when preparing food, and the result is usually very good. We usually have pasta the day before intervals, and today in combination with vegetables and shrimps fried in chilli.
We look forward to every new day of cycling down here. The sun is incredibly hot and we're a little burned, despite the use of sun lotion with a high factor. We're okay with that, after many cold and uncomfortable winter months at home in Norway. You'll hear from us again when we come home, a good week from now, and I expect the bottles of sun tan lotion will stand unused for a while again.
You can do a lot of good exercise in-doors too, when the weather is atrocious. The most important thing is to have a good plan for what you intend to exercise through the coming weeks. Have an active and healthy week of work.
Cyclist's greetings
Gunn-Rita, Lene and Kenneth.
Multivan Merida Biking Team
www.gunnrita.com