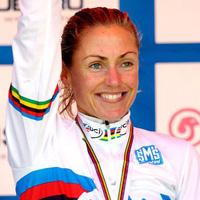 Photo ©: Rob Jones
On top of the world: The Gunn-Rita Dahle Flesjå diary 2007
Norwegian cross-country mountain bike racer Gunn-Rita Dahle Flesjå is probably the best female rider this relatively young branch of the sport has ever seen. World champion in 2002, 2004, 2005, and last year as well, plus Olympic champion in 2004, and rarely beaten in her reign as World Cup champion from 2003 - 2006, she has a breathtaking palmares.
Dahle says her success is due to an unrelenting focus - she describes herself as a '24-hour athlete' - and the constant support of her husband and coach Kenneth Flesjå. Follow her exploits on Cyclingnews as she continues her bid to stay number one in 2007. Or, for more Gunn-Rita, see her personal website: www.gunnrita.com
January 10, 2007
Happy New Year from Africa
Exercising together with monkeys and lions isn't exactly what we're used to. We're only four days into the New Year and we're enjoying some quiet days of exercise in the high South African mountains, where the sunshine has already worked wonders on our white winter skin.
A happy new year to all of you! We started the new year on the complete other side of the world, without any parties or fireworks. We actually fell asleep before midnight on New Year's Eve without hearing a single explosion. I actually don't feel we missed out on anything at all. We're just very happy to finally be on the move with serious training again, and being able to do our job 100%.
First a short summary of our Christmas season: the final week before Christmas was, as always, very stressful. We did get a little time to ourselves too. We both got to spruce up our hair styles at a hair dresser at Bryne, and I allowed myself a thorough treatment at Eliksir. I also had a zone therapy with Aud - I just couldn't do without it.
Christmas Eve was celebrated at the cabin at Forsand together with my mother and father, and Kenneth's parents, plus his youngest siblings, Line-Therese, Henriette and Nicolas. It was an unforgettable evening with lots of good food, great presents, and lots of fun and laughter. We closed the evening with a game of charades that really took off! I think our collective competitive natures got the better of us, as everyone gave everything they had in order to win the game, it was so much fun. An important little detail in this context was that I was on the winning team.
I received many great presents for Christmas. Loads of wonderful equipment that will be placed in our new house from KleppHus, longed-for boots, a few exciting books, an iPod, a recording machine, and of course pants and socks. I think I even received more than I gave this Christmas. The only mildly irritating thing about Christmas is that it over so quickly.
On Christmas Day we celebrated together with my mother and father at Bjørheimsbygd, and it was great. My sister, May-Peggy and her partner, Espen, celebrated the holiday together with us. We were served turkey and the very best of vegetables. I was lucky and had lovely salmon - it tasted wonderful.
Boxing Day, the second day of Christmas, was spent the day with our four-legged children, Isak and Petruss, at Tjensvoll. The day passed with some exercise, massage and relaxation, plus a whole lot of packing. It takes its time to pack enough for four weeks, and one sort-of gets a bit out of synch when two months have passed since our last travel for training. The restlessness was very obvious before leaving, so it felt good to be on the move again.
Now we're situated in a small village by the name of Dullstroom, a good 2000 meters above sea level, two and a half hours drive from Johannesburg. We were fetched at the airport by our Merida dealer here in South Africa, Derek, along with his family. The first two days we lived with them at a camp site, three to four hours from here, and we got to experience some real thrills. Amongst other things, we went on a safari the first evening and got to see giraffes, lions, buffalo, rhinoceros and hippopotamus. The following morning we were woken up by a baboon which had managed to sneak into the kitchen and had eaten all our bananas and taken the cake tin out onto the veranda.
It was a very special experience to have baboons running around like that, plus huge ostriches strolling elegantly past the veranda while we sat there wondering what sorts of other animals of Africa that might decide to pop in on this fine December day, right at the end of 2006.
Early the next morning, New Year's Eve, we drove up here to Dullstroom, which is a small village where runners and athletes, especially from Scandinavia, come to visit every year. There is only one main street with a variety of shops, plus many exciting restaurants. The authorities in the village have obviously focused on keeping the place small and friendly. They've taken good care of culture and old houses, and all new buildings are built in the old style. This area is probably best known for its great trout fishing, and the place is very popular as a holiday resort for people from large surrounding cities.
We had really awful weather on our first day, with masses of rain and no more than 10 degrees above zero. Luckily I've taken warm clothing for any kind of weather, but the last two days we've woken up to cloudless skies and close to 25 degrees above zero.
We've naturally managed to get a bit sunburned. My nose is red and we've been punished for somewhat careless application of sunscreen, with painful arms, legs, hands and ankles. One thinks that one has been careful with applying enough sunscreen, but then at the end of the day, one realizes that there are patches both here and there that didn't get any sunscreen at all.
We've already settled nicely in here at Dullstroom, thanks to good help from our Merida family, which is living also in Dullstroom this week. We're living in a great apartment and have had some utterly fantastic long distance trips on our bikes. Next week we'll be joined by Lene Byberg, plus our Swiss team-mate, Ralph Näf, and a pal of his. They'll be living in the neighbouring house from next week and onwards.
Now I'm going to lie down on the bench and have a massage. This evening we'll be barbecuing on the veranda - maybe a taste of ostrich meat for some of us! Tomorrow we'll be doing high intensity trials with swimming in the afternoon. It's great to think that we have a good four weeks down here, and we'll be using them to their fullest potential, both for exercise and enjoyment.
I wish you all a really great new year. I would like to thank all our friends over the whole world who have helped us through the season. Many of you have made a huge effort for us in the preparations for important races. I naturally hope that we'll see each other again during the season of 2007.
If you haven't managed to get going on your exercise goals for 2007 yet, I would suggest that you first and foremost make yourself a training and activity plan for the next four months - then we can compare notes again after that. Good luck and use your time well.
The most important element for making a day a success is to take care of your health.
New Year's hug from Gunn-Rita and Kenneth
Multivan Merida Biking Team
www.gunnrita.com