Recently on Cyclingnews.com
Torsten Hiekmann interview, September 1, 2006
Sooner rather than later
Torsten Hiekmann won the final stage of the Rothaus Regio-Tour - his first win for Team Gerolsteiner, his first this year, and, as a matter of fact, only his second pro win ever. Cyclingnews' Susan Westemeyer asked him how felt to finally score another win after a three-year drought.
"I can only hope that I don't have to wait another three years for my next win!"
-Torsten Hiekmann after breaking his win drought.
Torsten Hiekmann
Photo ©: Gerolsteiner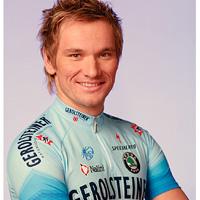 Six years as a pro and only one victory - some riders might throw in the towel. Not Torsten Hiekmann. This season he changed from T-Mobile to Team Gerolsteiner, and three years after his first victory in the GP Schwarzwald in 2003, he won again claiming the final stage in the Rothaus Regio-Tour. How did he feel when he won - relieved, or vindicated, or simply happy? "I was proud and happy that I could finally stand on top of the podium again," he said
"My performance on the whole stage was promising, I was pretty sure early on that it would work out that day. That alone is a great feeling - and when you come over the finish line alone in first place, that gives you an extra kick, especially after such a long dry spell," he says, adding wryly, "Now of course, I can only hope that I don't have to wait another three years for my next win!"
Some riders have a favourite race, or a race they make their own. The Regio-Tour seems to be that race for Hiekmann. The 26-year-old has finished second on G.C. in 2003 and 2005, but he doesn't really know what it is about the race that is so good for him.
Torsten Hiekmann (Gerolsteiner) and Paolo Savoldelli
Photo ©: Mitch Friedman

The external factors are all positive, he notes. "The region there is very nice. There's usually good weather, a challenging but safe course, a big public turnout - there are a lot of such reasons that make the Regio Tour what it is." But what makes is so special for him? "For me personally it is a joy to ride there, but that applies to the other riders, too. so that can't be the reason why I'm so successful there… in other words: I don't have any idea!"
After five years at T-Mobile, he transferred this year to Gerolsteiner, because "I had the feeling that a change of air would do me good." And has it worked out as he hoped? "My decision to change here was absolutely right."
Torsten Hiekmann leading Eric Baumann
Photo ©: Franklin Tello
And there's till one more big thing on his "To Do" list. He has ridden the Giro twice and is currently riding the Vuelta for the second time, but there's something missing in that list of Grand Tour participations, and he would like to add the third one to his palmares next season. "Sure, it's every rider's dream to ride the Tour de France - naturally I want to go there, too. It's one of my big goals.
He's not in that big a hurry, though, "I'm 26 years old, so I still have a bit of time to reach this goal." On the other hand, maybe heis: "though of course I'd like it to be sooner rather than later…."