Saul Raisin interview, August 10, 2006, part 1
Raisin racing to recover
Four months on from a serious accident, things are substantially better for Saul Raisin. On Wednesday, he completed his first training ride on the road since his fall, completing a very significant milestone in his recovery. Cyclingnews' Shane Stokes has been following Raisin's progress as he fights to return to the peloton and is impressed by how things have gone.
"The brain haemorrhage he suffered meant that he hovered precariously between life and death"
- Saul Raisin's crash in April turned out to be far more serious than initially thought.
Proving that his balance is back.
Photo ©: Saul Raisin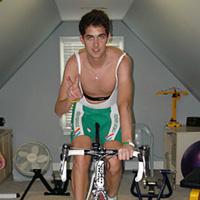 2006 started off in a very encouraging manner for Saul Raisin, with the Tour de l'Avenir KOM champion taking the first mountain stage of the Tour de Langkawi in February. The result confirmed his promise as one of the US' strongest up-and-coming talents, and the plan this spring was to ride the Tour of Italy to build further strength and experience. However Raisin had an extremely serious fall in early April, winding up in a coma and coming perilously close to death.
A familiar story
Someday someone somewhere will do a very interesting thesis along the lines of: American Riders, Masochism and the Pursuit of Sporting Glory. (Alternative title: We want the Maillot Jaune, but we sure ain't yellow). US cycling certainly has its share of hard men. Greg LeMond was shot during a 1987 hunting accident but came back to win two more Tours. Not to be outdone, Lance Armstrong rebounded from advanced cancer to dominate the sport, while a teeth-grinding, eye squinting Tyler Hamilton suffered through the pain of a busted collarbone to take a stage and fourth overall in the 2003 Tour. And last month Floyd Landis won the 2006 race despite having a hip which would qualify him for slippers, early retirement and a disability pension. [The validity of his win will be determined by the outcome of his current case - ed.]
Raisin' Hell to help others
Since his rehabilitation, those wishing to support Saul Raisin and the Shepherd Centre have been able to purchase his Raisin' Hell wristbands. Raisin's hospital costs were fortunately covered by insurance so one hundred percent of the profits will go to the centre, helping to improve the prognosis and care for patients now and in the future.
Many riders in the professional peloton have been wearing the distinctive green and white wristbands, including his Credit Agricole team-mate Thor Hushovd. The Norwegian won the prologue and the final stage of the Tour this year and Raisin said that seeing his wristband being worn at the race meant a huge amount to him.
Those wishing to purchase Raisin' Hell bands can find details about their distribution on www.saulraisin.com.
When young gun Saul Raisin was growing up, a large poster of Armstrong displayed in his room served to inspire the determined Georgia rider. Comeback tales like those of LeMond and Lance were likely to have been part of the mystique of the sport for him, but now they are serving as a more literal motivation. On April fourth of this year, he crashed close to the end of the first stage of the Circuit de la Sarthe, breaking his collarbone and suffering some injuries to his head and face. It was the beginning of a very, very tough time for him.
Saul Raisin
Photo ©: Saul Raisin

Raisin initially seemed to be in a stable state, talking to his Credit Agricole directeur sportif Roger Legeay in the hospital in Angers and appearing - cuts, bruises and a broken collarbone aside - to be largely okay. However, 30-odd hours after he was admitted, a clot caused a cerebral oedema; the brain haemorrhage he suffered meant that he hovered precariously between life and death before finally emerging from his coma after six days.
Scans showed that the trauma had caused some damage to his brain and the fear was that this would have a long-lasting effect. Raisin initially displayed weakness, memory loss and a significant lack of strength on his left side, much like a stroke patient. Three and a half weeks after the crash he was transferred to the Shepherd Centre in Atlanta, Georgia where he began the next stage of his recovery.
Saul in the Shepherd Centre.
Photo ©: Saul Raisin

"I don't remember anything about the crash," stated Raisin, who initially had some memory loss due to the accident. "I can only remember being in the [French] hospital afterwards. Of course, I have no recollections about being in a coma, but I do remember flying home to the US after I woke up."
"I was out for six days in all. I can tell you that this accident has been very hard, it is like nothing I have ever experienced before."
Raisin was assessed by doctors at the Centre, which was set up in 1975 by James Shepherd. His own story is interesting; in 1973, Shepherd was paralysed from the neck down in a freak bodysurfing accident in Rio de Janeiro. After long hours of rehabilitation he managed to regain the ability to walk and then went on to set up the centre, which expanded from that point onwards.
doing the rehabilitation exercises.
Photo ©: Saul Raisin

Thirty one years later, it is now a large private, not-for-profit hospital, devoted to the medical care and rehabilitation of people affected by neuromuscular problems. The causes include spinal cord injury and disease, acquired brain injury and multiple sclerosis; in all large numbers of people have been treated and lives have been substantially improved.
A painful recovery
Raisin's attendance there was an important part of his recovery and he found the staff helpful, knowledgeable and determined. Speaking to Cyclingnews shortly after his admission, he described his symptoms and what the hospital was trying to do in order to limit them. "My whole left side is weaker now, it is like somebody who has had a stroke," he said back in May. "I have trouble lifting my left arm, my arm is weaker, my left leg is a little weaker.
"I have been working hard at that in rehab, doing exercises which should help the brain. It has to start reconnecting the links, helping the signals to fire properly for my arm to function normally again. Those are the things that I have been working on at the hospital and I will continue to work on when I go to the rehab centre, getting myself strong again."
He also had some non-physical effects to deal with. "I have lost some things in my short-term memory, and there are a few other small mental problems," he added. "But other than that I am doing good. I am able to see my problems and hopefully improve upon them."
He had a substantial weakness
Photo ©: Saul Raisin

Driven by the thoughts of returning to the European peloton, and encouraged by the considerable support of his parents, friends and neighbours plus a trans-Atlantic visit by Credit Agricole manager Roger Legeay, Raisin worked hard at his rehabilitation. He did long exercise sessions in the gym and the swimming pool, as well as some work on the indoor trainer. These sessions went well and once he started building up his strength, he was also able to gradually increase the time and intensity on the bike. No open roads just yet, but things were progressing well.
A deluge of support
Ever since his accident, one of the things which has helped a lot was the deluge of encouragement and support he got from his family, friends, neighbours and colleagues. Some of this was documented on the internet by family friend Shane Adams, who provided regular updates in the days and weeks after Raisin's accident. His faith and encouragement was typical and showed the thrust of good will behind the rider.
"This kid is destined for great things," he told Cyclingnews back in April. "His story, his will, his desire to succeed is inspiring. I have no doubts that not only will Saul return to race, but he will come back stronger and more determined to show his true potential. What's more, he will do it in the same approachable, kid-like manner that he has always done it in before this accident."
As was the case with Lance Armstrong and his recovery, Raisin's personal website also got a lot of well-wishes; these too helped spur him on.
An emotional day
Photo ©: Saul Raisin

"It is incredible…. So many people have been following my progress," he said. "The response I have got from this and the amount of people wishing me good luck is incredible. It is almost unbelievable, to tell you the truth. On my personal web site I give updates on what is going on and say how I am doing, and many, many people have been following how things have been progressing."
In addition, while his parents were over in France with him in the initial stages of his recovery, neighbours and other friends came to the family home to tend to the garden and do whatever else they could help. This too made a big impression on Raisin. "The response we have gotten is incredible. It is a really good feeling to know that there are those kinds of people out in the world. All this good will gives me a lot of motivation to come back."
A tough and determined character
Looking back at Raisin's career thus far, there are several things that mark him out as a particularly tough and determined character. In 2003 he had a bad fall during the Trans Alsace race, being knocked out cold. The accident could have been even more serious as he was choking on his tongue, until rescued by Credit Agricole's DS Lionel Marie. He recovered and went on to secure a contract with the professional wing of the team.
Getting a scan.
Photo ©: Saul Raisin

In 2005, he was once again in the ambulance, having been hit by a motorbike during the Four Days of Dunkirk and breaking his collarbone, some ribs and his hip. Doctors expected him to be out of action for six weeks but he bounced back within that timeframe to not only return to training, but to actually compete in the Tour de Suisse. He finished a fine 37th there and then continued his recovery, going on to take ninth place overall in the Deutschland Tour and to scoop the King of the Mountains jersey in the Tour de l'Avenir.
Those examples aside, Raisin is also well known for doing five hour spins on the indoor trainer, further proof - if it were needed - that he is both stubborn and very, very driven. After all, there are many within the sport who will agree that perhaps the strongest test of someone's character is how long they can tolerate such sadistic machines.
Dr Jerry Bilsky of the Shepherd Centre in Atlanta is someone who has witnessed Raisin's determination and progress, and said earlier this summer that he was impressed by what he saw. "He has done remarkably well," he stated in June. "When he first got here he had barely enough strength to sit on the edge of the bed. His voice was a whisper, he was very weak on the left side. He has made great progress since then."
Part 2 of this interview: The legacy of the crash, is here.