An interview with Nicky Hayden, August 16, 2006
Not your average Sunday
The 'Kentucky Kid' cycles towards Moto GP success
The hottest prospect in the Moto GP paddock is the American, Nicky Hayden, and as Gerard Knapp discovered, road cycling plays a very big part in his raceday preparation. The extra fitness gained from road miles on the bike is helping Hayden reap rewards on the race track.
He sits well, and uses the big chainring
Photo ©: Specialized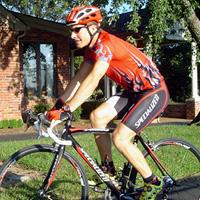 "I try to ride every day for sure. Some days I do intensity, some days endurance, and I download it all from my heart rate monitor"
-Nicky Hayden is a believer that cycling benefits his Moto GP riding
On Sunday, July 23, Floyd Landis was not the only American to stand on the top step of the podium of a major, international two-wheeled racing event. Across the globe and at Laguna Seca Raceway in northern California, the 'Kentucky Kid' as he is known - Nicky Hayden - clinched his second consecutive win in the USA round of the World Moto GP Championship.
While Landis is battling to save his yellow jersey and his reputation in light of the positive drugs test following his Tour de France win, Nicky Hayden has been back home in Owensboro, Kentucky, riding his other bike (a Specialized) on the backroads of Kentucky and fanging moto-cross bikes on his family's ranch.
Unlike cycling's euro-centric ProTour, the Moto GP circuit covers the globe and whenever he gets the chance, Hayden likes to get back to Kentucky and put in some quality miles - on his road bike.
The just-turned 25 Hayden currently leads the world championship and his performance at the demanding Laguna Seca Raceway on a hot summer's day last month has increased his lead over a squadra of Italians snipping at his heels, such as defending champion, Valentino Rossi.
Cycling for Moto GP performance
"I'm sure the fitness played a part," he said of his win in California for the Repsol Honda factory-backed team. "Last year [when he also won at Laguna Seca] was big, but this year was awesome and a really good day for the points." So far this season, Hayden has been the most consistent rider, but by no means the tear-away fastest rider.
At Laguna Seca, the pattern was repeated somewhat, although Hayden did qualify on the front row. "In practice and qualifying, I have got to admit I was struggling, so towards the end of the race [when he overhauled Australian Chris Vermeulen to go into the race lead] I'm sure the fitness played a part. It was hotter than Malaysia [GP round] and a lot of guys struggled out there."
Nicky Hayden's day job
Photo ©: Nicky Hayden

Hayden said the type of fitness required for racing the 330kmh Moto GP bikes is obviously not the same as being a professional cyclist, but now it's almost as important. "It's a lot different and obviously, the Moto GP bike is a lot tougher to ride, and everything is happening so fast… you're reading your pit-boards, looking for the braking markers, and watching all the other guys on the track. Some of the tracks are longer and more open, but there are racetracks where there's just no time to rest on a lap [like Laguna Seca] and that's when fitness really comes into it."
Hayden said the key was being strong at the end of races and the ability to maintain the focus and concentration is certainly helped by being in good physical condition.
Bitten by the cycling bug
Hayden has been 'on the bike', so to speak, for the past three years. He's even lined up a sponsorship deal with Californian company Specialized and now has top-of-the-line road bikes and cycling kit dotted around the globe, ready for action whether he's at home in Kentucky, in Europe traveling the circuit in his motor-home, or hanging out in Orange County in California. He's even had bikes arranged for when he's at Grands Prix in Australia and Malaysia.
Cycling has now become a key part of his training regime and like a pro cyclist, he has a fitness coach, uses a heart rate monitor while riding (he downloads his data to the laptop and emails it to the coach) and varies his work-outs on the bike from longer endurance rides of three hours or more, with shorter interval work.
No prizes for guessing
Photo ©: Specialized

Hayden said if it's possible, "I try to ride every day for sure. Some days I do intensity, some days endurance, and I download it all from my heart rate monitor.
"I do run a bit, and running is a lot more convenient, but it's a bit hard on the joints and the one thing motorcycle racers injure are their ankles, so cycling's so [much] easier on the body."
Hayden explained that he was introduced to road cycling by his fitness coach Aldon Baker, himself a former mountain bike pro rider (Baker also trains leading moto-cross rider Ricky Carmichael and cycling is a big part of his regime). Hayden and his two motorcycle racing brothers, Tommy and Roger, are bitten by the cycling bug.
"When I started I mainly did it for training, but now it's something I really like to do … and you have to like it because there are days when it's not a lot of fun to be on a bike in Kentucky in summer. It can be 100 degrees and humid out there."
While cyclists will argue the physical fitness to be a top motorcycle racer is different to what's required to be a professional cyclist, the gap is closing because the raw power of the Moto GP bikes means lap times continue to tumble, and with it, any chance for recovery.
Also, the physical size of the top Moto GP pilots is not unlike many of the world's top road cyclists. Hayden weighs a lean 69kg (153 pounds) and is "very strong" on the bike, according to Kevin Franks, a marketing exec with Specialized who's ridden with the Moto GP racer.
On July 23, Nicky Hayden won the USA's Laguna Seca round
Photo ©: Nicky Hayden
"He's incredibly fit," Franks told Cyclingnews. "I mean, he's really strong. He can go really hard and he's very lean but also powerful. I'm sure he could be a pro," said Franks.
The other aspect about Hayden that is refreshing, in this age of athletes having multiple minders, with scripted responses and being more aloof than the Pope, is that he is very approachable - a very well-mannered and polite bloke.
So he's talented, good-looking, down-to-earth, a fair sportsman in his discipline - Hayden is an aggressive racer but not "bone-headed", in his own words - and has this funky, down-home Kentucky accent to boot. If he wasn't the real deal, he'd be completely irritating.
Part of a trend
Hayden is not alone among motorcycle racers who've started cycling for fitness and turned out as avowed, leg-shaving hard-core roadies. Australian Troy Bayliss, who currently leads the rival World Superbike Championship, is also known for his road cycling (Bayliss entered local cycling road races when he was based in Italy and finished mid-pack). He loves it that much he once paid $6,000 for a special bicycle, with the proceeds going to victims of the September 11 tragedy.
Among Hayden's contemporaries in the Moto GP paddock, Italian Dani Pedrosa is also a keen cyclist (his younger brother is aiming to be a professional cyclist) as is Marco Melandri. Fellow Italian Max Biaggi once had to miss rounds of the Grand Prix due to an accident riding his mountain bike.
Next year, the rider's weight and fitness could be even more important as motorcycle racing's governing body decided to reduce the engine capacity of Moto GP bikes from 1000cc to 800cc. As Hayden explained, the move to 800cc machines in 2007 will mean "the rider's weight is going to be even more of a factor".
Another view of Hayden at work
Photo ©: Nicky Hayden

Hayden is yet to throw a leg over a factory Honda 800cc Moto GP bike but given the resources of Honda, it is certain to be competitive. Hayden hinted he may get a chance as Honda Racing has booked out the Brno circuit in the Czech Republic for two days after the next round of the championship.
But the final five rounds of the 2006 championship await Hayden, and it's a season that is turning out to be something like professional cycling - minus the controversy.
Cycling has had Lance Armstrong's iron grip of its flagship road race, while motorcycle racing still has Valentino Rossi, the quirky, flamboyant and brilliant Italian. Like Armstrong at the Tour de France, Rossi has dominated Moto GP, but this year he's had what could be a called a shocker of a season. Hayden, meanwhile, has put in one consistent race after the other to lead what has been at times a chaotic and unpredictable championship.
"I'm having an awesome time this year," Hayden said. "Normally, it's pretty well wrapped up [the Moto GP championship] by now but not this year. And the racing has been great for the fans; there have been some real dogfights out there and I'm really looking forward to these final rounds."
Hayden continues his quest to become the first American since Kenny Roberts Jr. to win motorcycle racing's premier class with the Czech Republic Moto GP this weekend, August 20.