An interview with Joerg Jaksche, March 12, 2006
Past, present and future
At only 29 years old, Joerg Jaksche is already in his tenth year as a professional cyclist. In that time he has hopscotched around from Polti, to Telekom, to ONCE, to CSC and now to Liberty. Susan Westemeyer tracked him down and asked him about his teams, his past, his present and his future.
Jaksche won the mountains competition
Photo ©: Andrea Hübner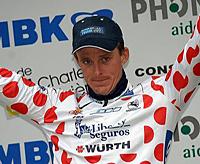 Cyclingnews: Within the last few years you changed from ONCE to CSC and then to Liberty. Why did you leave ONCE? And why did you return?
Joerg Jaksche: I went away, because we stood before an uncertain future. ONCE pulled out after the Tour and the team management still hadn't found a new sponsor by the time of the Vuelta.
It gives you a certain sense of security to come back to a team where you know their values and where you know in a positive sense with whom you will be dealing and what will be expected of you. I knew that, and that was my reason for going back.
CN: Your year with CSC was very successful, with wins at Paris-Nice and the Mediterranean Tour. Why did you leave the team after only one year?
JJ: I've known Bjarne [Riis] for a long time. He helped me in the most difficult time of my career, when I was young and wanted to quit the sport. He did things for me - a young unknown - which as a Tour winner he didn't have to do, and which nobody would believe, because many people have a false impression of him. I have a lot to thank him for, a whole lot.
"One evening in Italy, I spoke to him about the future of the team and he told me that he might have to use his private financial resources to plug some holes."
- Joerg Jaksche recalls a conversation he had with Bjarne Riis in 2004 - the future hasn't always been rosy for Team CSC
One evening in Italy, I spoke to him about the future of the team and he told me in his typical open and honest manner that he might have to use his private financial resources to plug some holes. I didn't want that and therefore went to Liberty, although I still had a contract with CSC and could have stayed.
Riding in Liberty colours

Former Paris-Nice winners

A grim day at last year's Tour of Germany

Arr! Cap'n Joerg Jaksche

Joerg Jaksche still holds plenty of respect

CN: It was said that Riis couldn't keep you because of "financial grounds" caused by sponsorship problems. Now he seems to have money again, it is said up to 13 million Euro a year. Could you imagine going back to CSC?
JJ: I still have a two-year contract with Liberty, then we'll see.
CN: Last year your best results were a fifth place in Paris-Nice and third in the Criterium International. Were you satisfied or disappointed with your results?
JJ: Well, I would have liked to have won the Tour of Germany, but I just had too much bad luck - but all in all, the year could have been worse...
CN: What are your goals for the 2006 season? What is on your race calendar this year? Will the Tour de France be the highlight?
JJ: The Tour will surely be very special and every year it gives you the chance to reach out and make your own luck; you simply have to try and see how it works out.
CN: How is the morale in the team after Roberto Heras' departure? How did the riders react to his positive doping test?
JJ: His release was the logical result, just like at every other team. But the many unusual inconsistencies paint a different picture for me. Unfortunately in cases like Danilo Hondo, Tyler Hamilton and his, there isn't just black and white but a lot of gray...
CN: You once said in an interview that you don't have any close friends in pro cycling, and that such friendships don't really exist in the sport. Do you still think that?
JJ: I said that it was difficult. It is a job that demands a lot and in which you have to make a lot of compromises with your family and have to concentrate very much on yourself, which doesn't leave a lot of time for friendships to develop. Often it is just relationships of convenience that come about, but maybe it will look different after my career [is over].
CN: You will turn 30 this year and are already in your tenth year as a pro. When you look back, are you satisfied with your career? What would you change if you could?
JJ: Looking back, sure, there's always things that you would change. Not a lot but little things, but that's the way it is and everyone has to learn. Overall I've had a lot of great moments and the job is the best that I can imagine.
CN: And now a look forward: How many years to want to keep on riding? Do you see yourself one day as the captain in the Tour de France, or other races, or do you think your future will be as a helper? What goals do you have for your continued career?
JJ: I have no idea what the future will bring. I will do my best to be successful. That's all anyone can do.
Editor's note: For a change, Joerg Jaksche is trying his luck at Tirreno-Adriatico instead of Paris-Nice this year, where he currently lies second on general classification, just 14 seconds behind Thomas Dekker of Rabobank.