An interview with Fränk Schleck, June 1, 2006
The hopeful helper
Once a domestique with plenty of promise, Fränk Schleck's name is now being cast as one of the future stars of cycling. Björn Scheele finds out a little more about the friendly-faced Luxembourger, who achieved his crowning moment at this year's Amstel Gold.
On April 16 at the Amstel Gold Race, the man of the moment was Fränk Schleck
Photo ©: Anthony Tan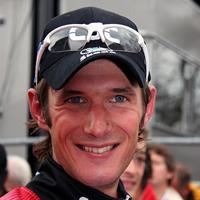 After winning the 2006 Amstel Gold Race, 26 year-old Fränk Schleck proved that he is slowly but surely becoming one of the really big names in cycling.
Last year Schleck fought for Ivan Basso's victory at the Giro d'Italia. But on the legendary Stelvio stage, Captain Basso was weaker than expected. Schleck waited for him and prioritised his team's ambitions over his own personal interests. Many will wonder how it felt knowing that he was stronger than Basso that day.
"The whole team suffered with Ivan," he says. "It had been a long day and we were sitting on our bikes for eight hours. You just have to stay with a rider like Ivan and support him one hundred percent, on good and on bad days. It was a truly terrible day, but we showed that we are the best team in the world - not only because we ride fast!
"We proved that we are an extraordinarily homogenous team and that friendship means a lot for us. Especially Ivan, who's very sensitive to these things, saw that we were standing right behind him." Schleck admits that there are people who have said he should have tried to get something out of it for himself. But he would have never even thought of that and is deeply convinced he and his team-mates did the right thing.
"... you always have that idea in your head, what would it be like to be one of the first fifteen?"
- Fränk Schleck's curious to discover his worth as a Grand Tour contender, but at the 2006 Tour de France, it will be all for Ivan Basso on Team CSC
The Tour de France is a first for Fränk Schleck this year, while Basso, Sastre, Julich and Voigt have done the Giro in addition - and not to get in shape, like Jan Ullrich or Michael Rasmussen, but to win. The goals of the CSC squad are set extremely high, because to win both tours will be a real task. But Schleck sees no harm in manager Bjarne Riis' bold venture. He believes that the team's top riders are strong enough to get there.
"For Jens Voigt, the Giro is the best thing that could happen to him," he says. "Jens is a superb rider with a huge engine. It would be wrong for him to take a break now because he is only getting better and better these days and won't be tired when the Tour de France starts."
The same will happen with Carlos Sastre, Schleck believes: "Carlos hasn't raced much and hasn't used his full capacity yet. The Giro is great for him. Ivan, Carlos and Jens are so experienced and mentally strong, they will be just fine at the Tour de France." Schleck himself says he prefers one big race instead of three small ones in a week.
But with freedom alone an excellent rider like young Schleck wouldn't be as good as he is. With his grand victory at the Amstel Gold Race, he showed that he is now playing in the big league. His solid training during winter laid the foundations for a so far very successful season. But he did not just ride his bike. "I went hiking and hunting a lot," Schleck says.
Fist in air, Schleck cries out his victory
Photo ©: Roberto Bettini

"In fact, I wanted to start slowly but had some pretty good placings in Mallorca. The first highlight for me was Paris-Nice. I am really happy with my fifth place there." At Amstel, Schleck had a gut feeling he would do well - and he won. But he insists it does not make a difference for him to be second, third or fourth: "The effort is the same, so it's as good as a first place."
His task at the Tour de France will be the same as during last year's Giro: it's all for Ivan Basso. Obviously, the young man from Luxembourg has no problem riding for his team and not for himself.
Even though many experts think he could be the next superstar, Fränk Schleck seems fairly shy about being the centre of attention: "We have the man to win the Tour. That will be my only ambition, period. I didn't set myself any personal goals and I'm not planning to.
"Of course, you always have that idea in your head, what would it be like to be one of the first fifteen? That would be amazing! But the fact is that I won't keep my foot under the pedal to gain a little for myself - not even one percent! What I get out of it, at the end of the day, can only be kind of a bonus."
In the shadow of the Giro d'Italia, with Basso keeping his opponents at bay, before finally succeeding last Sunday, Fränk Schleck was training in his native Luxembourg to get into gear for La Grande Boucle. The racing break seems to do him good, but he is already hot to push himself and his team to the very limits.
"I will be back for the Tour of Luxembourg. Then the Tour de Suisse, where I'm planning on working on my form and to get myself utterly worn out. That will push me and get me into shape for [the Tour de] France. I like the Tour de Suisse, and last year I only just missed the podium. I will do my best there, in spite of the Tour de France following right after."
With his 26 years, Schleck is maturing into a hopeful rider who is able to pass the biggest tests and tours. But how does the 'helper' see himself? Does he see himself as a future team captain?
"I don't know where I will go, but I'm going to do anything possible to become team captain one day. And maybe I will be standing on that podium at one of the Grand Tours. At this point, I can't say how far I will get. But I will do anything to get there," he says, smiling.
See also: April 2006 interview after Amstel Gold - Schleck niet slecht