An interview with Francis van Londersele, January 4, 2006
A watershed of sorts
It's been an off-season of upheavals at French squad Cofidis, with high-profile departures from among the ranks of the red, white and blue. Riders such as Australian Stuart O'Grady have left in what could be described as a watershed of sorts. At its second pre-season training camp in Baillargues, close to Montpellier, Cofidis' directeur sportif Francis Van Londersele spoke with Cyclingnews' Hedwig Kröner about the team's younger roster for 2006.
Cyclingnews: Tell us about the roster changes at Cofidis for next season.
All smiles for 2006
Photo ©: Cofidis Pro Cycling Team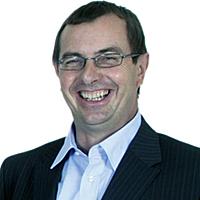 Francis Van Londersele: We have 15 new riders on the team, most of which are young or very young - riders like Tyler Farrar or Chris Sutton. We'll be able to count a lot on these boys in the coming years. We also have a few interesting Dutch riders coming from Rabobank who already have experience in racing at the Continental Tour level. So it has been our choice to start over, with a new set of jobs to be done, and with the will to build this group up. Ultimately, we're aiming to make them shine on the international stage over the coming years.
CN: Who are the leaders you're looking at to provide immediate results?
FVL: In that regard we're counting on Rik Verbrugghe, who's a rider made for the Belgian classics and week-long ProTour stage races. He will be one of our greatest assets next year, just as Bradley Wiggins, for example. We expect him to get results in the time trials and prologues, and I know he wants to show us all of his talent in the prologue of Paris-Nice. And then of course there are riders like David Moncoutié and Sylvain Chavanel.
CN: How did the transfer of Australians Stuart O'Grady and Matt White come about?
FVL: Stuart O'Grady and Matt White chose to take a look around at other teams. Stuart was offered an interesting contract with the Italian team that finally never happened, so he was in a very delicate situation after that. Although he is a great rider and we will miss a him in certain racing situations, he chose to leave and has now signed with CSC.
CN: Even though there are many French riders on your roster, you still chose to remain quite international.
FVL: Yes, we are still a very international team; we do have 14 French riders but also a total of nine different nationalities. We wanted at least half of the roster to be French, because we have a French sponsor - it's only logical.
CN: What is your view on the state of French cycling in general?
Sylvain Chavanel
Photo ©: Régis Garnier

FVL: Team-wise, French cycling is rather well represented, but in terms of rider performances, there's still a lot of work to be done. We hope that some riders will grow in the coming years, like Chavanel, who made a lot of progress during the year and was very successful at the end of the season. He should be able to grow next year.
In general, we should have some riders that will become more important over the next few years. At the very least they should gain in self-confidence, as that is one of the major problems in French cycling. Our young riders seem to lack ambition, or maybe they don't have the temperament to dominate. They have to learn this, but they undeniably possess the physical capabilities to perform well.
CN: Do you think that French riders are indulged in comparison to riders from Eastern Europe, for example?
FVL: It's not only that, but it's part of it. The French spirit is quite protective: we help each other, there's always a lot of assistance. It's not only in cycling; this is the French mentality. So it's true that the riders should work against that.
David Moncoutié
Photo ©: Jon Devich

But I also think that we have riders of great quality, and I don't know why these riders shouldn't contribute to the revival of French cycling - maybe all we're missing is the rare pearl. But I think that riders like Moncoutié, who won a stage in the Tour de France, a stage in the Basque country, are encouraging, and we should be optimistic. In sports, there are phases like this sometimes which seem very long, where you don't have the riders capable of winning the great races. It's true that it's difficult; since Jalabert and Virenque stopped, we miss big name riders, charismatic riders. But we think that guys like Chavanel should be able to impress in top level international races next year by at least getting on the podium in certain events.
CN: Speaking of top level racing, does it matter to you if the three Grand Tours remain out of the ProTour?
FVL: On a sporting level, there isn't really a difference. All the big races feature the same level of performance now - the difference with the ProTour was that all the great teams were sure to be at the events. For example, the participation of international teams at the Giro d'Italia and at the Vuelta was increased. But as far as the racing goes, the competition, there's not going to be a lot of change.