An interview with Danilo Hondo, June 15, 2006
Making the most of things
Whether or not Danilo Hondo consciously used the drug Carpehdon or not will probably never be decided in a courtroom, but he will continue to deny it until the end of his days and wonder why he tested positive. But if the former Gerolsteiner rider has been dragged through the mud by doping charges and court cases, he's certainly not showing it too much, and has learned never to give up, as he tells Cyclingnews' Susan Westemeyer.
A very fit-looking Danilo Hondo
Photo ©: Chris Henry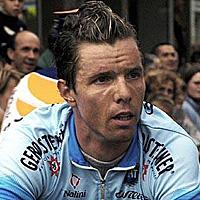 Cyclingnews: You have been able to ride races again since the Swiss court ruling on June 6. How are you coping with all of these ups and downs?
Danilo Hondo: It's a very difficult situation. There's no final decision yet; this is just another small step forward - you have to learn to make the best of life.
CN: In your very first races back, you finished near the front, but didn't win. Did you ever wonder whether you would win again - whether you still had the necessary physical and mental condition?
DH: When you start to ride again after a long break, even like the winter break, then you never know how good or how strong you will be. It's not just a question of physical form, especially in sprinting, where you immediately get that feeling of whether everything is going optimally in order to ride the perfect sprint.
To be second behind Petacchi in my first race back was practically like a win. To lose to a man like him is nothing to be ashamed of, and I knew then that I would win again. Of course you ask yourself whether you will win again, but when you train, you quickly see what your condition is. Sure, I was nervous before my first race, but within a few kilometers I realised I was doing well.
"I found out for myself how difficult it is to prove yourself innocent."
-Hondo explains how hard his battle against a doping charge has been
CN: When you won your first sprint in the Friedensfahrt, was it a relief or did you think it was just a matter of time?
DH: Actually, it was a combination of both. It was a relief to win again, but I knew that I would win again, so it was also just a matter of time.
CN: How were you able to keep yourself in top physical shape? How did you train?
DH: Exactly how I trained remains a secret! The first two or three months I didn't do anything, because I was just not mentally in any condition to do so. But I'm an athlete body and soul, and it gives me a special feeling, a good feeling, to be physically active. I had set my goal to come back after one year and to come back in top form. I trained as hard as I could to accomplish that.
CN: How were you able to keep your mental sharpness?
DH: The physical and mental aspects belong together. You have to have a strong will. I have always said that I am innocent. I know that I am not guilty, and this knowledge made it easier for me to cope with the situation, and that also made it easier for me to train. It was fun to train and I saw that I felt good on the bike. Plus, being out on the bike for several hours a day provides a certain distance to your problems.
Danilo Hondo rides a post-Tour criterium
Photo ©: Elmar Krings

CN: Hans-Michael Holczer has made no secret of the fact that he would like to have you back at Gerolsteiner, bu the sponsor has said "absolutely not". Do you understand their point of view or do you find it unfair?
DH: I understand their position, absolutely, it's a very clear statement. It has nothing to do with fair or unfair. It's their internal decision - other sponsors might think differently about my situation.
CN: Would you like to go back to Gerolsteiner, if that was possible?
DH: Oh yes, it's an absolutely professional team with a comfortable feeling. I have a friendly relationship with Holczer, but the situation doesn't allow us to work together. That doesn't affect our relationship, though. I wish him and the team all the best.
CN: Professor Franke said that one possibility was that you might have drunk out of a contaminated bottle, belonging to someone else, presumably a teammate. At the very least, this implies that at least one individual on the Gerolsteiner team was involved in doping.
Hondo at the Tour Méditerranéen
Photo ©: Emmanuel Isnard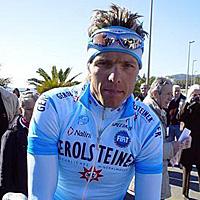 DH: Professor Franke is a fighter against doping, a seeker of the truth, a hunter, and he has his own theories. I never said anything like that, and I never heard or saw anything like that at Gerolsteiner.
I had never even heard of Carphedon before this. Even with such a little amount as was found had to come from somewhere, but when you hear the results some five or six weeks after being tested, it's almost impossible to find out where it came from. I never thought it came from the team. I will ask myself my whole life where it came from.
CN: What advice would you give to other riders who have tested positive but claim to be innocent?
DH: Actually, I can't give any advice, because every case is different. You have very few legal possibilities in sport. I found out for myself how difficult it is to prove yourself innocent. The sports court never tried to find out whether I actually took this drug, it only looked at the positive test. You are sentenced on that alone which is totally contradictory to your usual legal rights.
CN: What do you have to say about the newest Spanish doping scandal?
DH: It sounds very spectacular and unbelievably bad. But you have to be careful of saying who might be guilty of what. Every day in the news new names pop up, only to be dropped again. I hope that everyone involved works quickly to find out the truth. Cycling is getting a bad name from doping, and that has to be changed.
Hondo has stayed upbeat
Photo ©: Elmar Krings

We need to establish a system that is clean, but how can you do that without explaining what a positive test is? This up and down, this back and forth, how are you supposed to cope with that?
CN: What are your plans for the immediate future?
DH: Tomorrow I fly off to Spain for the Circuito Montanes; seven days, a very mountainous race. Not really something for me, but it's a good feeling to be riding again and I'll get in some preparation for the German championships, which I will definitely be riding.
CN: Are you still hoping to move up to a Pro Tour team again? Is your agent Toni Rominger still looking around?
In the sprinter's jersey on home turf
Photo ©: Mani Wollner

DH: Of course Toni is on top of everything. He is still holding discussions. You know, there are a lot of discussions held between the teams about things like whether this rider or that doped or not. Just because a court says so isn't proof, that's just a decision. Two years is a very harsh punishment. I think the teams have their own ideas about each individual case and I believe that to ban an athlete for long periods won't change the doping problems.
CN: How were you accepted by the other riders when you returned to racing?
DH: My feeling was absolutely positive. They all greeted me happily, not just my friends and teammates, but all of them, from Italy, Belgium, Spain, everywhere, they were all happy that I could be so successful again.