An interview with Alejandro Valverde, June 13, 2006
Up for a challenge
It's been another year of firsts so far in 2006 for Caisse d'Epargne-Iles Balears rider Alejandro Valverde, the highlight being wins in both La Flèche Wallonne and Liége-Bastogne-Liége. With wins at the Tour de Romandie and Vuelta al Pais Vasco to his credit, his next challenge is the Tour de France. Cyclingnews' European Editor, Tim Maloney, grabbed a few minutes with 'the green bullet' after his spring triumphs.
In the best young riders' jersey
Photo ©: Sirotti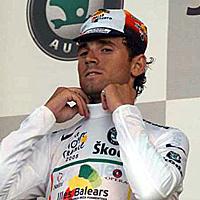 Valverde, who turned 26 at the end of April, isn't a stranger to success at the highest level, having won two stages and third overall at the 2003 Vuelta a España and taking a world championships silver medal that same year in Hamilton, Canada. He secured a spectacular stage 10 win ahead of Lance Armstrong before abandoning the 2005 Tour de France, and went on to finish his season with another world's silver medal on home turf in Madrid, Spain.
In 2006, Valverde has been on fire, with a stage win and second overall in the Vuelta al Pais Vasco, a superb spring double with victory in La Flèche Wallonne and Liége-Bastogne-Liége, both of which catapulted him into the lead of the Pro Tour standings. He then won stage 4 of the Tour de Romandie and took third overall before completing a successful campaign at the 58th edition of Critérium du Dauphiné Libéré, where he was second on Stage 6 from Briançon to La Toussuire, a respectable ninth in the Stage 3 ITT, all of which helped him finish a solid seventh on GC.
With three weeks to go before the Tour de France, the modest yet confident Spaniard is clearly ready for the challenge of being a contender in la Grande Boucle.
Cyclingnews: With all your success this year, do you still like to talk to the media?
Valverde wins Flèche Wallonne
Photo ©: Luc Claessen

Alejandro Valverde: Sure, I like to, but there is a lot of media after me now...one after the other. So it's kind of tough to deal with when there's always more.
CN: Your wins in Fleche Wallonne and Liege-Bastogne-Liege in April - has it sunk in what you achieved?
AV: Oh, I realise that it was very important and I had already had a good experience last year at both races, so I knew before that I really liked these races and wanted to do well.
CN: Were you specifically targeting those races?
Valverde wins ahead of Lance Armstrong
Photo ©: Sirotti

AV: Not really. Nothing special...above all, I was just riding a lot and doing my usual preparation. Just training rides of six or seven hours a day.
CN: I've heard that you do not train using a heart rate monitor or SRM. Is that true?
AV: Before this season I didn't but now I do use them. With these [tools], it's possible to train better.
CN: The Tour de France starts in about one month. How are your preparations proceeding?
AV: I started a hard training block a few weeks ago, then before the Dauphiné Libéré, I went to see some of the Tour stages in the Alps with some teammates, like l'Alpe d'Huez. That was very important for me. And after the Dauphiné Libéré, I'll go to Sierra Nevada with some teammates for some training at altitude before the Tour starts.
Alejandro Valverde
Photo ©: Tim Maloney

CN: Are you doing other specific preparation, like for the time trial?
AV: Yes, I have a great new Pinarello time trial bike; it's really light. And I keep a time trial bike at home and I'm doing specific TT training twice a week - I think it's really good for me.
CN: At last year's Tour de France you had a disappointing finish, abandoning after Stage 12 when you were fifth on GC and leading the young rider classification. What are your goals this year?
AV: Above all, I want to be 'tranquillo' [relaxed], ride without a lot of pressure on me and to learn how to ride well in a three-week tour. Last year I was there for a shorter time - 13 days - and I didn't have the experience of the last week. So this year, I would like to finish the Tour de France in the first five on GC and maybe win another mountain stage.
CN: Who do you think will be the favorites to win the Tour this year?
AV: Well, Ivan Basso and Jan Ullrich, with Vinokourov, Mancebo and Popovych in there too.
CN: At Caisse d'Epargne, you have a strong team, with riders like Karpets?
And just days later he won again
Photo ©: AFP

AV: Oh I think we'll have a strong team for the Tour de France, with Karpets, Pereiro, Zaballa, Arroyo, Chente (Garcia). Chente has a lot of experience in the Tour and he's like our road captain, always keeping an eye out for what's happening. [We have] a strong team with me and Karpets both for the general classification.
CN: I heard you have a strong bond with your team director Eusebio Unzue, whom you raced for when you were on the amateur Banesto team. What has Unzue told you about the coming challenge of the Tour de France?
AV: He tells me above all to be relaxed, 'tranquillo', to have a good Tour but without pressure. Because I have a lot of years ahead of me to do well in the Tour. The first thing this year is to learn, to go day by day and go through the entire three weeks as relaxed as possible. So if I come in the top 10, it's good. Eighth, that's fine. I think that without a lot of pressure on me, I can concentrate on riding my best race.
CN: And at 26 years of age, you could have another ten Tours de France ahead of you.
AV: That's true...for the Tour, to start to be competitive there, a rider is 26 or 27 years old - to have the strength to ride hard for three weeks.