Recently on Cyclingnews.com
An interview with Aaron Olson, January 9, 2006
Speaking more than 'Spanglish'
American rider Aaron Olson, like most other pro racers, has the goal of one day taking part in the Grand Tours. But unlike the majority of professionals, particularly North American riders, Olson is getting his chance to race in the 'Big Show' next season. Following in the footsteps of Tim Johnson and Chris Horner, Olson will be the next American addition to the Saunier Duval-Prodir ProTour squad. Having virtually just stepped off the plane from his first trip to Spain, Cyclingnews' Mark Zalewski spoke with Olson as he headed for some final training in San Diego.
In the most aggressive rider's jersey
Photo ©: Alicia Frese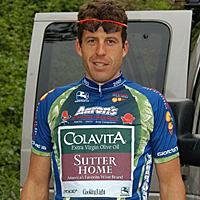 Being Mister Consistency is how Aaron Olson likes to describe the main reason behind his selection to the Saunier Duval-Prodir team; and since it's a Spanish team, I suppose that name will soon become Señor Consistencia! This, combined with the fact that Scott USA would like to have an American on the team to replace Chris Horner added to his name making it to the top of the pile. "I think in part it's Scott USA wanting to have an American in the team - not that it has to be - but wanting to have some influence," Olson explains.
"That helped me, and also having a couple of consistent years. No real huge wins like [Charles] Dionne at San Francisco, but just consistency and showing people that I can work. That was a thing [Chris] Horner said; if you want someone who is really consistent and can show up everyday and do his job well, then I would be a good choice. I got lots of help from Horner - his words probably made the biggest impact - and our coach is the same so he made some contact with Mauro Gianetti as well. And Scott Montgomery (Scott USA) had a part in choosing the American, whichever one it was."
His most recent consistent years have been with the Colavita-Sutter Home programme, which helped him gain more experience and exposure. And the success with Colavita-Sutter Home is what motivated him to look for the next step in his cycling career. "I've been trying hard every year, and I've had good races the past couple of years with Colavita - it really was a good situation. I was ready to move on either way, but I grew a lot and learned a lot from the team. I gained a lot of strength and learned a lot in the races, but with this opportunity I just had to jump all over it. It's pretty much the same money on either continent, so it's not a huge amount in either aspect."
Looking solid
Photo ©: Mark Zalewski

This will not be Olson's first or even second trip across the pond, but it will be his biggest. In 1999 and 2000, Olson raced in Belgium for the U23 national team, along with other names such as Mike Creed and Danny Pate. After that he raced with them in 2001 on Prime Alliance before returning to Europe on iTeamNova - a less than ideal experience. "I rode 2002 with iTeamNova, until they stopped paying us halfway through the season. From 2003 on I've been in America, first with Schroeder Iron and then with Colavita. Probably half of my career was [in Europe] and the last half as a professional [in North America.] If I went back I wanted to get on a big team, because sometimes with a smaller team you get stuck and can't get into the bigger races. But I enjoyed being on Colavita the last two years."
"It's something that I've been working full-time to be. I was happy where I was in America but always wanting more. [Davide] Frattini told me this year that it's only normal to want more - I just want to do these races and see for myself. I haven't really pushed my body to its limit so far, and I want to see at what point it will break down and tell me no more. This is something I've wanted since I was 13 years old, and that's always been in the back of my mind - motivation to train. For me, it's the start, considering being at the top level, but it's still far from where I want to be. I'll know halfway through the year how my body is doing and will be able to see better where I fit in. I'm still in the middle in terms of age - I'm not young anymore but I'm not old either."
Recepción a España (Welcome to Spain)
In early December, Olson got his first taste of the European ProTour team experience when he traveled to Spain for his first team meeting. "I went to Spain for three days and nights there, just meeting everybody. One day we did pictures, went to some cool caves - we were on the Atlantic in northern Spain, west of San Sebastian in Oscar Freire's hometown. We had meetings going over race schedules and dinner with the team."
Getting amongst it
Photo ©: Thomas P. Herrin

As for his first impression of the ProTour experience, Olson replied, "It's big! But really well organised. There was a big semi there full of equipment. Everything is on a larger scale, logistically, with three teams racing at once. There were almost 50 staff for 28 riders! But they are pretty laid back because they do it so much. It's not a big deal for them."
Before signing with Saunier Duval-Prodir, Olson was being courted by Frankie Andreu's new United Pro Cycling team and even had signed a contract, but with a clause allowing him to sign with a ProTour team. An example of 'no hard feelings', Andreu has kept in touch with Olson on his new venture. "Frankie called me a couple of days ago and asked me how it was. 'Was it bigger than you expected?' And I said that in some ways it's bigger, but it's also so laid back because it's tradition with them. A good group of guys. I was really impressed with [Mauro] Gianetti; he always had a smile on his face - for me, I can really appreciate people like that because of all of their positive energy - I think it really helps everybody stay motivated."
While in Spain he was outfitted with his new kit and new team bike - a worrisome proposition for cyclists who tend to grow accustomed to certain bikes. "I loved the Felt from the last two years with the scandium frame - I was like, 'This is the best bike I've ridden! I love it!' I didn't want to change last year and was happy when we rode the same model, not switching to the all carbon. At camp they gave me the CR1. I couldn't believe I had the largest size - sure, I'm pretty tall but I had a lot of seatpost sticking out - and it's so unbelievably light! I jumped on it and thought it was unbelievable. Horner said it's the best bike he's ridden - it's awesome, the CR1 is awesome. And I like Campy, so it's a really, really nice bike even beyond just the weight."
"...if you want someone who is really consistent and can show up everyday and do his job well, then I would be a good choice."
-Olson recounts what Chris Horner told Saunier Duval management
prior to Olson signing with them
Another aspect of the trip was to lay out a plan for the first part of his season, and Olson is genuinely excited about it. "I have a spring programme, and I'm really happy with the schedule. For me, it's a good one. It's not too much but enough to keep building up. I'll go to Qatar; that will be my first race. After Qatar, I'm going to come back and do the Tour of California which I'm really looking forward to - it should be a cool race. I still like racing in America, especially coming back to do the really big races. I go back and do Setmana Catalana in Spain, Tirreno Adriatico, Tour of Flanders, Gent-Wevelgem and Paris-Roubaix. That will be an epic block!" However, Olson is not necessarily intimidated by these classics. "When I was with the national team we were really close to Gent and to Wevelgem, so I rode through there a lot. I've done a lot of the climbs and I feel a little closer to those races because I know the roads."
Being a cheeky monkey
Photo ©: Caroline Yang

At the moment, the Tour of California is the only confirmed North American race on the schedule for Olson and Suanier Duval-Prodir, though races such as the Tour de Georgia and Philadelphia are possibilities. However, the change to the date and format of the USPRO road championships means that Olson is not likely to make an entire trip back to contest the event. "I think it's ridiculous having it in September. Every other country, except those in the southern hemisphere, have nationals in June, and most on the same weekend. I first heard a rumour they would be held on the Lancaster course at the beginning of the whole Philly week. I liked the sound of that, and also the timing. It would've been nice to give it a shot on a nice course like Lancaster and around the Philly week, but I don't think I'll be making a special trip back just for Nationals."
I also asked how the changes to the race, especially the exclusion of foreign riders now that he's in a position to benefit from strong European teammates, affects his decision to race. "I like having the race with the Europeans here for the USPRO championships, because it really makes for a hard race. I think if they hold the race for Americans only, then it would need to be on a tough course like Lancaster, and then you will pull in the Americans from Europe for a truly tough race."
But of course, you can't be on a ProTour team without at least thinking of a chance to ride in a Grand Tour, or, the Tour de France. "Oh sure! The team wants almost everyone to do one this year. When I signed with the team, Gianetti mentioned wanting me to try a Grand Tour. We haven't decided on one yet; they said they'll see how the spring goes and then maybe try the Giro or the Tour. Those would be the two I'd prefer, especially having someone as good as Simoni on the team - that would be awesome to ride for someone who could podium, and has a great shot at winning. That would be a pretty cool first Grand Tour to do, with somebody winning it. And of course the Tour because it's the Tour! Every year I improve with stage races - far from being the guy to win the yellow jersey, but I prefer stage races to the one day events, though I still like the one day races. But you can only take so much of the fighting for position in the one day races and you need a break from it."
Living the life
Olson will not be living with the usual suspects of Americans in Girona, rooming instead with teammates of the English-speaking variety. "They are talking about putting Peter Mazur, Charles Dionne and myself together, because we are all English-speaking. I've always been friendly with Charles but don't really know him - but he seems like a nice guy. It was fun at camp talking to both of them if we got tired of trying to figure out the Spanish flying around."
Olson rode strongly
Photo ©: Caroline Yang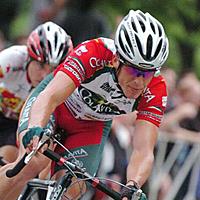 Speaking of talking to people, Olson is going to have to brush up on his Spanish. "It's ok. It's not great, but it's ok. I need help with it, especially there. If I listen to Ivan [Dominguez] or Juan Jose [Haedo] I can understand it a lot more with their accents." Olson says he will also miss racing with his teammates from the US the most. "A lot of the guys I've made good friends with - like JJ and Ivan - and I looked forward to a lot of the races too. I think the European races suit my style more - obviously there are a lot of good guys, and that doesn't suit my style, but I like a lot more difficult races, with hills left and right. I know it's what those guys are good at too, but... ask me in March and maybe I'll say I miss the sun! (laughs)...I think I'll mostly miss the personalities, but I'll stay in touch with the guys, and hopefully by the end of the year I'll be speaking with Juan Jose and Ivan in more Spanish than English!"
From here, Olson will spend the rest of the month in San Diego before heading back to Europe for the team training camps. But even with his quick trip to Spain, and his new bike, being on a ProTour team has yet to really hit the 27-year-old. "Someone asked me if it has really sunk in yet, and I said 'not yet'. Maybe when I go over for the training camp or when I line up for the first race, or the first big-BIG race! We are going back to Spain from 12th to the 20th [of January]; having training camp in Murcia and a team presentation before we fly to Italy for another team presentation. Maybe that's because of Campy's sponsorship and because a lot of the team is Italian. Then the guys fly off to do different races."
All smiles at Redlands, 2004
Photo ©: Rob Karman

Americans and the European lifestyle, particularly the aspects of the racing lifestyle, do not always mix well. Chris Horner experienced it during his first stint across the pond, and so have many others. But Olson says he's not worried about it, and actually embraces the European way of living. "I have always liked Europe when I've been there. It's never been a drag to me. I like the slower pace, and I like the values and things - like going in the morning to buy fresh bread. Those are the little things that I like. The only bad thing is that there aren't the different styles of restaurants like there are here - you can't go and get ten different styles of food there. I don't think it's going to be a problem at all - I prefer it, if I had the choice of one or the other." And it also won't hurt that his girlfriend, Kimberly Anderson [who rides for the T-Mobile women's team], will be in Europe racing as well. So with a few Spanish lessons, a couple of races under his belt and maybe a few good good results to boot, Aaron Olson may be another happy American plying his trade and trying to avoid the rain on the plains of Spain.