Nat Ross basking in the glow of glory
Photo ©: Nat Ross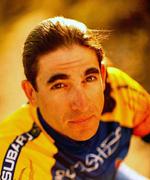 Going the distance: The Nat Ross diary 2006
As a six-year professional mountain biker who's competed in twenty-eight solo 24-hour races, you'd think that ultra-endurance racing has consumed every waking hour of 35 year-old Nat Ross' adult life. But this lean, long-haired and laid-back Coloradoan has a more complete resume than even the most upwardly-mobile corporate go-getter - although that won't stop him going the distance when it matters.
August 3, 2006
The nearly 24 Hour NORBA Nationals
And they're off
Photo ©: Mike Reed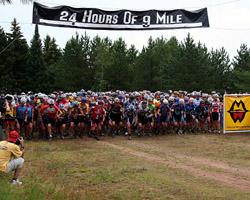 Hey fellow endurance followers -the National 24 Hour Championships was called off early due to a horrific storm. Despite only getting to race for 19 1/2 hours, my body is still completely trashed. So I'm sitting in the lobby of my Hotel in Wausau, Wisconsin the morning after the race and it is still dark outside. My crew is in a well-earned deep sleep and I'm wide-awake. What's up with that? My internal clock gets so messed up after a solo 24 hour race that it takes a good week to get back into my normal nine to ten-hour sleep schedule.
The National Championships got down to business at 10AM as opposed to noon like most of the races in the states. I have to say that I was a virgin 10AM starter going into this one. Most of the races in Europe start at 2PM and Montezuma's Revenge starts at 4PM. I was really looking forward to finishing at 10AM, but thanks to mother nature the race was called off way earlier at 5:30AM. I actually don't care one way or the other, but I can say that it will be easier to recover from not having to go the full distance. My second place was pretty much locked in and there was no way I was going to catch Chris Eatough (Trek/VW), the new National 24 Hour Champion.
My teammate Cameron Chambers (Subaru/Gary Fisher) held the stars and stripes jersey until now. His race did not go nearly as good as it did for him last year and he was very disappointed with his15th place finish. These races are so tough both physically and mentally. Cameron was bummed out that his body wasn't up for the battle, but this kind of racing is brutal and he'll be ready to rock in no time.
Although the race being called off early did not affect my overall placing, the podium could have turned out a bit different. Eddie O'Dea (Kona) 4th and Ernesto Marenchin (Asylum/Schwalbe) 5th were within minutes of each other until right before the early call off. Eddie had an incredible race, but I know how hard Ernesto comes on when the sun comes out the next day. The same thing was probably true with places 3-4 in the women's field. Perhaps the tables could have been turned, but we will never know. What I do know is that Chris was on fire! I had a great day myself, but Chris rode pretty much perfect.
Ham and Eggs
Photo ©: Mike Reed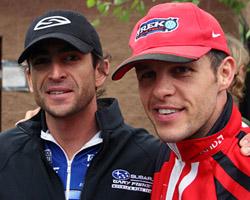 Most races start with a Le Mans' style run to spread out the field before hitting singletrack. Fortunately for me, this run was super long. As a former runner, it sure makes it easier to get a great start going into the course on the bike. After the run, I was right where I wanted to be-up front. I was the first solo racer on course--typically several of the team guys can run and ride super fast. All that mattered to me was to be with, or in front of, Chris going into the first section of singletrack. The course really suited Chris's riding style so it was of utmost importance to keep tabs on him. My strategy was to ride with the lead group of team guys on the first lap. I knew that Chris had similar plans. My philosophy is that you can never go any harder or faster at any other point in the race. You only get more tired as the race goes on and the ability to get your heart rate up goes down considerably after time. So, I like to start fast and get down to business right away. I learned that from racing against Rishi Grewal. He was the first Pro mountain bike racer to come straight from the NORBA circuit and have instant success in endurance racing.
So my race went down like this: I got a slight gap on Chris after the first lap. On the 14-mile course, only our first lap was under an hour. We rode together on lap 2 and he started to attack on lap 3. By lap 4 the gaps were getting bigger and bigger, so I just settled into my own pace. This was the first race in a long time that nutrition was a major issue for me. I typically can eat just about anything and everything, but not in this race. The humidity and heat reeked havoc on my insides. I could hardly get anything but fluids into my stomach for the first seven hours.
In the back of my mind I was really worried about not consuming enough calories. There was not much that I could do but put my head down and try and nibble on Clif Bloks, because I couldn't stomach 2-4 Clif Shots per lap like I am accustomed to. Other than the lack of being able to put down enough food, the race went as planned. I did have one front flat on lap four, but that's no biggie.
Mark Hendershot (Santa Cruz/Syndicate) was chasing hard but I never was in a position of bother. All of my night laps went smooth except for a crash on lap 13. Some guy went down hard in a rock garden right in front of me and I endo'd over him and fortunately he padded the fall.
Bike comes in,
Photo ©: Mike Reed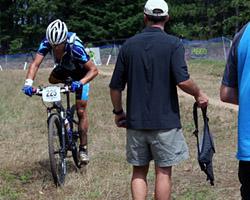 It started raining again at 5AM and that's when all hell broke loose. The storm was setting up to be a big one. Even before the rain started pelting us the lightning had already begun. Then, the rain came. I was charging hard in the pounding rain when course officials flagged me into the marshal station tent. I joined about 80 other racers and we waited to hear when it was safe to either start racing again or if the race was going to be cut short.
This is when it got weird. We could hear the marshals talking to the race director over the radio. Although another storm was moving in, they were going to send us back out on course at 6:45AM. I was soaking wet, getting stiff, and starting to cramp but so was everybody else. At 6:45 we all started racing full bore again from the tent. After finishing that lap I put on some wool socks, changed shoes, chamois, jersey, gloves and headed out for another lap. The storm was complete mayhem. Upon completion of this lap I was told that the race was over early and that the last two laps did not count. Oh well. I could now get dry before the podium.
We packed up the wet tent, gear, and clothes into my Subaru Outback and put my bikes on top. After a beer and some great chats with other racers we headed to the awards ceremony. It was awesome to see the women's team that I started this year the "Tough Girls" www.toughgirlproductions.com win the 4 person women's category. They deserve to be the National Champions with their amazing effort. During the solo awards I looked around while Chris was getting his own stars and stripes jersey and was blown away at the caliber of competition that did not even make it to the top five. What a tough day!
Nat Ross
Photography
For a thumbnail gallery of these images, click here
Images by Mike Reed
And they're off - the start of the 2006 NORBA 24 Hour Championships at the 24 Hours of 9-Mile
Bike comes in, bike goes out; Nat receives a fresh two-niner at a pit stop.
Ham and Eggs - America's top two 24 hour racers at the moment