Recently on Cyclingnews.com
Tour of California - 2.1 USA, February 19-26, 2006
Keeping watch over tomorrow
Stage 2 - February 21: Martinez to San José, 152.7km
Riding next to Savoldelli
Photo ©: Seng Chen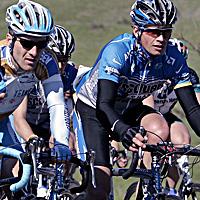 It was a big day today - with George taking the jersey - but I think I'm still in a good position. I'm four seconds behind, and tomorrow the time trial is 27km so I think that four seconds should be ok. After a good prologue on the opening day, I'm fairly confident going into tomorrow, and I think on the climb today I showed I was the strongest rider so I'm pretty confident.
I wish the time trial were a little more hilly then I would be very confident; but there's a big part of it that's flat and straight and windy, so we'll see. My legs are feeling good after today, and the guys in the team did an absolutely perfect job out there - we started off conservatively, and it ended up that only two of them had to ride the whole day. Everybody on the team is riding well right now, and their legs are feeling about as good as mine are. Fabian [Wegmann] was sick the first couple of days but he's pulling out of it now, and he's getting back to where he wants to be.
Discovery came to the front and they tried to push the pace a little today but it didn't really work - then we were at the last climb and immediately the field split down to a small group with only three of us at the top. It was just Floyd [Landis], myself and Bernhard Kohl from T-Mobile - we gave it a good go, but the group came back to us as once we got to the bottom where the roads were flat and straight, and it was easy for the field to come back to us with about five kilometres to go.
The crowds were incredible - today there were people cheering the entire way, and the last climb was like the Tour de France, when you have to ride through the people. It was pretty cool!
Sticking close to Dave Zabriskie
Photo ©: Mark Zalewski

In terms of competition, I think Dave Zabriskie is still doing pretty well - he stayed with us on the climb for a long time, which I think is a sign he's riding well. I don't know if I'd say he's the favourite for tomorrow's time trial, but I think he's the most dangerous rider in the field. Overall, I think it's going to be among Dave, myself, Floyd, Bobby and George - the first five guys from the prologue will most likely be fighting it out for the win on general classification.
Some of you might be wondering about the Specialized angel popping up in pictures on Cyclingnews - she's been everywhere, including this Specialized function we had this evening, watching over us at the start, finish and the top of each climb. It's a promotional thing for their shoes, which she wears, but it also brings a lot of character to the race - kind of like the devil at the Tour de France, except she smells better!
Hopefully tomorrow I'll be able to write to you with the leader's jersey back in our keeping, and I'm confident that I can make that happen - it's not a certainty, but I think there's a good chance.
See you again tomorrow,
Levi
This online diary is brought to you courtesy of the excellent charity service for animals, www.ALegUpRescue.org.