Recently on Cyclingnews.com
Tour of California - 2.1 USA, February 19-26, 2006
Off to a great start
Prologue - February 19: San Francisco ITT, 3.1km
Levi Leipheimer (Gerolsteiner)
Photo ©: Jon Devich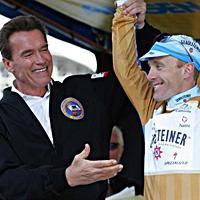 I'm feeling pretty good right now - the race today was only three kilometres, so it wasn't too taxing. Things started pretty early - I think the first rider was off at 10 o'clock, so we were at the course at nine, checking it out. I rode it on the time trial bike and then the road bike with clip ons, and we rode the hills a bunch of times before the start. I decided to go with the time trial bike; the hill was pretty steep but it wasn't like the hills in the Grand Prix that we've had in the last few years, although it was still pretty stiff. I didn't know whether I'd be able to do it in the big chainring or the little chainring, so there were some technical decisions to be made in terms of equipment used - I thought the time trial bike would be best.
My teammate Fabian Wegmann was making another trip to California after winning the San Francisco GP last year, but I don't think time trialling is his kind of thing; the whole team has been having a great time here, however. They've been here for about 10 days, doing some training around the place, and I think everyone is really impressed with the race. It's organised really well, like today when the entire peloton was given i-Pods by the organisers - that was pretty cool.
It was also really cool meeting Arnold Schwarznegger after the stage - he came behind the podium when we were waiting and had a talk with us. He knew a bit about bike racing because he went to the Tour de France a few years ago, and was talking to us about how he presented the yellow jersey to Lance. I think having him present the jerseys just validates the race, and shows the impact it has on California; it's actually a big deal.
Pushing hard in the ITT
Photo ©: Seng Chen

I think it's the best peloton that's been to America in recent years in terms of quality of riders. The competition's high, but I'm confident of doing well - especially tomorrow, as we go to my home town where I hope it'll be a field sprint. It's most likely there'll be a field sprint; it's pretty flat, which favours that kind of finish. The following stage is kind of hilly - it has a hard climb which is a little way from the finish, so I think there'll be a small group that comes together to contest the finish. With the time trial being the next day, we're going to see what's going to happen in this race very early.
But overall I feel good - tomorrow we'll concentrate on protecting the lead and staying up front; if there's a chance in the end then we've got two sprinters - Rene Hasselbacher and David Kopp - but I'm going to try and stay in the right spot away from any trouble. I think some of the guys I'm up against for the overall will try and save their hand for stages 2 and 3 for sure, so they'll be looking to do the same as me tomorrow too. Odessa's pretty busy at the moment - her parents are visiting, so having me racing and her parents here to watch the race she has plenty on her plate. It should be cool for everyone as I race into my home town wearing the leader's jersey tomorrow and hopefully I'll be able to hold onto it and be on the podium at day's end!
I'll be back,
Levi
This online diary is brought to you courtesy of this excellent charity service for animals, www.ALegUpRescue.org.