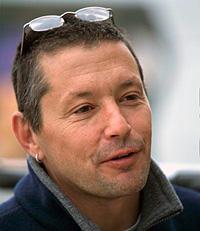 Photo ©: Chipps
Test to destruction: The Keith Bontrager diary 2006
Keith Bontrager is best known as the bike and component design guru behind his eponymous road and mountain bike components, but behind the scenes the man universally known as KB is an enthusiastic and well-respected endurance mountain bike racer.
KB has taken part in a over 50 24-hour races in the last few years, and in his diary takes us inside the mental, physical and technical challenges of long-distance mountain bike racing while juggling the demands of an active interest in the successful international business he began all those years ago.
Three Peaks Cyclo-cross report, October 17, 2006
Yorkshire, here I come!
My plan was about the same this year as it was last year - get up north with a few days to ride, shake the air miles out, get used to the area and the rocks, enjoy the weather and some fine ale, and get ready to race. Other than new wheels, tires and a new handlebar set up, I had a new bike. The bike I rode last year was an Empella with a 1" aluminum steerer. That was a bit too flexible for the descents. I talked Zap out of a Trek XO cross bike, and it was working well. I also added a layer of tape to the bars the evening before the race to help soften the blows on my blistered hands a little.
Descending one of the Dales.
Photo ©: Keith Bontrager

This year I hiked up the back of Whernside with some friends on the Saturday before the race. This is the evil section of the course that has been my undoing every year, so a preview would be good. Ray hadn't raced here before and Julie didn't race last year, so it would be good for them to see it up close and in all of its gory detail. It's a good hike, and it was a sunny day so there were a lot of people taking advantage of the day.
The August rain they'd had there had eroded the dirt around the stones in the trail, so they were a lot more prominent than they had been before. Instead of wasting words on this I am including some shots of the rocks, stones and scenic views of the fell for your enjoyment. It will give you a good idea of how challenging this race is technically, and how beautiful the area is. It was nice to get a chance to see it at a leisurely pace, too - it's much tougher to enjoy it on race day, of course. Keep in mind that it rained on Sunday and these were wet all the way down. It is the north of England, you know.
I'd been running in the hills in Santa Cruz for a few weeks to pre-stretch my Achilles properly and get used to how much this sort of thing hurts. Other than a sprained toe incurred on the way down one day, that part of my preparation went well. I felt good - better than last year. All the nicks were adding up, though. My knees were covered with scabs, my hands still had the remains of some large blisters, I had a decent-sized lump in my thigh from a rock encounter in MO, and my toe hurt. My friend Ray said I looked like a 10 year-old boy (while looking at my bashed up legs, not my wrinkled face). I guess I need to be a little more cautious, or keep getting lucky.
Race day came; I felt good, and was looking forward to it. I had a large breakfast, topped up on fluids, and had a gel about 20 minutes before we started. The race started, I moved up close to the front and got on a wheel. The pace was high, as it always is. Even though this is a neutral start, the guy driving the lead car starts off at 25 mph to get everyone warmed up well before we get to the first climb.
Rob and Isla:
Photo ©: Keith Bontrager

Things went wrong almost immediately. I was very uncomfortable on the bike, could not make any pace, and was going backwards fast. Then I puked. Twice. I'd eaten a little extra porridge for breakfast to avoid bonking like I did last year, but I guess I got it wrong. (I won't include the recipe here). Ray had been talking about how porridge doesn't work for him the day before so I think it is his fault to some extent. I was still feeling miserable at the start of the first climb up Ingleborough, and really felt like stopping at that point, but I kept going anyway. By the time I got to the top I felt a little better.
On the descent I figured out the other mistake I'd made. The second layer of foam tape I'd added made the bars too big for me to hold on to properly. I couldn't use two fingers on the brakes and also keep my hands on the bars in the roughest sections. It was bad enough that I had to back off a little. Bummer.
On the road to Whernside, Rob Jebb came by me (that's the usual spot on the course where he passes me), and so did Nick Craig, so I guess things weren't that bad. But I couldn't eat or drink before the climb up Whernside because my stomach was still a mess, and that started to show near the top. I got up, though it was pissing me off to be racing this way. The descent off the back of Whernside went well for a change. I could ride a lot of the sections we had determined were unrideable the day before, even though it was raining and slick. So did Ray and Julie - funny how that works. You get brave on race day. The oversized grips were bothering me but I could get by with them. As I came past the second exchange area I saw Shaggy and friends, and shouted that this was as far as I have ever come without a puncture. The classic set up was working.
Then I crashed.
I am still not sure what happened. It was an easy, grassy section, a little over half way through the exchange area. I rolled over a little grassy bump and didn't feel anything odd. Then I lost the front end and stacked. It took a while to get up. My knee hurt and so did my back. After taking a quick inventory I realized I'd broken my front wheel, so I had to find Jane and my spare wheels. I hadn't seen her to that point so I figured she was up the road. No dice. So I turned around and back tracked until I found her. I finally got the wheel changed and took off.
My knee hurt pretty bad, but it seemed like it was due to the impact and not a sprain, so I backed off a little and tried to work it out before the next climb. I figured I could pull out if it got worse since the finish area isn't far from the turn up the hill. That also gave me a chance to eat and drink a little, which was fine since I was very low and getting some fuel was going to be the only way I would be able to get up Pen-y-Ghent. Ray caught me on the road and offered me a wheel but he was going fast and I didn't want to risk it.
John Dowell
Photo ©: Keith Bontrager

The climb went fine, not blazing fast but not too bad. I recovered a little with the food and drink, so I started to feel like I could race a little. I could see Ray up ahead so I focused on catching him. He made that easier by stopping to pee at the top and, friend that I am, I took advantage. The descent went OK, but the grip issues were a big problem and I felt like I was creeping along at times with a death grip on the bars. Eventually I got to the finish line.
Raymond had a good inaugural race and is now hell bent on going much faster next year. I heard he bought some running shoes. Extreme measures... Julie won the women's vet category and was 6th woman back - her exceptional year continues. My time was slower than last year by 10 minutes or so, but I managed to finish in 10th anyway and won some beer money for my friends. I was lucky.
Last thing: in addition to Mr. Jeb and Isla, there are quite a few folks in this event that deserve some respect. Maybe I get too weird about this. Maybe I am getting too close to it. Dunno. But seeing guys in their 60s and 70s in this race, and going well and finishing a race like this makes me think how cool bike racing can be. How fast will you be when you are 70? Next year I'll be back to see if I can clean my act up a bit and put together a decent race. In the meantime I have to fly back and get ready for the last big road trip of the year to AZ and Moab.
Oh yeah, one part of the event that is very cool, but very hard to describe is the announcer. He is in the finish area announcing the riders as they finish, and heckling all along in a pure Yorkshire English, "Go-won, mah suhn!"
Thanks again to John Rawnsley and his crew for putting the race on. It's a highlight of my year.
KB