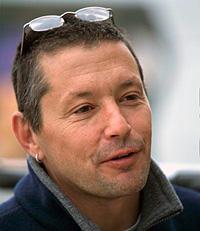 Photo ©: Chipps
Test to destruction: The Keith Bontrager diary 2006
Keith Bontrager is best known as the bike and component design guru behind his eponymous road and mountain bike components, but behind the scenes the man universally known as KB is an enthusiastic and well-respected endurance mountain bike racer.
KB has taken part in a over 50 24-hour races in the last few years, and in his diary takes us inside the mental, physical and technical challenges of long-distance mountain bike racing while juggling the demands of an active interest in the successful international business he began all those years ago.
July 31, 2006
Home remedies cut the cost and pain
The essential ingredients
Photo ©: Keith Bontrager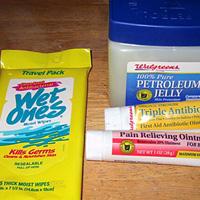 I'm sitting here a week before the Transrockies starts looking like I got punched in the face. I've got the mother of all toothaches, and one side of my face is massively swollen. The dentist put me on antibiotics for a few days. He said they would cut the infection back a little so the pain killer would work when he pulls it. Otherwise, he said, he'd be peeling me off the roof afterwards. I'm in.
So, instead of riding, like I want to be, I am sitting and suffering. To cut the frustration a little I figured I'd do something useful.
Oh yeah. I am really, really hoping that Floyd is clean, just weird physiologically. It seems to me that it would make no sense to dose up on testosterone at that stage in the race. It wouldn't have helped. Anyway, if everyone decides he's guilty without listening to the issues, we suck. Of course, if it turns out that he did dose up, he does. Enough.
Saddle sores
Saddle sores are a bitch. They are not as bad as swollen, infected molars, but they are close.
If you are planning to ride a multi-day event and you don't have a plan to prevent saddle sores, you are setting yourself up for a serious quantity of extra suffering. These things are hard enough as they are.
Here's my take on how it happens. You abrade the part of your crotch that comes into contact with the saddle when you pedal. Small lateral movements are inevitable and they cause the abrasions. The chamois does a little to help, but not much, and in some cases makes it worse. If the abraded area is exposed to bacteria, it gets infected. Then you get boils, they get worse, and then you can't sit on the saddle. That can be a problem on a 150 kilometre day.
Notice that this is not a pressure related thing. You can prevent that by getting out of the saddle regularly. You need a saddle that fits you well too, and that takes some experimentation. But fancy saddles will not prevent saddle sores. It is much simpler.
Cork inserts
Photo ©: Keith Bontrager

Don't think you can do something about it after the fact if you get them going. That's the wrong way to think about it. It doesn't work. Prevention is the key.
Here is my recipe for avoiding them. As is my tendency when looking for solutions, it is not expensive to do and the ingredients are widely available. There are no ingredients from a bike shop involved.
Also, this whole thing is almost entirely empirical. I have not twiddled variables, or researched alternatives. There might be problems for some people, though it is unlikely. But it works.
There are two aspects to the plan - cleanliness and lubrication.
Cleanliness is a matter of cleaning off your crotch before you put on your shorts. I use antibacterial wipes. You might think you have everything as clean as can be, but you probably don't. Try them. You'll see.
Lubrication is simple. Mix up a large vat of petroleum jelly with some antibiotic ointment and some pain reliever. The latter is probably optional, but I use it because I always have.The trick to effective lubrication for a long stage is to use a lot.. Smear the stuff onto the chamois in a large quantity - three fingers worth, minimum. It should feel weird when you put you shorts on. That won't matter. But you want it to last all day, so you need a lot. That's why I don't want to use any expensive Swiss stuff. It would cost a fortune.
The quantity thing came from an observation I made at the TdF in 2000. I was walking around in the pits on a rest day in Courchavel, France with some German journalists, weighing bikes. I noticed a lot of saddles were glistening, covered with fat. I'd been playing with chamois preps for the TransAlp, and had moderate success with them. But the appearance of the pros' saddles gave it away. They used copious quantities of the stuff.
Smearing on plenty
Photo ©: Keith Bontrager

Other than that observation I have no idea what pros actually do to prevent saddle sores. But I bet they all do something, and I bet one of the common methods is not too far off this one.
The petroleum jelly is a little difficult to wash out of the shorts. That is unavoidable. If it was easy to wash out, it would be washed out too quickly by sweat and that would defeat the purpose.
Hot foot
In spite of the faith-based doubts of the faithful president who leads our very faithful country, summers seem to be getting a bit hotter. Funny that.
Those riding in MTB shoes suffer from hot foot, a very uncomfortable condition that can make it very painful to push on the pedals.
The plate in the shoe that the cleat is fastened to is steel. It is directly below the ball of your foot. In some cases only a thin layer of plastic separates flesh from steel. Then the pedal gets hot, the cleat gets hot. When the cleat gets hot, the cleat mounting plate gets hot. And it follows that the part of your foot that is in contact with the cleat mounting plate will get hot next. This is not a good idea.
Cork is a reasonable insulator. It is soft, flexible, and you can get it in sheets at an auto parts shop because it is used for gaskets. Get a sheet of cork that is 1/8 inch thick or so. Cut out a paper doll cork version of an insole and put it between the existing insole and the bottom of your shoe. The cork is fairly stiff and is a good insulator. It will help insulate your foot from the hot metal parts.
You might not be able to use both insoles if your shoes are a super tight fit, but I was able to in all of my shoes. If not, drop the standard insole.
As always, try it out carefully before you do anything important. And if you think this is going to set you back in some other grand orthopedic way, forget I said it. If you get a hot foot, squirt water on it, or walk for a while.
I am not 100 percent certain of this analysis, but I am happy with it so far.