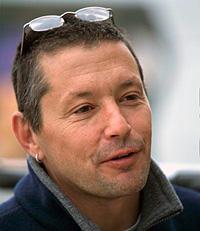 Photo ©: Chipps
Test to destruction: The Keith Bontrager diary 2006
Keith Bontrager is best known as the bike and component design guru behind his eponymous road and mountain bike components, but behind the scenes the man universally known as KB is an enthusiastic and well-respected endurance mountain bike racer.
KB has taken part in a over 50 24-hour races in the last few years, and in his diary takes us inside the mental, physical and technical challenges of long-distance mountain bike racing while juggling the demands of an active interest in the successful international business he began all those years ago.
Portugal, July 19, 2006, Part 1
O Bom, O Mau, e O Feio (The Good, The Bad, and The Ugly)
The good
Julie enjoying the view
Photo ©: Keith Bontrager

I've been putting this one off for a while. I have my reasons of course; I had a lot of work to do since I got back and there have been some compelling sports events on TV. Of course, I also find it much easier to be distracted from these when I haven't done well. But I leave for England and the 24 hour race we are putting on tomorrow and I have to get it done.
I'll start with the good stuff first. That way I can delay the part about my results. This is going to jump around a bit, and it will be too long, but it was a long event with a lot to tell about.
Garmin/TransPortugal 2006
The concept of this race is similar to the other off road stage races, but with some twists that make it unique. It's an eight day long race. The course runs the entire length of Portugal. The days are hard, with lots of climbing. That's where the similarity ends.
Antonio prepping
Photo ©: Keith Bontrager

The easiest way to describe the novelties of the TransPortugal race is to introduce the inventor, Antonio Malvar, who is the genius behind the event and he invented the twists. He is an accomplished rider, mechanic, and organiser, a master at his craft. Talking to him about bikes and riding is a pleasure - he's a soft-spoken philosopher with a deeper understanding of the important aspects of bikes and riding than I have come across in an individual for some time. His total immersion in the subject, well tuned instincts for riding and his feeling for what makes epic rides good all show in his event. It is a very good race, maybe the best of the bunch from an amateur racer's point of view.
The field in Antonio's event is limited to 50 riders to keep it small and friendly. The entire race entourage stays very tight. You start and finish at a hotel every day (generally everyone stays in the same place). You eat meals together every morning and evening along with Antonio and his staff, many of who are relatives of his. It's as though you, your family, and a gang of your best friends are doing a seriously long, fully supported tour, with the clock ticking. All of this is by design. It's the way Antonio wants it to be.
His business is running organised tours. If you want to check out this route, but you think it would be more fun at a slightly more leisurely pace, so you can drink some wine and see more of the sites along the way, there is a 17 day long version a month earlier.
A Pit Stop
Photo ©: Keith Bontrager

There are other things that are unusual about this race. It's handicapped, with individual riders getting head starts based on age and gender. Antonio wanted the results to be simple to understand, so he doesn't have to spend his afternoons calculating time differences and explaining it to the participants. He also wanted to avoid the complexities of a bunch of different categories, which makes sense in a race with a small field. So each rider's starting time is varied and the finish line is the finish line - whoever gets there first wins the stage. The head starts are based on age group results for marathon races, a fairly sophisticated approach. Antonio likes to take care of the details.
For example, Cal Burgart is a 63 year old racer from the San Diego area. He is lean and fit as hell, and can and does ride the legs off many youngsters. Two years ago he came in third here. Last year, he sorted that out and he won the race, using his head start to full advantage. Pretty cool eh?
Another unique aspect of the event is that there are no course markers. Antonio puts the entire route into a Garmin GPS device (indelibly) and you ride with that electronic gizmo mounted on your bars. Navigation comes down to keeping the little arrow pointed on the red line in the display. It's a bit intimidating at first thinking that you are going to depend on the magic box to get you where you need to go. And having the device on the bars is a little award on the first ride. But at about 15 km you start to figure it out and by the end of the second day you are a pro, at navigation. The 60CSx device I used was flawless, and it survived a couple of fairly hard impacts. I quickly got used to it being on the bars. As complicated as the course was, and it was very complicated in spots, it was easy to navigate.
Nuno Guerreiro
Photo ©: Keith Bontrager

There are no feed zones or any support offered by the organizers along the course either. You bring your food and some money, and get what you need as you go along. I only stole two peaches. Honest.
Portugal is an interesting place. The north-eastern part where we started often reminded me of Central California - not the coastal region where I live, but the oak forested, grassy inland areas. The vineyards are pretty similar. Just substitute cork oak and olives for the native Californian oak trees and you'll get the idea. So is the heat in the summer - more on that in a bit.
There are some noteworthy differences though. Riding on steep stone paths that were laid down originally by Romans a few centuries BC is not something you ever get to do in California. There are no 11th century castles to ride through here either. Rural villages with people who still use donkeys to pull their carts are not common here. There are not many shepherds tending goat herds in the middle of nowhere. You get the idea. It's an amazing place - a history lesson really.
That's the easy part.
The course is almost 1000 km long. Last year it was divided into 11 stages; this year there were only 8. There are three stages in the 100-mile range, two on consecutive days. You have to be into long days on your bike for this one. There is some very good singletrack along the way, though, like most of these races, there is not a lot. This is because there isn't enough time for the most part. The days would be even longer.
Post race snacks.
Photo ©: Keith Bontrager

There are no huge individual climbs like there are in the Alps, but the route goes up and down like a yoyo, and there are a few very steep (but rideable) technical climbs thrown in to break your legs.
Here are the stats for those of you that like numbers:
Total distance - 997 Kilometres, 623 miles.
Total vertical distance - 20204 metres, 66269 feet.
You definitely get your money's worth.
The race results were good for many people too.
Ricardo Melo has finished second in the event, and in other events too, often. He came here to win this year and it showed. He won nearly every stage, the first one in a very convincing manner, and, once he had a very solid lead, he won most of the rest working as much as he had to. Cal won one of the later stages to show that he still means business. And there were others who rode very good races. Check the results on the Super Travessia site for the details.
Ricardo Melo
Photo ©: Keith Bontrager

One person who had an excellent race was a friend of mine, Julie Dinsdale. We met in the TransRockies a while back, racing against each other in the mixed category. Last year we rode together on a mixed team in the Cape Epic. We were doing well there until it got hot and I faded. She just got stronger. It seemed like she was going to do well in the heat here. And she did. She finished 5th overall, riding fast from the beginning, getting stronger throughout the event, kicking many (male) tails in the process, and coming away with a lot of respect from everyone. She's been close to the front a few times, but I think this was her best race. Congrats Julie. That's also the end of the "but I'm not competitive" line from her too…
(As an aside, but a definite proof that the Garmin GPS devices work - Ray, a friend of Julie's offered this prediction: "Julie will have no problem with the distance, but I can see her stamping the GPS into the ground at some point". Julie has a less than forgiving approach to new technology, but her Garmin survived the race intact).
The other good things that I can remember (I am sure there were more but they are fading now):
The support crew at the event was great. The race was well organized, people knew what to do, details were attended to, and everything went smoothly. And it was all done by smiling, happy people (most of who spoke excellent English, as did most of the Portuguese racers!).
Rolling into Sagres - Cal Burgart.
Photo ©: Keith Bontrager
There was a South African contingent along, 4 strong riders and their very patient wives. The entire group was cool. Dunno what it is about the South African approach to life, but they are tough as hell, and hilarious (though their command of English was suspect at times, at least according to my understanding based on a Californian dialect).
There were a few equipment highlights. I helped Julie set up some Tubeless Ready wheels, and rode the same myself. We both extended our no flats record from South Africa. I had to stop once and spend a quick fill when I had a slow leak from a thorn but it healed itself. I put more sealant in that night and had no more troubles. Julie led a charmed life and never had any trouble at all. Tubeless with sealant is the way to go.
The heat here proved to be too much for any latex/water based sealants. Their service life was measured in minutes, not days or weeks. Glycol based systems ruled.
I rode on some prototype tubeless wheels with 380 gram rims. They came through fine, though not without some drama. I loaned the rear wheel to Michael, one of the South Africans, to finish a stage after I'd popped. Michael is an ex-rugby player, big, and very strong. The 380 gram rim wasn't ideal for a big rider, but there were no options because his freehub died and he was going to have to try to finish on a makeshift fixed gear bike. He finished the stage on the wheel without incident, but a spoke broke on the last climb of the day, 200 metres from the finish line. It was one of those weird, mid span failures that are caused by a deep nick in the spoke or some sort of metallurgical abnormality, so it wasn't a meaningful problem technically.
Refuelling
Photo ©: Keith Bontrager

I gave him my other spare wheel (a stock Race X-lite tubeless wheel) to ride and he finished the event on that with no more drama (though he had a flat because the sealant had dried out in the heat - sorry Michael - I forgot to change it). There were no spare spokes around so I finished riding the race on the prototype wheel with one missing spoke. It was wobbly, but settled in and didn't get worse. I am going to try them again in Canada, maybe.
Then there is the food in Portugal. That is definitely a good thing to report about, especially if you like garlic and olive oil! In Lisbon you are set if you like seafood. Char grilled sardines are a highlight. So are fish soups and stews. Out in the country we had more rustic food, different soups, and lots of interesting cured meats and pork. Antonio made sure there was plenty of pasta each evening for our carb source too.
But the star of the gastroshow was boiled potatoes with olive oil and sea salt. I know that sounds weird, but it's true. The crew set up a little picnic at the finish line of each stage, with cold drinks, fruit and snacks for the riders to tuck into as they finished. It was something to look forward to every day and not making the riders wait or go wandering around a village looking for it was perfect. Antonio rides. He knows what matters, and has the details covered…
There were some distractions.
Photo ©: Keith Bontrager

Among the snacks were boiled potatoes, sliced, drizzled with a little olive oil and sprinkled with coarse sea salt. They were very popular with everyone at the end of each stage. There is something about salty food that really works at this point. And, they filled another important role for me. After having trouble in the heat I couldn't face some of the energy bars I was using (I am psycho) and adopted the potatoes as my new race food. I filled a few small plastic bags with them and ate them on the course each day. They were perfect, and saved the day. They will be in my jersey pocket in Canada.
One last thing on race food - the Clif Shot Bloks worked well this time. The trick of eating them one or two at a time with a decent shot of water in between was all it took. They are definitely in my plan for Canada.
I need to thank Ricardo Figueiredo and the folks at Bicimax for their hospitality, for shuttling me around to the magazines and for the pre-ride in Sintra. The fish and barnacles were great too!
Part 2 of this diary entry, the bad and the ugly, is here.
For a thumbnail gallery of these images, click here
Images by Keith Bontrager and friends