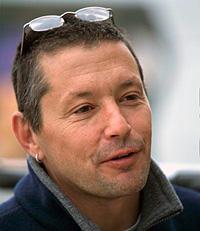 Photo ©: Chipps
Test to destruction: The Keith Bontrager diary 2006
Keith Bontrager is best known as the bike and component design guru behind his eponymous road and mountain bike components, but behind the scenes the man universally known as KB is an enthusiastic and well-respected endurance mountain bike racer.
KB has taken part in a over 50 24-hour races in the last few years, and in his diary takes us inside the mental, physical and technical challenges of long-distance mountain bike racing while juggling the demands of an active interest in the successful international business he began all those years ago.
Great Britain, June 15, 2006
Excuses, excuses...
Now it feels like the year of riding is really starting.
Keith rides in Wales
Photo ©: A.Griffen/Trek UK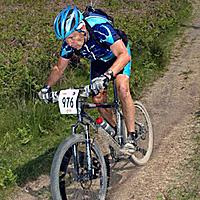 I flew to London and hopped on a train straight to Wales (as soon as I had recovered my lost luggage – the bag with all of my cycling clothes, of course) for a marathon in Margam Park. It was a great course, with lots of climbing and some good singletrack descents.
There was a long section of the novel course surface the Brits seem to incorporate into every race I participate in, and I've never ridden in anything like it anywhere else. Treacle is what they call it. I'm not familiar with treacle, though, and I figure most folks in places that weren't part of the empire recently aren't either, so, in Yank terms, it's soft underneath but dry on top, not gooey, but massively power robbing (like sand). It looks fairly innocent until you realise you are a gear slower than you should be and working very hard to do that. It's not as bad as soft beach sand, but it hurts.
Instead of the Fat Possums I'd grown so accustomed to, this time I rode a no-excuses bike, a very light Trek carbon hardtail. I am pretty creative with my excuses though, so it was not a problem at all. I won't go through the details of the difference it made on the climbs.
The race was part of the UK national championship series and there were people who took it pretty seriously, so it started fairly fast for me - excuse number one – don't get off an airplane after crossing the Atlantic, hop on a bike and expect to be able to go at full speed from the gun. I settled into a reasonable pace and held the power level steady at that point. That's what I would be doing next week in Portugal, so it was good to get into the rhythm now.
It was a 100 km event around a 25 km course, and it was hot (yeah, weird that I had to come to the UK to get some sun – it's been a bad year for that in Santa Cruz). It wasn't necessary to carry enough water and food for the entire event, but I wanted to prepare for that part of the race coming up in Portugal too, so I filled the Camelback with water, and used a bottle full of SIS electrolyte drink for the rest of the fluids I would drink for a lap.
I also filled my jersey pockets with a few packages of Clif Bloks and a full gel flask. I would replenish these after two laps. That brings us to excuse number two – normally in a hot race I drink an electrolyte drink to keep up on lost electrolytes, something at which I am physiologically disadvantaged for some reason, but I left the tubs of powdered Gatoraid in my bike bag at Heathrow. It's difficult to plan well for this sort of event with the chaos of travel added in.
The Bloks were an experiment that I wanted to get out of the way so that I'd have any issues sorted before I tried them in Portugal. Never try something completely new in a big event. They are a pretty cool idea – a fairly concentrated carb and electrolyte source in an easy to handle, easy to swallow gelled cube. I really need the salt and minerals in hot weather and this seemed like a good way to do it. But the course was a tricky one to eat on, so I downed them all at once instead of a little at a time. They went down quickly and easily too, with very little chewing, so my hands were back on the bars and I was breathing easy very soon. Cool.
Or maybe not...as far as I can tell, the large mass filled my stomach, started aborbing water and stopped everything else from happening at that point. I couldn't drink properly after that because the fluids were coming back up. Bummer. I started to cramp a little because I was getting behind. I slowed down and sipped water as fast as I could but not too fast, to avoid losing it all on the climbs, and managed to get through it. By the end I was feeling pretty good again and my legs were good the next day. Fine. Better than that. It inspires confidence to know that I can get through a little crisis like that without any drama.
Then it was off to Lisbon to get ready for the SuperTravessia...
More in a bit,
KB