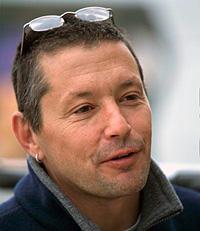 Photo ©: Chipps
Test to destruction: The Keith Bontrager diary 2006
Keith Bontrager is best known as the bike and component design guru behind his eponymous road and mountain bike components, but behind the scenes the man universally known as KB is an enthusiastic and well-respected endurance mountain bike racer.
KB has taken part in a over 50 24-hour races in the last few years, and in his diary takes us inside the mental, physical and technical challenges of long-distance mountain bike racing while juggling the demands of an active interest in the successful international business he began all those years ago.
June 5, 2006
Fat Possum freakiness
Dear Diary...
Sorry I've been silent for so long diary. Work's been very demanding all winter and spring - I've been travelling a lot.
I do try to stay fit in these situations so that I will be able to get into racing shape a little quicker, though the approach is pretty different from all of the training camp stories the other pros put up. I managed to walk around the Shinjuku area of Tokyo for six hours in the rain, getting lost, eating yakitori, and checking out bike shops. I did the same sort of thing in Bangkok. Call it improvised base miles. Both are amazing places, and the street food rules - it's the best I can do under the circumstances.
I've also been under the knife, or laser I guess. I had Lazik surgery on my eyes a month and a half ago. Seeing where I am going is very likely to be a good thing for my eroding descending skills, and it's nice to be able to see in everyday situations too. It's a pretty amazing process, painless, quick, and accurate. I read a magazine the next morning without glasses and went running two days afterwards. My vision has been good ever since too. I am stoked.
It has been interesting work and the travel is almost always good. I've seen some new places and things, including a short visit to Tokyo and Nagoya, and a visit to the LTT tyre factory in Thailand. I have some pictures of them making tyres and I thought I'd put some up here a little later. It's pretty cool to see how they are made.
As you'd expect with all of the work, travel and surgery I haven't been able to ride as much as I'd like. That's a big change from last year when I had already finished the Cape Epic by now. I am suffering from the Ullrich bloat a little too, though I think it has more to do with my Neanderthal roots than too many of oma's cakes. I'm working on it.
But, the slack riding pace is going to change very soon; I'm going to Portugal in a couple of weeks for an eight-day stage race. It's called the Supertravessia/Garmin (aka TransPortugal/Garmin). The course goes the length of the country along the Spanish border, guided completely by the Garmin GPS. Cool.
I am missing some of the 24 hour races I have been racing annually but I've been thinking about this one for some time and think it's going to be a good one. I figured I'd start the year off with a bang, though given the heat we're going to be racing in the bang might be accompanied by a puff of smoke and nothing left of me but ashes. We'll see. The bigger reason for riding in this event is to get miles on so I am ready for the TransRockies later this summer, so I can remind myself of that when the suffering really starts. It's good to have the excuses lined up beforehand.
I haven't been completely slack though. I missed racing at the Sea Otter because of my eye surgery, but rode down on my road bike and back on the day of the short track, so it wasn't a complete waste. Adam Craig put on one of the best shows I've seen for quite a while. It looks like Matt Kelly is going good again too. I am happy to see it.
In the total panic over the lack of miles that came over me last month I managed to arrange a little training ride down to LA. The occasion was an appearance I made for a fundraiser to help the guys who maintain the trails in Pasadena last month. The rain in California made it necessary to bring some extra gear, too much to fit on a road bike, so I put road wheels and a rack on my 29er for the ride. It felt a little goofy riding a bike with a rack and panniers, but it was good that way, especially climbing out of the saddle. And putting in the miles on that bike was a better way for me to get ready for the upcoming events - the position would get me ready for long days on an MTB in Portugal.
It took a couple of fairly big days in the rain to get there, though the taquerias along the route kept me well fuelled. I managed to ride on part of the Tour of California course along the way too. It finally turned sunny towards the end so I managed to work on my farmer's tan in addition to getting some steady miles into the legs. There were some stops at wine shops in the Solvang area on the way back too...I know why the Disco boys train there now.
The weird part was that I switched the road tyres to some knobbies when I got there and rode the same bike on the trails we were saving with the local bike club guys for two days. It worked out, and as such turned out to be an interesting way to do big rides.
There have finally been a few other opportunities to ride lately and I have taken advantage of all of them. There was a chance to preview the Twentyfour12 course in England and that is coming along nicely. Matt Farmer has been working hard on it and it shows. There is no shortage of singletrack at the site, and it winds in between some farm tracks and a well established motocross course, so we can tailor the technical demands for the weather on the day. This is going to be fun.
There was an Enduro to ride when I was over there too, the Dyfi event in Wales. I rode it on a Fisher Fat Possum, graciously supplied by the lads at Trek UK. It's a new bike, not a racer really, but one that fits well into my current frantic personal fitness programme (and the name is an unfortunately good match to my current physical state too). It's got six inches of travel front and rear, very big tires, and very powerful brakes. You can imagine how that works on the trails. There are a few extra pounds going up, which were useful to help me get fitter on the climbs that are coming soon. And then there is a (potential) big pay off on the way back down. The actual payoff in this event was limited though. There were a gang of riders on XC bikes who beat me to the top of each climb and they all ended up in front of me on the descents, many of which had only one line and no opportunity to pass. No worries – I wasn't in a hurry. It was muddy from the recent rains, but the weather cooperated on the day and it was a good event...I recommend it to anyone looking for something to do on a (hopefully) sunny spring weekend next year. Just remember to give the fat guy on the fat bike a break at the top of the hills. Thanks.
And before I left the UK I hooked up with Chipps and we were given a guided preview of the trails in the Exmoor area by some knowledgeable locals. One of the guides was an event organiser from the area, Steve Hawkins. He raises some very good asparagus on the side (actually it might be the other way around). Paul Hawkins was the other guide, and he works for the local park service. We got the best of the trails as well as our fill of the details of the area. That's another fine place to spend some time on a bike. And you should grab a bunch of asparagus if you like good food (risotto recipe to follow).
On the way back from the UK I stopped off in Denver for another promotional engagement and got to sneak in a tyre test in Moab beforehand. Lester, Denver rep extraordinaire, sent me another Fat Possum to ride so I got to do some extra work in on the climbs again. That was fine – I need it.
The tyres I tested (I won't mention the brand, but you can probably put things together) were the sort that were supposed to be light enough to climb with and fast coming back down too. For you roadies it's a new category of off road stuff called "all mountain". The bikes can be ridden uphill, and they are not that bad if you are not in a hurry. But, deep down inside you know right away that what they are really designed to be good for is coming back down fast in the rough stuff. The tyres worked as intended, at least to the limits of my abilities. Your mileage may vary of course.
After riding many miles on the trails around Moab the thing I came away with after riding that bike is that the process of line selection at speed while descending are completely different than they are on an XC bike, much simpler at the reasonably sane speeds I was riding. You only have to watch for the big rocks; the little ones are of no concern. The fat tyres float on sand like pontoons. They climb anything you have the legs to ride up. And descending is really, really fun.
But there it's not all good news for the bliss ninnies. Once you realise how fast you can go and you really turn it up, descending at the new and improved limits has an edgy side. You are now going much faster than you ever were on an XC bike. You definitely do not want to tip over at top speed, especially clad in spandex.
Oh yeah - it's hot in Moab in May.
Back in Denver I got in some time on the road, and had a chance to ride with Nelson Vails for a little while. Nelson is the speedster who rode to a silver medal on the track in the Olympics a while back. He's still riding and was in fine form, getting ready for the Ride the Rockies. I am a fan from way back, but managed to avoid embarrassing myself by doing something stupid when I met him too. There are days I really like this job.
Last thing – a technical tidbit.
One of the projects that kept me off the bike for a while earlier this year was something that came up in the UK but it's probably a more universal issue.
There were some rims with my name on them that were cracking way too quickly. We warranted them, but there was something wrong that I wanted to understand. This shouldn't happen, and doesn't happen often.
The cracks were around the spoke holes , which is not too unusual for rims that have been ridden a long time, but shouldn't happen too quickly. There was evidence of extensive corrosion around the spoke holes and other fairly heavily pitted spots here and there on the outer surfaces of the rim too. We sent them to a metallurgical lab and they found fairly large quantities of road salts in the rims. The salt is mixed with water on the road, and accumulates in the rim, entering around the nipples through the spoke holes. The water evaporates slowly, and the remaining concentrated salt solution is very corrosive. It attacks from the inside out.
Metallographic analysis of the cracks showed that the rims cracked due to a process called corrosion fatigue. Simplifying things a bit, that means the combination of corrosion and cyclic loading did them in, and the corrosion accelerated the process substantially. The odd thing is that these rims are made of a 6000 series aluminum that is typically considered to be fairly resistant to corrosion, though my friends who sail do not think highly of 6061 for marine applications. We are studying it now.
This is not an isolated problem BTW. I've seen similar failures in some French-made rims and nipples that "dissolve" into a crumbly spongy mess. Salt is aggressive stuff.
It's easy enough to solve too. The first way to work it out is to move to a place with warm, dry winters, preferably with a Mediterranean climate so you can eat well too. As good as that might seem, I'll admit that it might not be practical for everyone.
The other trick that will work if you must ride in an area where the roads are salted in winter is to rinse the rims with plain water occasionally. It's not as simple as it seems unfortunately. The salty water gets into the rim past the spokes, and is trapped inside the rim after that. There is no way for it to drain back out on its own. In order to flush it out you have to immerse the rim for a while, and fill the inner cavity with fresh water. Then you have to shake that dilute mixture out to flush out the corrosive solution. That's easy to do, but it is not quick to do. The best way is to remove the tires and rim strips and immerse the rim in a tub of clean, fresh water. Do it in sections (60 degres at a time? don't dunk the whole wheel!).
You can just wait and see if it breaks if you have a rim with a warrantee, but it is almost always easier to avoid the problem with the right kind of maintenance.
Oh yeah – last year things worked out pretty well. The team I rode with in Moab won the masters category. We ended up in near the top of the overall standings too, which is decent for an elderly team. That was the biggest race of the year for me and the last piece of a sweep of the major 24 hour races in the US. I'm pretty happy about all that, all things considered.
Happy trails,
KB
KB's Experimental Risotto
This is a recipe based on traditional risotto recipes, but the important bit is some coaching on the preparation from the Zuni Cookbook by Judy Rodgers, and lots of experimentation. What better way to spend 20 evenings...get the cookbook if you want a good source of inspiration and information.
Risotto with Asparagus and Smoked Salmon
300 grams asparagus, rough ends removed. The asparagus can be large or small, but all of it should be about the same size)
100 grams of good smoked salmon or lox - diced
2 glugs of extra-virgin olive oil
1 medium yellow onion, diced fine
3 cloves of garlic, minced
350 grams Arborio rice
100 grams butter
100 grams freshly grated Parmesan cheese
1 bunch Italian parsley, cleaned and finely chopped
Bring four litres of water to a boil and blanch the asparagus for a minute or so. Move it to a colander and immediately cool it with cold running water. Reserve the asparagus cooking water if you want to use it for the risotto, or use a good quality stock. (see tips below). Cut the cooled asparagus into bite sized pieces and set them aside.
Combine the salmon, olive oil, and onion in a heavy pot or skillet and saute them slowly until the onion is soft (but not browned). It will take about three minutes. Add the garlic and continue cooking the mixture for another minute or so, stirring constantly. Keep the heat down – do not brown the garlic.
Add the Arborio rice, stir it well and sauté it all together for a few minutes, stirring constantly – make sure the grains of rice are coated with oil. Add some of the asparagus cooking water to the mixture, enough to cover the rice by a centimeter or so. Bring it up to a simmer, give it a stir and cook it until the rice absorbs the water and the mixture starts to dry and thicken. Then add more water to cover the rice again. Keep on with that a ladle or two at a time for 15 minutes or so. The rice should be softened through but still be firm enough to resist a little when you chew it – al dente.
Add some more water if it needs it to get the consistency you are after and thed add the asparagus. Cook it only long enough to heat the asparagus through, no more than a minute. Remove it from the stove and add the butter, cheese and parsley. Hold back on the butter if you are a climber of course. Add a little more butter or good quality olive oil if you aren't.
Stir it thoroughly, sprinkle on a little more parsley and cheese for garnish and serve it.
Discussion:
You can substitute a lot of veg for the asparagus. Fennel, peas, leeks, artichokes, all will do fine. Add some greens too if you like. I use smoked salmon in place of prosciutto, pancetta or speck all the time with very good results. But I do not have an Italian grandmother watching over me when I cook, so I can do this sort of thing safely.
The Zuni Cookbook ideas are off centre a bit, but well reasoned and proven. She came to it all reasonably scientifically, as pros would have to do, and the food she cooks in the restaurant is on a level that is hard to argue with. It's also a debunking approach that sort of appeals to me. Go there when you are in San Fran.
Bad tasting broth will make a bad tasting risotto, and using plain water to feature the clean taste of the rice and other ingredients is a better approach. Use the water if the stock you have isn't very good – I really try to avoid quick prep stocks with lots of yeast. This is the reason I started making my own stock – it's worth it.
If you use a pot rather than a skillet the surface area is smaller and the fluid evaporates more slowly, so the rice takes less fluid to cook. The disadvantage with this approach is that the flavours from the cooking fluids are going to be weaker. Their flavours concentrate as they reduce so if less fluid is used, there will be a smaller proportion of the reduced flavours in the rice. If you use water or the veg cooking water this won't matter.
There is no reason to stir constantly if you get the heat right and are using a very heavy vessel (as long as your Italian grandmother isn't looking over your shoulder). I found some enameled iron stuff at the thrift store and it rules for this. Just get the heat right and stir it enough to keep it from sticking. Heating the water or stock that you are adding isn't important for texture, but using warm fluids shortens the cooking time because it doesn't cool the contents of the vessel as you add it. It's an environmental thing. Of course, the mass of the iron cookware makes this less noticeable.
I've heard that Venetians like their risotto a bit wetter than other Italians – all'onda (to the wave). I didn't notice that last time I was in Venice, but I like it that way anyway. If you want to try it, stop cooking the rice mixture with it a little wetter than you want it to be when you serve it. The rice continues to absorb fluid after you stop cooking it. Mine often gets too sticky between the skillet and the table.
I also add cheese as I plate it instead of while I cook it to keep the texture creamy instead of sticky. Dry parmesan absorbs fluid.