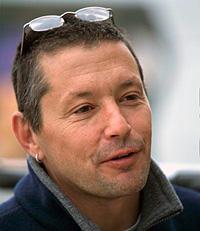 Photo ©: Chipps
Test to destruction: The Keith Bontrager diary 2006
Keith Bontrager is best known as the bike and component design guru behind his eponymous road and mountain bike components, but behind the scenes the man universally known as KB is an enthusiastic and well-respected endurance mountain bike racer.
KB has taken part in a over 50 24-hour races in the last few years, and in his diary takes us inside the mental, physical and technical challenges of long-distance mountain bike racing while juggling the demands of an active interest in the successful international business he began all those years ago.
Looking back at 24 Hours of Moab - January 2006
Mountains of Moab - Part I
Things have been hectic here, and that's why it's taken so long. I am off to Japan and Thailand to visit with tyre companies in a week and have been working on some technical stuff too. It's all good, but long, hard hours at the computer instead of out on my bike. The weather here has been rough lately though, so it is a good time for it. I only had to deal with a small flood in my garage.
Also, I am the technical director for a new 24 Hour race to be held in the UK next year:
www.twentyfour12.com.
My job is to make it a cool race for the participants. I've been out to the site walking around with the guy who is designing the course because getting that done properly is the highest priority. The place has a lot of woods and some interesting vertical stuff - it's going to be a good one. More on that as things develop.
It's been a long season. I started preparing for the Cape Epic in South Africa in December and began racing in February at the 24 Hours of Old Pueblo in Arizona. In all I raced in a half dozen 24 hour races, a few marathons, and two week-long stage races. Add training miles, test riding for product development and just riding for fun to the racing miles and it is more than enough saddle time for me. The 24 hour race in Moab (way back in October) was my last race of the year, and it's ending on a high note. That's a fine place to end it too. It's the big one.
I left for Utah a little over a week before the event, almost as soon as I got back from the 3 Peaks Cyclocross in the UK. I drove there via Las Vegas, putting in an all-nighter to arrive a day after the Interbike show was over. I am not big on tradeshows, and the Mothership was not going this year, so it was not a requirement. But there are convenient opportunities to meet with bicycle industry people from all over the world at these things, so there is almost always a reason for me to turn up.
Unfortunately there were some problems with the team I was organising for the race that were not worked out before I had to leave. (I use the word organising in the loosest possible sense - I do not organise things). We were without two teammates; two of the guys that have been part of our team in Moab for quite a few years had to scratch because they were hurt. Scott Yule and I were the survivors. We needed two teammates, and we had to be picky - I've always said that if you want to do well in a 24 hour race choose your teammates well.
We needed two masters age riders (45+), preferably experienced riding in rocks and sand, and guys who could get around the course reasonably quickly too. Scott and I discussed it and were prepared for the worst. It's tough to find riders that close to the event, and finding guys as fast as the ones we'd ridden with previously would be even tougher. We'd even discussed riding in the Duo Pro category if we couldn't find anyone. That would not be much fun though, so the hunt for riders began in earnest at that point. Time was short and I was worried.
I played two cards that have worked in the past: posting a "rider wanted" message on the organizer's website and telling the Trek sales reps in the Moab area that I was looking for riders. They are hooked up well with the shops in the area and there are a lot of fast riders working in these. I could get online as I drove out in order to coordinate it all; the internet is a wonderful thing!
It worked. Dana Franklin saw the posting on the message board. He was from Denver so it would be easy for him to get out there. His racing credentials were good too - he'd ridden on the team that beat us the year before, bu they dropped him this year because they had too many riders. He also contacted me right away, so it looked like he was motivated. Cool. He was on.
Then Lester B. (the instigator in Winter Park earlier this year) called. A guy named Ralph Winebarger from a shop in Farmington, NM wanted to race with us. His son was coming down to support a solo rider (some guy named Anthony Colby), and a duo pro team from his shop was going to be there too. His racing credentials were very good too - seems he'd recently finished a few ticks down on Ned O. and Travis B. in the Road Apple, a big MTB race in Farmington. Those guys are fast, and getting to the finish line anywhere close is a good day pedalling a bike for anybody.
We were set. It's amazing how well this sort of thing can work out sometimes.
I drove to St George, Utah after a day in Vegas. I'd heard the riding there was good and needed to start chasing the travelling out of my legs, sort out my race bikes and get used to riding rocks and sand again. The local shop pointed me at Gooseberry Mesa, so that was where I went. The place is great; close to town but not too close, with miles of twisty, rocky technical singletrack, up and down constantly but no monster climbs, great scenery and primitive camping. A healthy dose of the trails there left me feeling good. My legs were back, I was comfortable on fat tyres in the technical sections, and the bikes were working fine after a few tweaks. I was playing with tyres and sealant again, and had a set of wheels with some very, very light rims to try out too. All of it should be up to racing in Moab, but I wanted to hammer on them enough to be sure there weren't going to be any surprises.
My next days were spent along the way between St George and Moab for some run/hike/bike combo training days, tyre tests and more camping. There was the usual pre-race suffering on these - I seem to go a little faster when I don't taper much. There were some steep climbs, cold temps, headwinds and great scenery to keep them interesting. This part of Utah is an amazing place. This, and the constant exposure while camping let me acclimate to the desert environment, and that also seems to be a good thing to do before this type of race. I tried something like that last year too and it was encouraging. The environmental exposure seems to wear me down a little less over the duration of the event when I am acclimated.
It lets me polish up my camp cooking too. Dutch ovens are fine things once you become friends with them, and cooking over an open fire always makes things taste better.
I made it into Moab a few days before the event and settled into Canyonlands Campground instead of a motel. A friend of mine turned me on to the place. It's walking distance from the grocery store (and the pub), costs under $20 a night, and has fire pits, showers, a laundry and electricity. There are even small cabins that rent for very little money too. The electrical power is handy - I need to test and re-charge the batteries for my racing lights, and I also need to run my laptop. The bonus feature of the place was that there was a working wireless network that covered the entire camp. I could get the work I needed to finish done while sitting by the fire!
I started riding the course right away in order to get in as many training laps as possible before the event. These are laps ridden at a comfortable pace for the most part, and do-overs are common. But I turn it up high enough in some spots to get a good feel for the lines at race speed and how my bike is working at that pace too. I don't want to make this sound too scientific though - it's a very fun course to ride, so I find myself letting loose occasionally anyway - just because it feels so good.
The organisers lay out the same route for the course every year, but weather and the wear and tear from other people riding (and driving) on the trails throughout the year affect them quite a bit. There were some new lines that made it easier to go fast in some of the rocky sections, but there were also some newly exposed, loose rocks that made some other sections tougher. That's normal, and the extensive preview lets me work out lines to get through the worst of them quickly.
There are also fairly long stretches of soft, drifting beach sand on the course. They are generally rideable, but only if you are doing it right, and that takes absolutely full power. It can cost you a lot of leg after a few laps, but it has to be done. This year the sand wasn't too bad in a lot of the usual deep pits, but it made up for that by drifting into areas where it hadn't been a problem before. Figures...
Nature is rarely generous in Moab. She does her best to take back more time than she gives away (unless it rains - then the course turns into a rocky freeway!). My take on it was that it was a few ticks slower than last year, with most of the time lost on the first half of the course. The second half of the course was a little faster than previous years. Lap times would be a little slower overall, but not much.
There is another incentive for riding as many training laps as possible - to burn the critical lines into my brain as deeply as possible, so that they are instinctive reactions, not rational decisions. There are a lot of venues where this doesn't really matter much and you can make it up as you go along. Good familiarity with the details of each technical section is a very important part of preparing to race in Moab. You approach most of the tricky rock sections blind. There is a ledge at the beginning of each that hides the rest of the rocks until you are right up to them. At speed you don't have the luxury of searching around for the line. If you don't remember where you want to be when you enter the section and are looking around for the line, you have to slow down too much. And if you don't know where you want to be but keep your speed high, and just guess, and hope you get it right...I'll just say that you don't want to be guessing here. You might get away with it a few times, but eventually guessing wrong would lead eventually to very bad things. When I have prepared well I can ride into the rocky technical sections at speed without having to think about where the best line is. I am there automatically. This is a huge advantage at night.
I rode six laps before the race started. That's two more than I would do in the race. I could talk you through every section rock by rock, and was dreaming about the best lines the nights before the race. The guys from Colorado are stronger than I am so I try to make up ground by preparing well and riding the technical sections as fast as I can, day and night. You do what you have to, right?
The family showed up the day before the race. They come out on the train from San Francisco and I retrieve them in Green River. Over the years my daughters have learned the registration and scoring systems well. They help the organisers with those every year, work all night at it, and they really enjoy it. Actually I think they really just like telling adults what to do!
Laura rides here with a women's team too. It's a family affair.
Stay tuned for Part II of Mountains of Moab...
Photography