Recently on Cyclingnews.com
An interview with Vicente Reynes, April 14, 2005
Will it pour for Reynes?
He is the first Spanish rider to win a UCI Pro Tour stage, but the name wasn't Valverde, Flecha or Contador. To the surprise of many, it was Vicente Reynes who won the third stage of Paris-Nice. And although the win in Craponne-sur-Arzon was his finest so far, it was in fact the Majorca rider's third career victory. Cyclingnews Hernan Alvarez Macias caught up with yet another Spanish champion in the making while he was resting in his native island town of Deia.
Vicente Reynes
Photo ©: AFP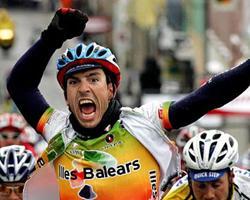 Age: 23
Date of birth: July 30, 1981
Place of birth: Deia, Majorca, Spain
Turned professional: 2003
Teams: Illes Balears (2005- ), Illes Balears - Banesto (2004), L.A. - Pecol (2003)
Career highlights
2005 Illes Balears
1st, Stage 3, Paris-Nice
3rd, Trofeo Mallorca
3rd, Stage 3, Ruta del Sol
4th, Ruta del Sol
4th, Stage 2, Paris-Nice
11th, Milano - San Remo
2004 Illes Balears - Banesto
2nd, Stage 1, Ruta del Sol
5th, Clasica a los Puertos
2003 L.A. - Pecol
4th, Circuito de Getxo
The win in France was complete ecstasy for Vicente Reynes. "The truth is that it was an immense joy," he says. "The day before I won I ended up fourth; I was doing well during those [earlier] days and I had to make the most of the opportunities I had.
"The stage [which I won] was very tough because of the cold and the bad weather. As the stage was shortened, there was a category one climb very close to the end and the climbers made things more complicated. I was very happy because of the people who were in the race and the race itself. It is a big delight at the age of 23."
Although he won, Reynes considers the route not his most favored one. "There was a first category climb very near the finish; originally, it was set up in the middle of the stage, but the shortening put it very close to the end, and things got complicated because of that," he says.
"It seems people have changed their mentality in few months. When there's a ProTour race, riders seem to become crazy! And if it's not from the ProTour, it's worth nothing."
- Vicente Reynes is saddened by the effect the ProTour is having on other races
"Because the climbers went uphill very fast and the sprinters had a bad time. I do pretty well on those climbs; where the sprinters can't pass, I am able to. After that, I was faster than the climbers and that's the advantage that I've got."
Everyone's a sprinter,
Photo ©: Sirotti

Prior to his triumph in Craponne sur Arzon, he finished fourth overall in the Vuelta a Andalucia, so it seems he is making big progress this season: "I trained really hard the whole winter in order to perform well on the beginning of the season," admits Reynes.
"My goals were this start of the year and the month of April with Amstel Gold, Liège-Bastogne-Liège and the Flèche Wallonne, which are the three classics that I will take part in. Indeed, I started really strong in [the Challenge] Majorca and also in Andalusia. I was able to, let's say, culminate it in Paris-Nice."
Reynes spent one year on Portugal's L.A. Pecol team. He has very good memories from 2003: "L.A. Pecol was a small team; it was like a family," he says.
"Any rider would feel comfortable in a squad like this, especially when you are a young cyclist like me. There were riders like Orlando Rodrigues and Candido Barbosa, who taught me much about cycling because they have a lot of experience. It was just one year, but a very productive year in L.A. Pecol."
Vicente Reynes flexing his muscles in Majorca
Photo ©: Mario Stiehl

"Illes Balears is totally different," Reynes then says about his current team, who he's been with since 2004.
"It's a very big team with 25 riders... it's different. It's a bigger company, there's a good relationship among us riders, and also with the director, but it's not the same. It's more professional, there's not that familiar environment, and you have to adapt to that. I think it's a great team for me to grow up and we are demonstrating this at the races. Everywhere we go, we are fighting for the victories, he says.
One rider almost on the team's roster is Alejandro Valverde, the one most Spanish fans and Spanish media have faith on to succeed in races like the Tour de France. "I was sharing the hotel room with him in Paris-Nice and Milan-San Remo and he is as he looks," says Reynes, "very concentrated, very focused."
I think he is a very ambitious guy on road and he transmits that to the rest of the team. He transmits to the other riders that ambition, that excitement of running, of fighting, of struggling. For young riders, and not so young riders, that's what was lacking in this team. That's very positive; he seems to be very excited and strong."
About his directeur sportif Eusebio Unzue, Reynes says he is indeed a very good human being. "He is always there in support when you have a difficult time or a problem," explains Reynes.
Celebrating his first pro win
Photo ©: AFP

"As a director, he is very good; it's not necessary to see all the things he achieved in the past. He knows how to handle himself with riders and he is very calm. Things go better without becoming nervous. In this team, everyone is calm and results come. I feel very good in this team with them."
While the new UCI ProTour is in its very first steps, the change is already realized by the peloton. Says Reynes: "The truth is that it's noticeable when a race is from the ProTour or not. The other day we were riding the Criterium International, a race with much prestige, but it's not the same.
"It seems people have changed their mentality in few months. When there's a ProTour race, riders seem to become crazy! There is where contracts are made. They value only the ProTour races. It seems cycling is just the ProTour. If [a race] is not from the ProTour, it doesn't seem to have the same value. People are making this [change] in some way. I don't think it's correct, because the ProTour is valuing everything. And if it's not from the ProTour, it's worth nothing. It's rather sad."
But because of this, his victory in Paris-Nice is worth more. "Winning a stage in Paris-Nice was always something important", he says, "but to win in Paris-Nice under the ProTour has more attention than a victory in a previous Paris-Nice. It's foolish, but it's appreciated in a different way. That's what has changed."
Enjoying his moment in the sun
Photo ©: AFP

Right now, the April Classics are now his target: "I'm going to ride the Amstel Gold race, Flèche Wallonne and Liège. Then I will go straight to the Giro [d'Italia] that begins on May 7. I'll try to do things in the best possible way. In the Giro, I have to work for the team leaders who are Joan Horrach and Aitor Osa. Let's see we can mark some stages [to attack], but the rest of the days, we will help our team-mates."
Every cyclist has a major dream, some beloved competition he always dreamed of winning when he was a child. Surprisingly for Reynes though, he doesn't aim for one the three Grand Tours. "The truth is that if someone told me last year that I would win a stage in Paris-Nice, I wouldn't have believed him!" he says. "I saw what has to be done in order to succeed there and I saw it as very tough. Now, I will try to do things in the best possible way and keep on progressing."
"Let's see if some day I can fight for the races that I like the most, which are Flèche Wallonne, Liège and Amstel. For me, these races are another kind of cycling, another cycling culture; the one they have in Holland and Belgium. That's where I would like to shine and win some of these races. That would be a dream... " Time will tell.