An interview with Tom Southam, January 31, 2005
Learning from a champion
Tom Southam
© Shane Stokes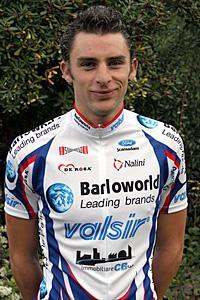 Age: 23
Born: May 28, 1981
Place of Birth: Cornwall, United Kingdom
Height: 183cm
Weight: 69kg
Turned professional: 2004
Teams: Barloworld (2005), Amore e Vita (2004)
Selected career highlights
2004 - Amore e Vita
2nd GB National Champs
20th overall and 7th in KOM classification, Tour of Britain.
2nd Haut Anjou
1st stage, 2nd overall Trophy Trios Provinces
2nd Tour de Gironde
Rode for British team at the Road World Championships
After competing for a year with the modest Amore e Vita team, Great Britain's Tom Southam will line out alongside former world road race champion Igor Astarloa and the other Barloworld-Valsir riders in 2005. Performances such as a silver medal in the British road race championships last summer plus a strong display in the Tour of Britain have led some to regard Southam as one of the country's brightest young prospects.
The 23 year-old is looking forward to the new season, training hard in South Africa over the winter and then returning to his base in Italy to complete his preparations. His first appointment is the Tour de Langkawi at the end of January; after that, he is hoping that the team will gain wildcard entries to some of the sport's big ProTour events, enabling him to continue his progression. Shane Stokes talked to Tom at the Barloworld training camp recently, and here's what transpired.
Cyclingnews: Well done on getting your contract. You were with Amore e Vita last year, so this must be quite different?
Tom Southam: Yes, completely. Last year was a small team of fifteen riders. It was a lot easier to get to know everyone, we got to know everyone really quickly. There were a lot of Scandinavians, hardly any Italians, and everyone was English-speaking. That was more like a family environment - a lot of the smaller Italian teams are like that, run like a family. This one is quite a big structure...you have the existing structure for Barloworld and the structure of another team coming in.
It seems to me that everyone is getting along fine and gelling okay. Once I learn Spanish I will be all right!
CN: What languages do you have?
TS: English, French and Italian. And a bit of Dutch as well, an understanding of it.
CN: Not bad! What will be the dominant language on the team?
TS: English.
CN: How did the contract come about?
TS: I actually have to thank Phil Liggett for helping me out. I spoke to him during the year - he was commentating at the national championships and he was also at the Tour of Britain, two races I went quite strongly in. I was looking for a new team in order to step up the ladder a bit. He contacted John (Robertson, Barloworld-Valsir manager) because there is a connection there...Phil is in South Africa a lot. It just started off like that and just snowballed.
CN: You finished second in the British National's...can you tell me about that?
TS: Sure. It was probably the best race I rode all year. It was a big focus - my goal for last year was that race. I crashed three weeks before and that messed me up a bit, but then I got back and concentrated on it. I went back to England and I stayed there and focussed. I was really pleased because I came out on top form on the day, and I had not ever done things like that before.
Southam in 2002
Photo ©: Ronan Quigley

CN: Do you have somebody coaching you, that helped you to peak?
TS: It depends. It all is determined by how much racing I am doing. When I lived in the UK I had a coach, Gary Dardell, who did everything but now it is a lot harder. I had a program last year but the team would ring me two days before and say you are going here to race, so it would all get messed up.
Through the winter I do more of a program and then I just race.
CN: What were the key points of the British National's?
TS: Well, firstly Jamie Burrow rode really hard the first two ascents up the big climb on the back of the big circuit. He tore it apart so we were down to 35 guys before we even hit the finishing circuits. Then Jez (Jeremy Hunt) went away with Mark Lovatt and Andrew Jackson and they built up a good lead. We hit the climb then and it all split to bits. I was actually in the third group, because I felt real bad for a bit. A lap later I felt better and on the climb I went across to the next group, and then I attacked them straight away and went across to the break on my own.
It was a really good circuit. People said that it was too hard but if you look at the guys who were there, you have Jez and Roger (Hammond) who are not climbers, Jamie and Charly who are both climbers and me, who is not really a climber. So just the strongest guys. That is what was left up front. I attacked on the back of the circuit and Roger came across...that was it finished for the rest, really.
CN: When you have been mixing it with Roger on a race like that and then you see him in the Discovery team, that must be good for your motivation?
TS: Yeah.. It is encouraging looking at Roger's career because he started off at the very bottom, doing kermesses in Belgium. I'm sure a lot of guys would just have said 'to hell with this' as it is real hard, but he just stuck with it and has risen to the top. Look at him now, he is competing for Classic wins. You just have to stick at it, through the grim bits!
CN: You rode well in the Tour of Britain as well. Can you talk a little about that?
As an amateur in France
Photo ©: JF Quenet

TS: I was very good on the first two days. The first day, I wasted a bit of energy sprinting for hill primes. I went with 20 kilometres to go and got a nice gap, but then a few guys came across and then it all came together. The second day, I was really strong. The plan was that I was going to go in the early move. I got a few mountain points the day before and I wanted to take the jersey, because that would be a big thing. Ben Day went away. For some reason Duncan Urquhart (mountains leader) had it in his head that he was going to mark only me. Fifteen times I tried to get away, and each time he was glued to my wheel. It wasn't a problem if he came through, because fair enough, I get away, he comes with me and we fight it out like that. But instead he just sat on me so every time the bunch just came back.
Anyway, Ben Day went away and got ten seconds. I went away and looked over my shoulder to see QuickStep - who had the leaders jersey - saying let him go, let him go. I thought 'right, I'm away' but then Urquhart came across again and brought the whole bunch with him. I got annoyed at that point, because I was really strong that day. I rode well on the early climbs and then later, I went over Holme Moss towards the front...there must have been about twelve guys left. There was a break and then the front group, and I was in that. On Snake Pass I paid a bit for my efforts...the Portuguese guy from US Postal attacked (Jose Azevedo) and unfortunately I pulled my foot and then lost my rhythm. I got back in but too late, the break had already gone. We caught them before the line but that day, if I had ridden more intelligently, I could have been up there... Okay, you can always say that ifs and buts count for nothing in bike racing, but I know I could have done well.
CN: But presumably it must be pretty motivating to be riding well against some of those well-known guys?
TS: Yeah. Thing is, my condition wasn't that good...I was just strong mentally. At times you realise that you can push yourself a lot more than you expect.
"He took to my Elvis shades so he is alright."
- Southam on his new, laid back teammate, Igor Astarloa
CN: So to this season. Do you have any idea what your likely programme is going to be?
TS: All I know is that I am starting with the Tour de Langkawi. Obviously with the ProTour and us not being in it...we are probably one of the biggest teams that is not in it, we can't guarantee anything just yet. My personal goals lie again with the national championships which I am determined to win soon - this year - and the Tour of Britain as well. They are both races that I know I can do well in. When you have got races that you know you can do well in and you have done well in before, that makes it an easier goal.
I am starting with the Tour de Langkawi at the end of the month. It will be the first time I have done it, but I should come out of it with good form. I have had a good winter in Africa, it is the perfect base for that time of year. To be honest, I don't mind where I race as long as I am racing.
CN: Does having a rider like Astarloa in the team motivate you?
TS: Yeah, sure. I watched him win the worlds because I was over there doing the Under 23 race. I watched him win that and now, all of a sudden, I am going training with the guy. That is pretty cool. In cycling you are always around older guys who have done it, and you are like 'wow, he has done this and he has done that', but they are not current. So you think, 'okay, you did do it like that but that may not be applicable now'. Astarloa was world champion last year and he had a great year. People say he didn't do much, but you must remember that he didn't race much. When he did race he was getting good placings - he took seconds and thirds in Tirreno-Adriatico, then didn't race (because of the Cofidis situation). Then he came back and he got second in his first race and won the first stage of the Brixia Tour. When you actually ride the events you think 'wow, that's really good.' He is a tough guy, he is one of the top dogs out there.
CN: How does he seem as a person?
Too cool for school.
Photo ©: Mark Gunter

TS: Pretty cool! He is quite laid back. He took to my Elvis shades so he is alright (laughs).
CN: You and he both have Italian and can talk in that. How many years have you spent over there?
TS: Just one year.
CN: And you picked it up in that time?
TS: Yeah, well I had an Italian chick...(laughs). I learned it from her...that's the best way!
CN: How would you define yourself as a rider? What strengths do you have?
TS: I don't like to say an all-rounder because I think all rounder is a weak way of saying you don't do anything particularly well.....but I am, sadly, an all rounder. On my day I can climb. For example, climbs like Holme Moss that aren't more than five or six kilometres, I can do those no problem. On my good days in Italy I can get over a mountain. I haven't reached my peak as a rider, I am still developing, but for the moment I would say I am an all-rounder.
Breaks are my thing. I have a good nose for sniffing out a breakaway. I can ride a good stage race but I always have an 'un jour sans', as they say. If it falls on the right day, I can still do a good stage race because I can time trial well. I am probably a breakaway specialist.
" Once I start racing the blood drains away from my head. It can be frustrating."
- Southam on his still raw tactical sense
CN: Next year, you say the British National's are a goal. Do you have anything else pencilled in as a target?
TS: I get quite motivated by races in France, the French Cups. We did three or French cups last year and in every one of those I was in the winning break. I didn't have it in my legs to get to the finish with the leaders - I got 11th and 12th and 15th. Those races are worked out on an attacking basis. Any races that are done like that I can pretty much get myself into the winning break. It is just a matter of progressing myself a bit further to be competitive.
My director last year was pleased with me but he said that the thing I have got to do from now on I have got to make sure I am finishing with the lead guys. It doesn't matter if you finish with 100 guys, it doesn't matter if you finish fifth out of five. You have got to be with the lead guys, you have to finish there. I have to race more towards being there in the finale and being competitive there rather than wasting my energy.
CN: Has that been a weakness?
TS: Yes, that has been my biggest weakness, my mental approach. I just waste energy doing mountain sprints when I don't really need to, or attacking left, right and centre.
CN: Is that nerves that causes that?
Tom Southam
Photo ©: Ronan Quigley

TS: Probably a bit of that. Once I start racing the blood drains away from my head. It can be frustrating. On the second day of the Tour of Britain I had the legs to do it but I wasted all my energy battling Ryan (Cox, now a teammate) for the mountains points.
CN: What long-term goals do you have?
TS: Em (pauses)...long term goals. I want to be racing for Classics. My long term goal is to get up there in the biggest races and, like Roger (Hammond) has done, be competitive at the end.
CN: Are there any particular classics that you have picked out?
TS: Paris-Roubaix. I don't know if physically I have got the attributes, but we'll see... In the winter I was talking to Paul Sherwen. He is clearly a Paris-Roubaix rider. I said to him I want to ride Paris-Roubaix; he looked at me up and down in a look which said, 'you ain't got the physique, pal.' But I race well over cobbles...I have done so far.
CN: Is riding the Tour a big goal?
TS: Yeah, it is a big goal. I see riding the Tour as a sort of incidental thing, because I don't want to go there and think 'wow, I am riding the Tour'. If I do go to the Tour, I want it to be a thing that is part of my year and I want to win a stage in it. I don't want to just go to the Tour as a goal...I'd rather go for a stage win in the Tour rather than just ride the Tour.
"If you want them [overweight kids] to go out and do a sport where they have got to flog themselves for 200 kilometres, they are not going to do it."
- Southam is pessimistic about growing cycling as a sport in Britain
CN: What is it like being a British rider abroad - is that tough?
TS: I didn't realise what it was like because when you are young you just accept that if you want to be a pro, that is what you have got to do. It wasn't until this year until I came back with Charly (Wegelius) for the Tour of Britain. We said 'shit, this is so easy doing it at home'. You don't realise what a difference it makes, just being in your own country and not having to think. I am fluent in other languages but you still have to concentrate when you are watching TV. It is not your stuff, it is always stuff from another country so you are never quite settled.
So it is always that bit harder. When I am at home you just know what to do. If you need to get a tyre changed, you know what to do, you know where to go. Abroad you have to think about these things. Everything adds up and you are less settled. Your performance isn't as good, as a result, because you are up against it all the time.
That said, it is pretty cool as well. I enjoy living abroad and I think I would live abroad anyway, even if I wasn't a rider. It is nice because there are a few British riders now - I think Steve Cummings has just turned pro with Landbouwkrediet-Colnago - and there are few English-speaking guys so you can get your own community going.
This year I am going to live with David (George) and Sean Sullivan in the Lake Como area. Charly (Wegelius) is just down the road.
CN: Cycling is still a minority sport in the UK, despite the good performance by British riders on road and track in the past few years. Does that bother you?
Tom Southam
Photo ©: JF Quenet

TS: No, not really. You are not going to get British people doing it because it is just too hard. If you go to schools you just see loads of overweight kids walking around. British people are just eating bad food and turning into blobs. If you want them to go out and do a sport where they have got to flog themselves for 200 kilometres, they are not going to do it. So it is not going to get bigger. It is not going to become a big sport, unfortunately.
CN: Is it fair enough to say you feel more European?
TS: Yeah, I guess so. I am not really that nationalistic, even about racing for my country. I race for GB at the Worlds and that but I don't get a big buzz of nationalistic pride. Even though you have got to come from somewhere and you need a flag, I suppose. But I would consider myself to be more European.
CN: Is there anything in your family history that would make you more inclined towards the outlook you have for travelling and living abroad?
TS: Well, both my parents are very liberal. My mum lived in Paris for a year when she was eighteen, just packed her bags and moved off. Then she moved to Berlin too for a year. My dad travelled across the states. Both parents were teachers when I was a kid so the whole summer holidays I would spend abroad, traipsing around art galleries which bored the shit out of me! So I have always had a kind of thing about being open to other countries, being open to learning a language, being open to travel. That is one of the things I like most about being a bike rider.
CN: What is your family's attitude to your career?
TS: They both think it is great. My dad is into cycling, so he is over the moon with how things have worked out. He's come though it all the way with me. Coming from Penzance, it is about five or six hours to the nearest race so even when I was twelve, he would drive me about six hours to London. I would do a thirty-minute criterium and then he would drive me home again. That was his whole weekend, so to do it all with me was awesome. He is part of it as much as me. And my mum thinks it is great that I am doing something that is cool, not a job.
CN: Not a job?
TS: Yeah...I will stick at it and fight off normal work for as long as possible! (laughs).