An interview with Tim Johnson, March 3, 2005
Boy from bean town joins Bean Team
A match made in metaphor heaven!
After a year in Europe that didn't go quite as well as he'd hoped, Tim Johnson is back in the USA with the Georgia-based Jittery Joe's team. As he tells Cyclingnews' Mark Zalewski, he's hoping to apply what he learned in Europe to his new role as mentor and team leader.
Tim Johnson races in Georgia
Photo ©: Jason Spruill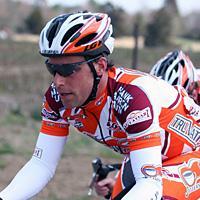 This time last year, Boston native Tim Johnson looked to be setting out on a very promising career in the European peloton. The only American on the up-and-coming Spanish Saunier Duval team, Johnson was being groomed for possible GC contention. However, his year did not go as well as planned. Even with some positive results at a few races, the stress of life across the pond and the extreme level of competition there combined to make life rather difficult for Johnson. As the season wore on, he decided he needed to be in the US, and began to talk to a few teams.
At the same time, Micah Rice was looking for an experienced GC rider to take a leadership role on the quickly expanding Jittery Joe's/Kalahari team. After dozens of calls and emails, the two came to an agreement, and all seems to be going very well for everyone involved.
Cyclingnews: You've made a lot of life changes recently. Was your off season equally as affected by these life changes?
Tim Johnson: The off-season was awesome. It's the first time I've had a solid break. I got off my bike at T-Mobile last year and left it in the bag for a while. I decided I wanted to change some things. I had almost six weeks off and started to ride my bike again because I wanted to. [I] slowly came back into shape as opposed to last year when I never got out of form and came into the really hard racing. So this year I purposely tried to take a break and then get going again to get ready for this year. But it was awesome because Lyne and I got to spend time together. We're at home for actual weeks in a row -- in the same bed!
Best US rider at the Univest GP in 2000
Photo ©: Jonathan McElvery

Johnson plans to return to cross
Photo ©: cyclocrossworld.com

Chasing Phil Zajicek
Photo ©: Beth Seliga

Enjoying some crit racing
Photo ©: Beth Seliga

On the attack
Photo ©: James Moro

Racing in Australia in 2003
Photo ©: Shane Goss

Getting sweaty
Photo ©: Jeff Tse

Ouch! A spill at Trenton
Photo ©: Jon Devich

CN: How did the process work of you getting on board with this team? When did you make the decision to not race in Europe anymore, and how did it all come about with Micah?
TJ: When I decided to come back to the states last year, I started talking to a few different teams. I made the decision before San Francisco. I wasn't really ready to make a huge decision in life, because I was having a rough time with the racing with Saunier Duval -- I was kind of racing over my head. So I started planning for this year early enough so that I could have some options. It was really great. I talked to a few different teams, but talking to Micah, he was so enthusiastic -- the next thing I know he is sending me emails all the time and calling me up. That kind of feeling is great.
CN: What did you know about this team prior to signing?
TJ: I had seen them around. I knew Jonny from before and always see them at all the races. What I was looking for is a team where I could help build things up, use some of the experience I've gained from over the years and have a good year. When I was on Saturn I was just learning how to be a bike racer. Last year on Saunier Duval I never had the chance to be a bike racer because it was so hard for me. For this year I want to help somebody win and be the guy to win. This team fits perfect because I can be a leader and help out everyone else sometimes.
CN: So you plan on applying the lessons you learned from your days with Saturn and Saunier Duval to this team?
TJ: I spent a year racing with Chris Horner, who is probably the best tactician in US cycling -- the guy is a genius on the bike. I learned a lot from him. And last year at Saunier Duval I learned how to suffer for sure. To put all that together and I am a year older... I don't think I am the most talented guy in the world, but I hope I can race at the front and do some exciting things on the bike!
CN: Speaking of Chris Horner, you two kind of flip-flopped your positions this year after being together on Saturn. Did you talk to him at all before he headed over to Spain?
TJ: I did. He is going to be fine. He is so strong and a powerful rider -- for him to be in a bike race, he is only thinking about one thing, and that is how to win. So moving up to that level he is fine, he'll have a great year. It's funny; he is not at all worried about assimilating into the culture. He is going over there to race his bike, and then come home. That is it.
CN: It seems you are following a similar pattern to Chris -- going over to Europe for a time and suffering, and then coming back and racing in the States. Do you plan on following his plan closely and maybe head back over in the future?
TJ: I hope to follow his pattern because what he has done the last couple of years in America is incredible. He has won everything multiple times. When he went over with Francaise des Jeux he was pretty green. He spent some time getting his ass kicked and then came back and put it into practice and been a great rider ever since. If I can have anywhere the same trajectory as that I will be pretty happy!
I will definitely go back over [to Europe] for cyclocross. As for the road, if I really need to... I mean I had the dream to race in Europe and I achieved that dream, but I realized once I got there that it wasn't for me and that is fine. So I am pretty happy with the way things are going. I am not disappointed at all with coming back. Coming back is the best thing for me. Someone may say something different, but they don't know me and they don't know my situation. I am satisfied and happy.
CN: As a GC leader of the team, how are you preparing yourself for the coming season?
TJ: I had the best winter of training ever. Before I was always either trying to catch-up from cyclocross or not lose any form and be anxious all year and do too much too soon. Tour de Georgia is our biggest race of the year for the team, and for me to go in good shape and have a couple of wild cards with me and a couple of guys for the sprints like Evan or Jeff Hopkins... we don't have anything to worry about. We are not any less prepared than any other team. Sure Discovery Channel is a huge team and they have 'The Man' on their team. But we are going to race our bikes as hard as we can.
For Philadelphia and T-Mobile, I know how those races work. They are all just races, and if we can race well, things might turn out for us.
CN: Coming to this team from Europe puts you into a leadership and role model position. Do you embrace both or see either as more of a burden to shoulder?
TJ: I think I like it a lot. The biggest lesson that these guys are going to learn is that they might look up to a rider on another team and wonder how they are so good, but what they don't realize is they might be just as good as that rider, but they are just learning the recipe they need to become a great rider. Some of the guys are so green that they don't know where they are going to go or what their ceiling is as a rider. I think that is pretty cool for me to be a part of. If I can help, it's awesome for me. I will try to lead by example, and I like to race.
CN: What do you tell these green riders, many of which likely have similar aspirations of racing in Europe some day, about making it over there?
TJ: I was really lucky the way things went for me -- to get my opportunity to race with Saunier Duval. I was lucky that Mauro Gianetti thought I had the potential to race over there. And I did have some good races and a lot of people helped me. For the guys who have that dream of racing over in Europe -- if you have a very special talent and you are very, very good at that talent, then absolutely you have a place over there. But if you are a so-called 'normal rider,' there are hundreds of guys who already live in Europe who may be hungrier than you are. But if that's what makes you tick and what makes you go out and train every day, then yeah, go for it and I hope to see you in the Tour some day.
CN: What is the biggest thing you are most excited about living and racing back here in the states?
TJ: Probably the time in between races... to go to a race like the Vuelta Asturias, which not many people know of, but is one of the hardest races in the world, it's crazy. You go to a race like that and not know any of the riders, and they attack on a 20km climb like it's flat! But the hardest thing for me was at the hotel after or in between races, I was so blown that I was having a hard time doing anything. But for me to be able to go home and recover, and say, 'Hi Lyne, how are you?' and just hang out, is just a really good life. It's a perfect combination.
CN: You had a nice ride with the Scott USA bike last year. What is the new carbon Garneau like?
TJ: Compared to the Scott, they are very similar -- both full carbon. This is the first year that Garneau has been making it, but they put a lot of effort into it. When we pulled them out of the box, the paint job was just killer! When we got on them, they were really cool. Yesterday in the race, they were working well. It's cool for a small team like this to be taken under the wing of a giant company like Garneau is exciting. We have cool helmets, cool kits, cool bikes, everything!
CN: The team went to a local crit in Greenville the other day as a training race. What was that first race of the season like for you?
TJ: It was my first race since San Francisco, and the first time I've felt fast on a bike since May of last year. Honestly, I was so excited yesterday -- I spent probably two minutes in the pack and the rest of the time I was attacking! I had a great time. I love to race my bike and I loved it.
CN: Were the local riders less than thrilled to see your team roll up to the line at their local crit?
TJ: There were some good riders out there! These guys, they don't realize how strong they are. There is little difference between them and someone wearing a different jersey.
CN: Does the change in the type of racing, back to the more fast and sometimes hairy criteriums and such, worry you at all?
TJ: Coming from cyclocross, I enjoy fast, short and hard types of races. Criterium racing is exciting. We have two killer sprinters in Evan Elkin and Jeff Hopkins. Yeah, when we show up to a crit there might be seven Health Net riders going up to the front for a lead out, but we have two guys who are just as fast as their sprinter. We might have to be a little scrappier in our tactics, but I hope we can get onto a lot of podiums that way.
CN: What is Lyne up to these days?
TJ: She is pumped up. It is cool to see. She has had kind of a rebirth this year. She is going to be going on the mountain bike for fun, and racing some of the bigger races she has ridden. I remember once she was thinking of racing in the Giro with Saturn, and she said, 'Oh, I don't think I want to go.' And I looked at her and said, 'What! How can you NOT want to race in the Giro?' But for her it is different. She is at a much higher level than I am. And when she says that she doesn't want to go to a race any more, it's for a different reason. I have no idea why, but I was really proud of her for making such a hard decision to not go back to Quark. She has done a lot to make sure she is going to have a great year and still relax. And when she says she is going to race in the Olympics in 2008 in Beijing, I believe her! She needs this year to relax and regroup, so we are hanging out and living in Athens, Georgia!