Recently on Cyclingnews.com
An interview with Susanne Ljungskog, August 19, 2005
Being the best in the world
To be the best in the world you've got to do the hard work - just ask Swedish dual World Champion, Susanne Ljungskog. She's hungry for another world title, and caught up with Cyclingnews' Gabriella Ekstrom to discuss world titles, safety and riding with the men.
Susanne Ljungskog
Photo ©: Klas Johansson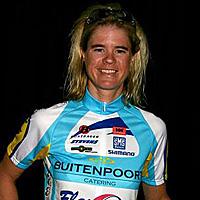 Age: 29
Date of birth: March 16, 1976
Began competitive cycling: 1988
Teams: Team Aliverti-Catalunya-Kookai, Vlaanderen-T Interim, Buitenpoort Flexpoint
Career highlights (2002-05)
2005
Swedish RR and TT Champion
2nd, World Cup, Tour of Flanders
5th, World Cup, Canada
7th, World Cup, Geelong
7th, World Cup, Wellington
2004
Swedish RR and TT Champion
1st, Stage 9, Tour de l Aude
1st, Stage 6, Thuringen Rundfahrt
3rd, Stage 4, Giro del Trentino
1st, GP Silkeborg
4th, Stage 8, Tour de l Aude
5th Overall, Giro del Trentino
6th, World Cup, Castilla y Leon Féminin
9th Overall, Tour de l Aude Féminin
2003
1st, World Road Championships, Hamilton, Canada
1st, GP Rosignano Italy
Swedish RR and TT Champion
1st, Stage 10, Tour de l Áude Féminin
1st, Points Clasification, Giro de Trentino
1st, Stage 4 Thuringen Rundfahrt
1st Overall, Tour of Netherlands
1st Overall, Giro della Toscana
2nd, GC Trentino, Italy
2nd Overall, Thuringen Rundfahrt
2nd, Stage 7 Tour de France Féminin
3rd Overall, Tour de l Áude Féminin
3rd, Stage 10, Tour de France Féminin
3rd, World Cup, Rotterdam
5th, World Cup, Montreal
7th Overall, Tour de France Féminin
1st, UCI World ranking - since October 2002
2002
1st, World Road Championships, Zolder, Switzerland
1st, UCI points
1st, Stage 14, Grande Boucle Féminine
1st, Stage 3, points, Emakumeen Bira
1st, Stage 1, Trophée Féminin Méditerranéen
1st, prologue, stage 1 & 5, & GC, Giro della Toscana
2nd, stage 9b, 12, points, combined & GC, Grande Boucle Féminine
2nd, stage 2, GC, Trophée Féminin Méditerranéen
3rd, mountains, Grande Boucle Féminine
3rd, GP de Plouay WC
3rd, GCTour de Snowy
4th, GC, Emakumeen Bira
5th, Tour de l'Aude Cycliste Feminin
6th, GP Suisse WC
6th, Thüringen-Rundfahrt
Sunday's category 1.2 Scandinavian Open in Sweden saw Team Mälarenergi's Christofer Stevenson take home the victory, but the 194 kilometre event also offered the spectators as well as competitors a rare sight. Alongside the 130 elite riders, one female rider took to the start, and when the peloton came in for a massive final sprint, she was right up there battling it out for tenth. "I guess there were UCI points for the tenth spot," Susanne Ljungskog said after the race. "They sure wanted it bad. Ah, I wasn't last though!"
With the winner's average speed of 45.1 km/h, Susanne clocked 44.5km/h for the whole race, and finally ended up in a 33rd place, with one hundred of the male starters behind her.
Riding the women's La Fleche Wallonne
Photo ©: Klas Johansson

Ljungskog rode the same race with the men last year as well, and finds it excellent preparation, but when asked if she'd recommend it to other women she says that it's up to each and every rider to decide. "This is something I have chosen myself. Other riders will have to see what suits them, but I race with the guys to improve my strength and stamina for the upcoming races I'm aiming at. I don't race with them in order to win, I don't stand a chance of doing that!"
"It's a simple fact that men are physically stronger than women. The actual difference between a man and a woman is great. A man has 20% more muscle mass, and a woman also has to battle with a naturally higher fat percentage. I do the races to gain hardness, toughness and to get the distance. That will provide me with an advantage when I stand at the start of the races I do want to win - the women's races."
Even if the two-time women's World Champion wasn't the winner of the race, she certainly provoked some reactions during the day. "Yeah, I got a few during the race. I suppose it surprises some of the guys that I actually ride along with them in the peloton. At one point in the race, there was a Dutch guy who looked at me and exclaimed "You're a girl! How is it possible?" I said something along the lines, "Well, I do train a lot..."
"...provide me with an advantage when I stand at the start of the races I do want to win"
-Ljungskog on why she likes to race with the boys
"I guess that for some men it might be hard to understand that I as a girl can race at their level, and I don't think that the average Swede understands the difficulty of doing such a thing either. I don't ask them to, though. People involved in sports seem to appreciate it more."
Having raced at the highest level in the world, Ljungskog points out a few differences between men's and women's racing styles. "The biggest difference is the increase in speed after a corner, for example. In women's racing you feel the effects for a couple of hundred metres, while in a men's race, it goes on and on for several kilometres. It's the same thing with ascending; it's harder and faster. If it's flat and straight, I can sit in the bunch alright."
At the time of the interview, Ljungskog had been home in Sweden for little over two weeks, and is now preparing to go to England for the World Cup on Saturday. "We'll leave on Friday and we'll go home shortly after, so it's a short trip. With only four World Cup races to go, I'm second behind Oenone Wood in the total standings, and although it wasn't one of my pre-season goals, it has become one. I have never won the World Cup before, and I'll give it my very best effort."
The drinks are on me!
Photo ©: Klas Johansson

"The race on Saturday seems to be a pretty tough course, similar to Plouay, which is our next World Cup race, so I think my best chances are there, rather than in the Rotterdam Tour and in Nürnberg, and, because the latter two are flatter races.
Just like many other female riders, the Buitenpoort Flexpoint rider was in Germany for the Thüringen Rundfahrt last month and describes the shock she felt when she learnt about the accident that killed Amy Gillett and seriously injured her five Australian teammates. "It was hard to grasp. That something like that could happen to a girl I had met, a girl I was often racing with. The fact that she is suddenly gone isn't easy to cope with. It's too big for a human to understand, I think. I have to work with it, and when I think about her parents and her husband, it hurts deep inside of me. We held a ceremony for her at the race, and that felt good. It was a beautiful ceremony."
"I'm definitely more aware of my own safety nowadays. There's been so many accidents, and I have eyes in the back of my head when I'm riding. I'm often turning around, looking, when I hear cars approaching. They are often way too close, and I think that something's got to happen one day. People are fragile; it only takes a small touch from a car. When I'm in Sweden I can chose where I ride, and I normally train on the roads with less traffic."
In the Swedish National Champ's jersey
Photo ©: Klas Johansson

Along with the World Cup, the World Championships is another goal for this Swedish speedster; "before the season, I was looking forward to the Tour de France, but unfortunately that was cancelled. I also knew I wanted to win a third World Championship. I will approach that race in a relaxed style, because whatever happens, I'll still have my two gold medals already. Other riders might be in a more desperate situation where they feel they've got to win. Don't misinterpret this though, because I still want to win.
I'm just as hungry now as when I won my first World title in Zolder. What is different this time is that I have the advantage of being more relaxed, and therefore ride with a cooler approach, like I did in Hamilton when I won my second title."
"I would be just as happy for a third gold medal as I was when I took my first. I'm not satisfied with two titles. I want to show that I'm the best rider in the world, and if I didn't feel that way, there would be no reason for me to race at all."