An interview with Steffen Wesemann, February 15, 2005
"If I had a wish..."
Steffen Wesemann enjoying the sunshine
Photo ©: Mani Wollner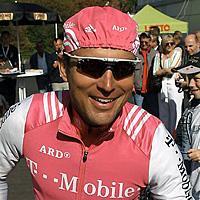 If you're a German bike racer not called Ullrich or Zabel it would be easy to feel over-shadowed. But Classics specialist Steffen Wesemann has carved a niche for himself away from stage races, demonstrating his talent in the best way when he won the 2004 Tour of Flanders. Hedwig Kröner found out what he'd like to win next.
Cyclingnews: Tell us about your season schedule - which races will you do?
Steffen Wesemann: I'll be starting out with the Tour of Mallorca, then ride the Ruta del Sol in view of the first Belgian race, Het Volk. After that, I'll ride the Tirreno Adriatico and Milano-San Remo to be in top shape for April. Of course, I'm concentrating on the Spring classics like the Tour of Flanders and Paris-Roubaix. We've planned my race schedule until the first of May.
CN: And beyond?
SW: We'll have to see then. The flat plan would be to return to racing at the Bayern-Rundfahrt, and see if I can do the Tour of Switzerland as well. After that I'll focus on the Autumn races and on the World's, but it's really too soon to say anything about that now.
CN: Last year's Tour of Flanders must have been a special moment for you.
SW: Well, there are only two Germans that have ever won this race [Rudi Altig in 1964, and himself - ed.], so it is an absolute highlight in my career.
Career highlight: Flanders 2004
Photo ©: Olympia Photo

Perfect weather
Photo ©: Sirotti

On the podium at Roubaix in 2002
Photo ©: Sirotti

Riding in the Rheinland-Pfalz Rundfahrt, 2004
Photo ©: Mani Wollner

First 2005 outing
Photo ©: Franklin Tello

CN: Tell us about the race.
SW: It started out bad for me actually, because I crashed after 110 km. At that point, I had buried all my hopes for victory. But then the race developed in my favour again - maybe because I felt more relaxed about it and just told myself, 'let's see what happens.' I waited, and at the Muur van Geraardsbergen I played out one final card, which proved to be the right one. The team was also very strong last year.
CN: Erik Zabel will be riding the classics again this year. Will that change anything for you?
SW: There won't be much difference. Erik will be a 'joker' in these races and gather a lot of riders around him. Quite a few riders will think that our team is riding for him as a leader and wait for a possible sprint, so I'll be able to ride freely. And if my form is good enough, I think I'll get the support of the team.
CN: What exactly is it about the Belgian Spring classics that attracts you?
SW: There aren't a lot of people that like these races, and most of all, that are able to win them. Over the years, I found out that I'm one of them. I would have liked to have a go at the Tour de France overall as well, but I had to admit that it's just not for me. My body is made for hard one-day-races, especially the really tough ones like Tour of Flanders and Paris-Roubaix. At these competitions, I don't mind the rain at all - actually, I'm happy when it does, because it takes the others' morale down.
CN: What would be the culmination of your career?
SW: If I could make a wish, it would be Paris-Roubaix. But the World Championships wouldn't be bad neither…
CN: Are you working towards that?
SW: At the moment, I'm concentrating on the Spring classics until May. Afterwards, I will look for new goals. To think about it now would be too soon.
CN: Who are your toughest rivals in your opinion?
SW: Peter van Petegem, who has won the race twice already, and then there are the guys from Quick.Step: Tom Boonen, Paolo Bettini... I'll be watching them.
CN: Have you ever thought about changing teams? Did you get any offers?
SW: There are always offers. But when you compare the pros and cons, T-Mobile always made the best offer to me. Sure, you do think about it every now and then, but you need to weigh up the possibilities carefully, asking yourself 'what will be the outcome of this change for me?' As long as I had a contract with T-Mobile, as long as they want me in the team, a transfer was just never the better option.
CN: So what is it about T-Mobile that makes it the best team for you?
SW: The environment is just very professional. The directeurs sportifs' work is very good, and I have a very good relationship with Walter Godefroot. I know I can rely on the team, that's very important.
CN: How important is friendship?
SW: [hesitates] True friendship is very hard to establish at this level of sport, and there aren't a lot of guys I would call my friends. But there is something like very strong comradeship within the team that has evolved over the years.
CN: Do you have any thoughts on the ProTour?
SW: I think there is a need for the new series, and it does make sense, but it seems unfinished to me. I just don't know if the concept provides the solutions to all our problems. We'll have to see through the year how it will work out, but in my opinion, the ProTour should help the teams to get sponsorships, and I can't see that happening right now. The opposite is taking place, because the ProTeams have to pay enormous license fees to the UCI in order to be able to ride the same races as before, when there was no ProTour. The ProTour was designed to market itself, but it's living off the team licenses right now. The license fees would be fine if the rest was happening. In Formula One, the teams that score points and get results get financial support from the series, but the UCI hasn't taken this step yet. And there is nobody who's taking care of the TV rights marketing neither, although I thought that was one of the main reasons for creating it in the first place.