In interview with Roger Hammond, November 21, 2005
Taking inspiration from Armstrong
British pro Roger Hammond had hoped for a great 2005 after a breakthrough ride to the podium in the 2004 Paris-Roubaix and a contract with Discovery Channel. It didn't turn out quite the way he expected, with Roubaix derailed by bad luck and a planned world championship attack botched by team politics. Undaunted, the ever-optimistic Hammond is now looking forward to 2006, as he tells Shane Stokes.
Roger Hammond at Paris-Roubaix
Photo ©: Gerard Knapp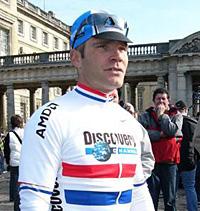 This time last year, British rider Roger Hammond was celebrating the step up from the modestly-sized MrBookmaker team to the all singing, all dancing ProTour Discovery Channel squad. Results such as his third place in Paris Roubaix and seventh in the Olympics had shown the former world junior cyclo cross champion to be a strong and dangerous one day rider. Joining Lance Armstrong's team was expected to help him mount an even better Spring Classics campaign.
It only takes a second for plans to unravel, though. Hammond put everything into his buildup for Paris-Roubaix 2005, forgoing his beloved cross races in order to maximise his chances of doing well. He showed good form in taking second in the 1.1-ranked Dwars door Vlaanderen in March. However, a moment's ill luck in Gent-Wevelgem sent him crashing to the ground, breaking his thumb and botching up his season's big target. Although he bravely lined out in the Hell of the North, the difficulty of racing on pave with that type of injury meant that he had a below-par showing. Months of preparation had gone down the drain; all he could do was pick himself up and try again.
Hammond posted some respectable rides after the Spring Classics, finishing fourth in the Wachovia First Union Classic and 14th in the First Union USPRO Championship. He rode solidly on stages of the Tour of Switzerland and Eneco Tour de Benelux, then went frustratingly close to a ProTour stage win when he finished second to Lampre-Caffita's Daniele Bennati on the 5th leg of the Tour of Germany. His improving form meant he entered his home race, the Tour of Britain, with hopes of a top overall finish, but missing the break on day one put paid to those chances. However he bounced back in style the very next day when he won stage two, then showed good form again in taking third on the final day's racing in London.
Winning at Tour of Britain
Photo ©: PhotoSport International

Hammond had a year that many professionals would be happy with, but he's by no means satisfied with what he did.
"Overall, it was very disappointing," the 31 year old told Cyclingnews this week. "I had really hoped for a lot more. There were some periods of bad luck and also some near misses… had I won the two races I was second in, I might be looking at as a bit more of a passable season. I was second on a stage of the Tour of Germany, which is a ProTour race. Had I got a ProTour win I think I could have looked back on it with a bit more pleasure, really, but let's make no bones about it; I was aiming to do a ride in the Tour of Flanders, Gent Wevelgem and Paris-Roubaix. But all that went in pretty much one crash, really."
Hammond knew that a strong ride in the world championships would more than make amends, so he built specifically for that race. The Tour of Britain took place at a perfect time to help him prepare, but once in Madrid carefully laid team plans started to unravel. Charly Wegelius and Tom Southam did a lot of riding early on, something Hammond said at the time went against the team plan and his own instructions. As a result of that, Wegelius and Southam have been told they will never again be selected for Great Britain, while team manager John Herety resigned from his post.
On the podium at Tour of Britain
Photo ©: Ben Atkins

On that matter, Hammond prefers to let things settle and not talk about it. However, one thing he is very happy to tell Cyclingnews is his dealings with Lance Armstrong, in what was the Texan's final pro season. Describing the seven time Tour winner as "a very, very inspirational guy", he gives an insight into how that work ethic rubs off on those on the same team. His hope is that by showing some of the same application, he can get the result he craves in Paris-Roubaix next spring.
Cyclingnews: First off, how have you been keeping since the end of the season?
Roger Hammond: Not too bad, I have started training again now. I had my break, taking a week's holiday in the sun in Fuerteventura.
CN: Good stuff. So what else do you do to refresh your mind in the off-season?
RH: Well, to be honest with you, the off-season gets shorter and shorter due to the way the season is now. If you want to be good in the Classics, you have to start training fairly early on. So there wasn't a great deal of time off once I had been away for a week. Paris-Tours is halfway through October and then you start training in November - that doesn't give much time off.
At the USPRO championships
Photo ©: Don Varley

By the time you have caught up with getting the house in order again, you have taken up the lot of that time. During the season, you try to avoid doing any manual work around the house, so I spent the best part of a week trying to get my place into a condition that it doesn't take too much work to look after during the season. I got rid of trees and anything you have to maintain, really. I was making sure it is just the grass that needs to be cut during the year.
CN: It sounds like a bit of a working break, that you don't get much time to relax and chill out…
RH: Well, I try not to get too unfit during the off-season so if I can do some things like that, it helps. It doesn't keep me at an elite level, but it is far from sitting in a chair all day, either.
CN: Looking back at your season, what is your opinion of how 2005 went for you?
RH: Overall, it was very disappointing. I had really hoped for a lot more. There were some periods of bad luck and also some near misses… had I won the two races I was second in, I might be looking at as a bit more of a passable season. I was second on a stage of the Tour of Germany, which is a ProTour race. Had I got a ProTour win I think I could have looked back on it with a bit more pleasure, really, but let's make no bones about it; I was aiming to do a ride in the Tour of Flanders, Gent-Wevelgem and Paris-Roubaix, but all that went in pretty much one crash, really.
In the peloton
Photo ©: Andrew Kennedy

I went down in Gent-Wevelgem and had a broken thumb. Riding with that sort of problem in Paris-Roubaix really puts you up against it, it's very hard.
CN: You went into those races on the back of a very good ride the year before with the MrBookmaker.com team, taking an excellent third place in Paris-Roubaix. So it must have been hard to accept what happened this year, especially as you were with a much bigger team, Discovery Channel, and your expectations were higher this time around…
RH: Yes, exactly. But I guess on the other side of the coin, there were differences at least - I was just one rider on the Discovery Channel team, whereas last year with MrBookmaker.com I was one of the protected guys during the races. If I felt like I wanted to go for it, I was given all the freedom I needed to do that. With Discovery, unless I was 100 percent - and even then, there were always other guys on the team who were as good if not better - it was different.
CN: What were your impressions of working with Armstrong, in what was his final pro year?
Warming up
Photo ©: Andrew Kennedy

RH: Well, he's a very, very inspirational guy. It wasn't that I wasn't a fan of his before I went to the team, but to be honest with you, I had very little to do with him before this season. With our racing programmes, I don't think I competed against him for three years so as far as racing against him goes, I had very little experience of it. Certainly on a personal level, in any races we were together, I just knew him to say hello. But once you have worked with him, you can see why he is such a champion and why he went on to win the Tour seven times. I know it sounds a bit of a cliché, but I wouldn't put it past him to achieve anything he wanted to do because of the mentality he has got.
He has got so much time for us as individuals, as well.
CN: Does that rub off on you as well, when you see the amount of effort he puts into something…in other words, do you pick up some of that work ethic?
Digging in at Ronde Van Vlaanderen
Photo ©: Jonathan Devich

RH: Yes, definitely. Take today, for example…. okay, I don't mean to sound like a wuss, it is not something I think about every day, but on days like this when it was absolutely lashing down, I was thinking 'damn, I have got to go out and train'. But then you think about it and realise that Lance didn't win the Tour de France by staying in when it was raining like this. That crosses your mind, and you think 'okay, I gotta do it.'
The other day, I was thinking about overtraining and asking myself if I was working too hard for this time of year. Then I started calculating back from July, working out what would be the equivalent time span for him as it is for me, from now to Paris-Roubaix. Looking at it that way, Lance was going up the side of the hill in Paris-Nice, so it made me realise that perhaps I am not training too hard after all!
CN: What do you think his role would be with the team next season?
RH: I have no idea, to be honest with you. I think that the something that we will find out more about in California. I sincerely hope he stays heavily involved - as far as I'm concerned, if it was my choice I would like him to be in the team car when we are racing. But the other thing that comes across when you work with him is that you see how many extra things there are that go on in his life outside cycling. The humanitarian side of him, basically. He has so much going on that I am sure if he never turned up at a bike race again, his days will be full from dawn to dusk anyway.
At the Ronde van Boxmeer
Photo ©: Matt Jackson

CN: You went to the world championships this year with high expectations and with a team that was supposedly built around you as its lone leader. However, on the day, some guys seemed to have their own plans. As a fallout from that, Charly Wegelius and Tom Southam have been told that they will never again get a place on a GB team and the manager, John Herety, lost his position. What do you think went wrong on the day?
RH: To be honest with you, it is something that I would rather not talk too much about. What I can say is that I was very disappointed with how things turned out in Madrid. There was a big review done afterwards, and I am very pleased that Dave [Brailsford, British Cycling Performance Manager] has taken it by the horns and dealt with it, because it shows that British Cycling has pushed forward into being a nation that needs to be reckoned with in the future. Those sort of things can't happened any more. I think that Dave has led by example, showing that they [deviations from the team plan] will not be tolerated.
CN: On another subject, there is talk of George Hincapie being a protected rider at next year's Tour. Will that change his participation in races such as Paris-Roubaix, or do you think he will have a normal spring preparation and then build back up again?
RH: I have no idea! I am definitely the wrong person to ask. I would much prefer to have George there at Paris-Roubaix. It is nothing to do with me, I can see that he enjoys the Classics just as much as I do. If I was in the same situation as him, I would find it hard to miss the Classics. From my point of view, I would certainly love him to be there.
CN: Finally, what goals have you identified for next year and beyond?
In British champion colours
Photo ©: Roger Thomas

RH: To be honest with you, very similar to before. I want to be good at Paris-Roubaix. Next year, I want to be going better from early on. Last year I was still building in March, trying to hone the last part of my form for the Tour of Flanders and Paris-Roubaix at the beginning of April. Next year, I want to be going well earlier and to have some more form for the other Classics, the likes of Dwars door Vlaanderen, Het Volk, Kuurne. To be a little more competitive then…
CN: Which is actually the way that you were going with Mr Bookmaker…
RH: Exactly, a little bit more back to the old days. I don't think it did me too much harm. Mentally, I am not a guy who gets bored or needs breaks to freshen up for races. I used to race so much with Bookmaker that I just got used to riding a heck of a lot, not picking and choosing. I would like to go back to that, to get some confidence boosters before the big races. I think that helps a lot.
See also:
A voyage of Discovery - November 2004; Dreaming of Roubaix - April 2004