An interview with Robbie McEwen, June 17, 2005
The psyche of a sprinter: Part I
He was once considered brash, arrogant and awfully quick, all at the same time. But after 10 years in the peloton, when one describes the best road sprinter Australia (and on some days, the world) has ever seen, Robbie McEwen seems to have lost those first two adjectives - though certainly not the third, as Anthony Tan saw with his own eyes on a stage of the Tour de Suisse this week, a race he's using as final preparation for his ultimate goal: the 2005 Tour de France.
McEwen has realy established himself as one of his generation's best sprinters, as seen in this year's Giro d'Italia.
Photo ©: Sirotti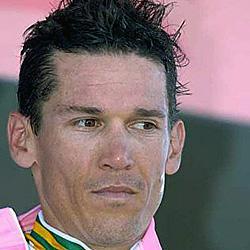 For over three years now, ever since he won the coveted Australian Open road title and his first of two Tour de France points jerseys, Robbie McEwen has been at the top of his game.
And in his ten years since turning pro for Rabobank back in 1996, his palmarès is one of the most impressive out of today's - and yesterday's - generation of sprinters. So is the 32 year old - who confesses that he's turning 33 in less than 10 day's time - simply getting faster and faster?
"I don't think I'm really faster, but I can do it more consistently; I'm a bit stronger, but also consistently stronger," he says to Cyclingnews, lying on his four-star hotel bed in Bad Zurzach the evening after winning the fourth stage of the Tour de Suisse. "I've found over the last three or four years, I'm better at building up to an event and knowing I'm going to be good there."
What's also interesting is his love-hate relationship with the maillot vert, otherwise known as the green jersey competition at the Tour de France. "The brutal honesty is that it's the most over-rated points competition in cycling -it's not always won by the best sprinter," he remarks - before adding: "but having said that, in 2002 and 2004 when I won it, I was the best sprinter of the Tour".
Once he starts talking about the stress and struggles he's had to just get those one or two "bastard intermediate sprints", and how old rival Erik Zabel and new rivals like Thor Hushovd and Tom Boonen just never give up, ever, it becomes apparent the battle for green is a labour of love. Or maybe just laborious.
"Every stinking day, they put those intermediate sprints in those mountain stages... like, we're going for a sprint at the bottom of a 20k climb - they don't understand you're doing an absolute full effort, nearly popping you're eyeballs out of your head going for these sprints just to get another two point lead on your closest rival - then you've got to go uphill...
At the 2004 Tour de France
Photo ©: Roberto Bettini

"It's things that, the things that people don't see about that competition are the worst things. Just constant stress - you know there's only one winner of the green jersey - and you could come into Paris being two or four points behind... one guy's standing on the podium with the green shirt on, and the other guy's got nothin'.
McEwen has ended up twice first and two times a runner-up, so he knows what he's talking about; the agony and the ecstasy. But his improvisation in changing lines, tactics and wheels - all in the last kilometre of a bike race - is a large part of what has made Robbie McEwen... well, Robbie McEwen.
"I think the thing about how I ride a sprint is that nobody knows what I'm going to do because I don't know what I'm going to do - and that's what probably makes me a difficult opponent."
No doubt, after a Spring plagued by sickness but ever-ascending form, McEwen will be an equally difficult opponent this July, as he goes for his ninth lap around France.
Cyclingnews: Robbie, you raced less than two weeks of the Giro [McEwen pulled out of the race after Stage 12 - ed.], but you came away with three stage wins. You must have been really satisfied with those results, given the problems you had earlier on in the season?
"I finally had the feeling of 'Oorrph... I'm back where I belong.'"
-After a couple of months of illness, McEwen is back on track
Robbie McEwen: Oh definitely. When I went to the Giro, I was hoping to win a stage, and when I won the first one, I finally had the feeling of 'Oorrph... I'm back where I belong.' Someone asked me at the press conference today how much time did I lose in being sick, and I said you can take everything between the 5th of February, the last stage of the Tour of Qatar, and the 20-something of April, when I won in Niedersachsen [Rundfahrt]. I felt sick the whole time... I just felt crap.
So my base condition at the Giro wasn't fantastic; I had to rush myself through any sort of preparation stage, so I was really happy to get three stages. I honestly wasn't expecting it... win one, maybe two - but in the sprints, I was just cruising. Like I said today, I had bad days at pretty regular intervals; I had a bad day on Stage 9, the first stage Petacchi won - I just felt really bad, just lack of base - and then had another poor day on Stage 12. After that day, I started to get sick, and that was my last day [at the Giro], Stage 12. I was just happy to get through two weeks of racing, because I knew it was going to stand me in good stead in this period [from] now until the Tour de France.
CN: At least for me, the circumstances surrounding your illness are still a bit of a mystery, so can you explain exactly what was wrong with you and how did it happen?
It takes focus...
Photo ©: Caroline Yang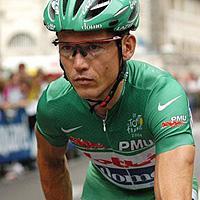 RM: At the beginning, I rode Tour Down Under and had a good time there; I then flew to Qatar, and had a really, really long trip... I won the last day and started to come good, started to feel alright. Then we had a long trip to Europe, and had a huge day at the team presentation; I left home at seven o'clock in the morning and didn't get home till midnight or one o'clock... a ridiculously long day.
At the same time, my son and my wife came back to Europe, and [Ewan] started to go to school. He came home from school sick and had a fever, and being a bit run-down myself, I got it straight away. So it started off with a fever, which went onto bronchitis at the Ruta de Sol, so I stopped there; I couldn't really get rid of it - I kept training through because I wanted to ride Het Volk - I made a goal of Milan-San Remo.
I thought if I don't get all the preparation races in, then I might as well forget it. It was also really bad weather in Belgium; there was a lot of snow and it was very, very cold. By the time I got to Tirreno, the bronchitis was going away and I was starting to improve. I thought: 'Good, I can maybe just make it over the Poggio and have a go at Milan-San Remo.'
But the morning I was about to go to the airport and fly to Milan, I already started to feel really terrible. On the train to the airport, I thought, 'I'm feeling really shit here.' Got to the airport and thought maybe I should just not go at all. They [the team] said, 'No, no, come along, see what happens' - I got there in the afternoon and couldn't get out of bed. The trip back to Belgium took all day, too; I was so crook, I felt like I could just crawl into a corner and keel over.
I had a fever again, couldn't scratch myself, and got chronic sinusitis. My sinuses are still swollen - I can't seem to shake it off - it's hung with me the whole time...
I decided at Milan-San Remo that that was it; I said [to myself]: 'I'm going to stop and wait till I get healthy; I'm not going to ride my bike again till I get healthy. When the worst of it was over, I did a couple of rides and did my comeback at Scheldeprijs. Finally, there was light at the tunnel and things started going good. You've just got to keep persevering and keep your head screwed on. Get healthy first and start training normally; don't change too many things... just keep pushing through it, and take it on the chin.
CN: From memory, it's the first time you've been seriously ill like that in your 10 years as a pro - is that right?
RM: No - I've been sick other times. Last year, I got sick at Paris-Nice - that's the first time I had sinusitis. I've never had it before [then]; I pulled out after three days, and I was sick as I was getting there.
Maybe the best thing for me to do is to stay out of Europe till the beginning of April (half-laughs)... with the cold weather, I just seem to come down with something and have trouble with my sinuses - maybe that's something to look at next year, not coming back till the end of February or something - I think that might help.
In green in '02
Photo ©: Sirotti

CN: I guess your most brilliant year was 2002 when...
RM: That was the one year - I don't know if it was coincidence or something - that I didn't get sick; I didn't get sick in the off-season before it and I didn't get sick through the season, and I kept a really high level all year. Every other year, I've always had something that just breaks it up and have to rebuild; that's been the difference.
CN: If you were to miss the early season, would it hurt to miss the Spring Classics?
RM: Doesn't bother me; I hardly ride any of them, anyway. [This year], I was aiming to do a good ride a good Milan-San Remo, then I was probably going to ride Dwars Door Vlaanderen, and then Waregem, Harelbeke... and then I was going to hang it up till Scheldeprijs.
I don't aim at the Spring Classics as such. I could aim to do things at 100 percent: Waregem, Harelbeke, Wevelgem - even Paris-Roubaix, just because I go alright across the stones - but you basically have to know what you want to do in October or November the year before, what you want to do the next year and how you want to set your season up.
My team expects me to win stages in Grand Tours and the biggest stage races, so that's what I try and do. I know what I'm best at - I'm not going to try and change myself into a Classics rider. I don't have a huge motor, I'm not the strongest rider in the bunch, but I'm one of the fastest sprinters, and I just keep concentrating on that. You see guys lose time, trying to change themselves into something they're not...
"it's also a case of winning the battle to be on the wheel [of Petacchi]'"
-Robbie explains what you have to do in order to beat Ale-Jet, which he did three times in the 2005 Giro
CN: But I guess as a consequence of age, they morph into another rider, like Jalabert, for example...
RM: Yeah, Jalabert or a Museeuw, but I'm probably not like either of them. But I just focus on the sprints, and you've got to really make a point of training your sprint and maintaining the explosiveness - otherwise if you don't, you're just going to lose it.
CN: Speaking about your sprint, you mentioned at the press conference today [Stage 4] that you were surprised because you weren't at your top form, but another thing I found surprising was that two out of the three stages you won were really tailor-made for Petacchi. That must've given you a nice surprise and added motivation, because they were both flat-line sprints?
Mate, can you just listen for a second...
Photo ©: Sirotti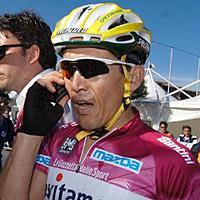 RM: Yeah, well, that's more the press. There was huge expectation on Petacchi, and everybody basically has their story written before the stage has even been ridden, and I know that if I'm going any good, there's just as much chance they're going to have to rewrite their story.
CN: That really annoyed me, Robbie...
RM: (laughs) Yeah, he's the favourite, Petacchi's won a lot of times and he's got a super-organised team. It's also the case of winning the battle to be on his wheel when the train starts going for home.
CN: Your team also proved that with less than half the number of lead-out men, with Nick, Henk and maybe one or two other riders, you can challenge and derail a train of eight or nine riders. So how did that make you feel, this year's Giro being one of the first times the train collapsed not just once, but on a number of occasions?
RM: I think after the first day, they started to feel a bit of pressure. It was pretty good that three or four of us old mates (laughs) could put me in the right spot where I needed to be. Once I was kept out of the wind, and taken where I needed to be, [sprinting's] all I have [left] to do.
Basically, if there's something as predictable as the train of Fassa, because you know what's going to happen every single time - it's not like they're going to change - it takes someone like me to ruin their work. Not trying to sound big-headed, but honestly, there's hardly anyone who can pass Petacchi in the bunch once he gets going - there's probably two or three of us... the sprinters that can beat him, you can count on one hand.
But like I said before, it's also a case of winning the battle to be on the wheel [of Petacchi]; everybody's pushing and shoving and trying to get in that position. Even if they're only going to run second or third, they're still going to do it; they're sprinters - that's what they've got to do, so I understand that everybody wants to be there.
Having a chat with the DS
Photo ©: Roberto Bettini

It is sometimes a little frustrating when you feel like you're the only one with the actual speed to get past him. If someone else already has that position and you can't there, when you're already doing 70k an hour, it's not going to work, coming from second or third position back - you've got to be in the wheel [of Petacchi].
Aside from him, when Fassa's not there, it kind of makes things a little more complicated. When Fassa is there, the last couple of years, you know what's going to happen; when they're not there, or say they have a crash like they did at the Giro, then you got to look at a lot of different things...
You've got to see who else is capable of pulling, and that's where a little bit of tactics comes into it, like the stage [at the Giro] where I tried to let Henk go through one of the last corners... you've always got to be prepared to improvise.
CN: That was a great move...
RM: It would've been great if he'd won the stage - that was the idea - but was a really, really long way to go. He hit the front with about two k to go; he dragged me up at like 62k an hour, but I was already thinking then there was no-one else to pull, because all the other sprinters were lined up in my wheel. At two k to go, I knew you're not going to make it through the last 250 metres or the last 200 metres, so I had to think of something else. But unfortunately for Henk, he'd already been on the front for the last two k to go, and that's a f***ing long way when you're going that quick... he came to a bit of a standstill, but it was still great riding.
CN: At that moment, was it a case of you starting to soft pedal a bit, or you telling him to just go for it?
How bike riders spend their evenings
Photo ©: Anthony Tan

RM: I didn't tell him; I was pretty sure Henk had realised what was going on. Henk didn't come down in the last shower... it was just a matter of letting him go at a distance before the corner where nobody else was going to come past me and close it before the corner. I wanted to do it at a distance where they were going to stay behind me and couldn't really tell what was going on.
Henk had a quick look over his shoulder like any good lead-out man should, to see where his sprinter is and see what is happening, and as soon as he saw it, he knew immediately; I saw him give a couple of extra pedals and really rail the corners to keep going...
CN: It was a pity he couldn't pull it off. Coming out of the Giro, you said you were starting to feel a bit crook, but irrespective of that, where would you say your form was at, compared to when you went into the race?
RM: It's hard to say. My sprint was good - obviously, I was sprinting really fast - but if you look at the overall picture, [taking into account] my general condition, I was probably only 80 percent, because I was having those off days... there were days where I just wasn't feeling that good.
What I was missing in Italy, I'm finding here in Suisse. Italy serves as my base - that's where I get my base building up towards the Tour de France
In Part II: Robbie deeply discusses the sprinter's competition at the Tour de France - what it takes to win, who his rivals in 2005 are, and his chances of success this year. Lance Armstrong also gets a mention as does Robbie's approach to being a sprinter who turns 33 in 10 days time.