Recently on Cyclingnews.com
An interview with Edmund 'Ned' Overend, August 18, 2005
Just another year
Ned Overend doesn't know how to retire. Although mountain biking's inaugural World Champion quit in 1996 at the age of 41, he immediately joined the fledgling XTERRA off-road triathlon circuit and scooped up a couple of their World Championships before retiring again in 2003. And even with a second chance at the easy life, Overend couldn't let elite-level competition go. Cyclingnews' Steve Medcroft caught up with this man of perpetual motion to talk about life at 50.
Edmund 'Ned' Overend
Photo ©: Specialized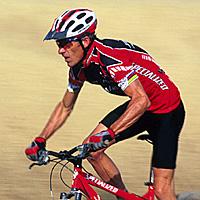 Age: 49
Date of birth: August 20, 1955
Turned professional: 1983
Teams: Schwinn (1983-86), Specialized (1988-present)
Career highlights
2005
3rd, Iron Horse Bicycle Classic Road Race, Durango, Colo.
7th, Iron Horse Bicycle Classic XC MTB, Durango, Colo.
1st, Red Bull Divide and Conquer (rode MTB leg)
18th, UCI World Cup, Angel Fire, New Mexico, USA
11th, US National Road Race, Park City, Utah
4th, Mount Evans Hill Climb, Idaho Springs, Colo.
2001 & 2002
US National XTERRA Series Champion
2000
1st, US National Winter Triathlon Championships
1998 & 1999
1st, XTERRA Triathlon World Championships
1996 & 1997
3rd ('96) & 2nd ('97), XTERRA Triathlon World Championships
1994
1st, Swiss MTB World Cup
1st, Italian MTB World Cup
1992
1st, NORBA National Championship
1991
1st, NORBA National Championships
1st, Park City MTB World Cup
1st, Road Apple Rally
1990
1st, Mammoth NORBA National
1st, King of the Rockies MTB Stage Race
UCI World MTB Champion
1st, NORBA National Championships
Inducted into the Mountain Bike Hall of Fame
1989
1st, NORBA National Championships
4th, NORBA World Championships
1988
3rd, Iron Horse Classic MTB Race
2nd, NORBA National Championships
2nd, European World Championships
1st, NORBA World Championships (XC and Hill Climb)
1st, Road Apple Rally
1987
1st Iron Horse Road Race
2nd Mt. Evans/Bob Cook Memorial Road Race
1st Rage in the Sage
1st Revenge of the Siskiyous
1st Colorado State Championships (MTB)
NORBA National Champion
1st NORBA National Points Championships
1st European World Championships
1st NORBA World Championships (XC and Hill Climb)
1986
1st, Iron Horse Road Race
1st, Iron Horse MTB Race
1st, Colorado State Championships
1st, Mt. Evans/Bob Cook Memorial Road Race
2nd, Munsingwear International Stage Race
World Cycling Road Championships
1st, NORBA National Championships
1985
2nd, Iron Horse Road Race
1st, Iron Horse MTB Race
2nd, Colorado State Road Race
1st, Mt. Evans/Bob Cook Memorial Road Race
1st, Pacific States Suntour MTB series
1st, Crested Butte MTB Stage Race
1st, Road Apple Rally
1st, NORBA National Points Series
Colorado Best All-Around Rider (Road)
1984
4th, Iron Horse Road Race (2nd Overall Stage Race)
2nd, Colorado State Road Race
1st, Pacific States Suntour MTB series
1st, Crested Butte MTB Stage Race
2nd, NORBA National Championships
1983
1st, Grand Junction Stage Race
1st, Morgul Bismarck Road Race
2nd, Fountain Mountain Triathlon
1st, Iron Horse Road Race (2nd Overall Stage Race)
3rd, Colorado State Road Race
2nd, Mt. Evans Hill Climb
1st, Road Apple Rally
Overend explains, "Racing is the most exciting thing I do. When you're in a race and you're mixing it up, even if you're not at the front and you're mixing it up with a group of guys in the middle of the pack, you're still pushing yourself; on the climbs, on the downhills, in a variety of situations. The excitement and personal satisfaction that comes when you push yourself that way still motivates me."
That thrill of competition motivated Overend enough in 2005 alone that, on the eve of his 50th birthday and at a time when he could be playing bocce ball and chasing early-bird specials, he's been seen on almost a dozen start lines. Including one in Angel Fire, New Mexico (July 9-10, 2005) for the first UCI World Cup cross country race on US soil in three years, a race in which he managed to place 18th.
The first world champion
Ned Overend was born in Taiwan on August 20th, 1955. The son of a US diplomat, he was raised in Ethiopia and Iran until his family settled in the States while he was still in grade school. He discovered himself as an athlete running cross-country in high school in Northern California. As he studied physical education at San Diego State University, he got into triathlons, road racing and body surfing.
Doing the business, UCI World Champs, 1990
Photo ©: Specialized

In 1980, 27-year-old Overend, then a motorcycle mechanic, moved to Durango, Colorado. He landed a job repairing Volkswagens and Porsches at Precision Imports in Durango but knew that the work was not how he wanted to spend his life. "I made the decision that I was either going to be a triathlete or a road racer so I gave up the car mechanic business and took a job in a bike shop."
That shop was Mountain Bike Specialists in Durango. "I was trying to decide whether to be a road racer or a triathlete. It was the very early years of mountain bikes so I started racing them and decided they suited my abilities as a climber. Plus, I had ridden some off-road motocross. And I was a mechanic, which lent itself to bike setup. All these things were important in the early days of mountain biking."
The bike of a World Champion.
Photo ©: Specialized

Although he raced on the road and still competed in the occasional triathlon, he landed a sponsorship to compete on the newly formed professional mountain-bike circuit, NORBA (National Off Road Bicycle Association). "I worked at a Schwinn dealer and had some decent results even though I wasn't yet sponsored, so we called Schwinn. They said they were looking to get into mountain-bike racing anyway and it was the perfect fit." Overend started racing as a pro in 1983.
The relationship, which lasted three years, provided Overend equipment, expenses to races and start money. "They would give you maybe $250 to start this certain race with maybe a bonus for first, second or third. It was positive money because it paid your expenses but at the time, I was still also working at Pizza Hut trying to have a job that didn't take too many hours so I could train and focus on trying to be a bike racer."
"...when they start slowing down and I've maintained my speed, I do well."
-Overend explains his race strategy
Overend won the NORBA Championships every year bar one between 1986 and 1992 and his opportunity to make a living grew with the sport's popularity. "From the eighties, into the early nineties, there were a lot more salaries," he says. Which meant Overend could focus on racing - and winning races.
That focus was rewarded at the highest level in 1990 when the UCI (Union Cycliste Internationale) sanctioned the first ever MTB cross country world championships right in Overend's Durango, Colorado back yard. He won and was immediately inducted into the mountain-bike Hall of Fame.
Once a competitor...
As a racer, Overend was famous for coming from behind. "I've never been a real fast starter. It's not so much that I'm holding back - I'm going as hard as I can - just a bunch of guys are going faster than me. Later in the race, when they start slowing down and I've maintained my speed, I do well." Overend says he never over-thought his racing style and hasn't even tried to make himself different. "I won four or five World Cups and was on the podium probably another five to eight times, and almost every time I came from behind."
Still going fast
Photo ©: Specialized

That understanding of himself as an athlete is what allows Overend to satisfy his competitive craving today. "I try to find individual races that suit my style," rather than drain himself chasing the entire season-long series. "Races that are fun, fit in with my family and work life and offer some personal challenge. The Iron Horse Classic road race to Silverton suits my style," he says by way of example. "In mountain-bike races, I think Mammoth suits my style (site of this year's US National Cross Country Championships)"
Because just showing up to races isn't enough - Overend is driven to win - he continues to lead a competitor's lifestyle. "One of the keys to having good performances here and there is to build up to certain races (and not try and do everything). I want to do well, so I train and race much less than I used to; I'm not flying around the world chasing the World Cup or even flying around the country chasing the NORBA Nationals. I keep my focus to certain events and that helps me stay motivated to perform well."
One race he chose to peak for in 2005 was USA Cycling's road national championship's in Park City, Utah. He finished 11th, in the main pack, and says that even though he was racing Cat 1 amateurs half his age, he could have won. "You always need to feel like you can win in order to do your best but I think I could have raced smarter at road nationals. I was closing some gaps earlier when I think I should have sat in and let somebody else pull so I had more energy at the finish. It was a 125-mile road race and came down to the last mile. In retrospect, I should have saved energy for that. I'm still learning."
Still doing what he loves...
Photo ©: Specialized

It may be funny to hear someone with such a resume to say he's still learning how to race but Overend says he's still learning about training too. "My training has evolved," says the self-coached former World Champion. "I'm a voracious reader of all training information. I never hesitate to ask people about their theories and about what works for them. And to search stuff out on the Internet or read books - everything from Lance Armstrong to Davis Phinney."
Seeking out new and better training doesn't purely serve Overend's intellectual curiosity. As he's grown older, he's had to constantly adjust his approach. "You change very slowly from year to year so it's never quite clear how you need to modify your training. But I do know that I can't get out of shape in the winter any more, for example. When I was 27, I could gain ten pounds in the winter and take a serious block of time off before starting base training. At my age, if you get out of shape, you lose some of your Vo2 potential. Speaking as an older guy, one of the hardest things to do is keep the Vo2 potential alive."
The working stiff - or the best of both worlds?
Overend is not just faced with the reality of maintaining fitness at a post-prime age but, as with many of us, he deals with the daily realities of blending competitive ambition with responsibility to both family and work.
"But I do know that I can't get out of shape in the winter any more, for example"
-Overend explains the changes as years go by.
On the family side, Overend and wife Pam raised two children throughout his career. "In 1986, my daughter (Alison) was born, my son (Rhyler) in 1990. We raised our family as I was racing. It actually influenced my style of racing quite a bit. Where some of the racers, when there were three events on the East Coast, might stay out there for the whole three weeks, I would tend to fly back and forth or skip one; try to spend as much time at home as I could. If we had three weeks in Europe, a couple of times I would take the whole family with me. A lot of times, even for a World Cup, I'd just fly in the day before, especially when they were really young."
Racing in his beloved Boulder
Photo ©: Rob Karman

Today, his racing schedule isn't so demanding. Work takes its place though. He started racing with Specialized in 1988 and transitioned into the company as a full-time employee after his first retirement. "My duties vary," he says. "I attend product meetings and I'm part of a group of people who comment on and monitor the whole product-development process of all the different bikes as they evolve throughout the year. My biggest inputs are on things like mountain-bike tires, shoes and full-suspension bikes (like the FSRxc models), things I have a lot of experience with in my racing. I also have some input on road bikes."
Besides product feedback, Overend plays a public relations role for Specialized. "I help launch the products to our dealers and the media at our annual product launch in Morgan Hill, CA (home of Specialized headquarters)."
Long term ties with Specialized
Photo ©: Beth Seliga

Does Overend's work and family duties blend with the lifestyle of someone who wants to still be an active racer? "A lot of guys my age work full time, have families and ride whenever we can. Racing fits well into my working life because it's essentially what I'm paid to do." He explains: "One example would be that I did well in The Red Bull (Divide and Conquer, June 18 in the San Juan Mountains in Colo.). The race gets a tonne of exposure, which suits the media-relations role. Any kind of high-level racing is also the best way to test product, which suits the product-development role. The fact that all this fits together means racing is part of my job. Understanding this, Specialized gives me enough flexibility to attend product meetings and launches and still have enough time to train and race in between."
Ned Overend turns 50 on August 20th. After that, he's focused on competing in the US National MTB Championships race in Mammoth Mountain, California in September.