Recently on Cyclingnews.com
An interview with Myles Rockwell, November 20, 2005
Rockwell rages on
Red Bull's Road Rage event, held over the weekend of November 5-6, was a chance for mountain bikers and road riders to compete in order to see who could descend the fastest. The weekend's big winner was former downhill world champ Myles Rockwell, who won the time trial and pack race to take home $6000. But wouldn't that be small fry for a former world champ? Cyclingnews' Les Clarke finds out that being a retired downhill mountain biker isn't all about glamour, girls and maybe the odd bit of coaching.
Myles Rockwell
Photo ©: Red Bull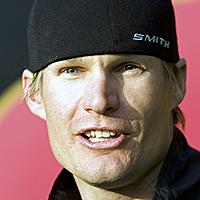 After winning the world championship crown in 2000, Rockwell retired from professional downhill riding in 2002, with injuries during 2001 taking away his motivation to perform at the highest level. "When you're not healthy, it just doesn't feel very good; you just want to get better and I was kind of at the end, mentally, when I won world's in 2000."
As well as the injuries, Rockwell says the face of downhill racing had changed, and not necessarily for the better. "I had figured that 'ok, unless something special happens, I'm probably going to be done,' and in mountain biking everything was winding down; the money was going away, all my friends were going away...I'd been on the circuit for ten years, and everything was changing, becoming less and less like home," says Rockwell.
Also, the financial rewards associated with something as high risk as downhill racing had dried up, and with a change of emphasis towards freeriding, Rockwell had had enough. "There was a big shift going on - freeriding and all that - a lot of money going away from downhill - so it became increasingly less comfortable to ask for the money you thought you should get, or face riding for less than you thought you should be getting paid...I wanted to get out while I was still in one piece," he says.
Rockwell corners like a pro
Photo ©: Red Bull

Rockwell knew it was time to call it quits, and since retiring has had to readjust to normal life. "I guess I needed a taste of the real world, so...I'm happy to get back into some continuity with my home and my son. Things have been good, with plenty of reality, not to mention the legal problems I created for myself too. A lot of things happened all at once, so now I'm just re-emerging from a lot of challenges." One of these challenges has been managing financial affairs, and Rockwell has recently been working in carpentry for a living, something he says was part of "having to rediscover my potential outside of biking." Some of the investments made during his racing career haven't turned out well, so to win $6000 at the Road Rage event was a huge bonus.
Can I eat it?
Photo ©: Red Bull

"Yeah, it helped me pay some bills, that's for sure; I'm pretty cash poor right now because of some things I got into with my money from racing - real estate and stuff - so I'm just getting by, starting over in the world," said Rockwell. But despite some legal and financial hassles, Rockwell is enjoying racing his motocross bike these days, something that keeps him sharp. For the Road Rage event he had to adjust to a road bike, however, something he did during the practice days at Tuna Canyon. "I had to figure out how to corner on a road bike the day of practice [for the Road Rage event] because I haven't descended on a road bike since I did it on Mount Tam, in Marin County. Adapting to the road bike properly took me the whole day of practice and I pretty much only figured it out during the last run," said Rockwell.
Rockwell speaks
Photo ©: Red Bull

But his lack of familiarity with a road bike was countered with the feeling of familiarity of being at an event with the gang. "You know, it was kind of like the same old thing, a familiar environment for the mountain bike guys - in a van going up a mountain with a lot of chit-chat - but it seemed like for the road guys it wasn't that familiar. Some of them were comfortable; the guys that were from there who'd ridden that road knew what they were doing...but for the downhill guys it was like the same old thing, only on pavement, that's all," said Rockwell.
Rockwell had to wait eight years to take his world championship title - would've he preferred to have enjoyed that type of success earlier in his career? "When I started, I was certain I was going to rule the world; I started off my career with seventh place in '92 worlds, then third in '93 in France," he says, before continuing, "I've been at the world's in the top five quite often and it's overlooked a lot...in the beginning I was really good, then I got hurt a few times and it took me some years to come back. In '99 and 2000 I was healthy again and did quite well, then I broke my ankle in the winter of 2001, and broke my wrist; things just weren't that great for me. I started losing some of the consistency in my motivation to push as hard as I could."
After Red Bull Road Rage, however, Rockwell showed that although injury may have forced him out of the professional arena, he still has what it takes to go mighty fast down a big hill, and as long as he feels motivated enough to do it, should be a rider to return for some more Road Rage in 2006.
Photography
For a thumbnail gallery of these images, click here
Images by Red Bull