Recently on Cyclingnews.com
An interview with Monique Sawicki, August 26, 2005
Your ad in this space…
MTB revelation Monique Sawicki is one of North America's most talented riders. With six NORBA marathon races in the books and only one to go, Sawicki had earned enough points to run away with the series. But without enough financial support from sponsors, a technicality meant that she had to finance a cross-country road trip out of pocket or lose out on the series title. How is it that an athlete of world-class calibre, who has visibility and publicity to offer sponsors, has to work full-time to afford to compete in our sport? Cyclingnews' Steve Medcroft talked to Sawicki (or 'Pua' as she's known to friends) to try and understand the situation.
Monique Sawicki
Photo ©: Team MATA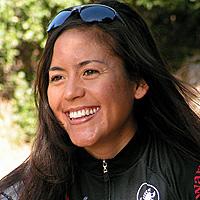 Age: 25
Date of birth: February 21, 1980
Place of birth: Oahu, Hawaii
Resides: Calimesa, California
Racing disciplines: Marathon, 24-hours solo
Teams: TeamMATA

Career highlights
2005:

NORBA Nationals Marathon Series Champion
1st, Snow Shoe NORBA National Marathon, WV
1st, Snowmass NORBA National Marathon, CO
1st, Schweitzer NORBA National Marathon, ID
2nd Overall and 1st Solo Female, 12 Hours of Snow Summit, CA
4th, UCI World Cup Marathon, Quebec, Canada
2nd, Spring Challenge, Idyllwild, CA,
NORBA Nationals 24 Hour Solo Champion
1st Female, 2nd Overall, 12 Hours of Orange County Solo, CA
2nd, Nova NORBA National Marathon, AZ
5th, TMBRA NORBA National Marathon, TX
8th, Pro 1/2/3, Red Trolley Criterium, CA
6th, Pro 1/2/3, Boulevard Road Race, CA
2004

NORBA Nationals Marathon Series Champion
3rd, NORBA Nationals Championships Marathon, Mammoth Lakes, CA
2nd, Clifbar Everest Challenge, CA/NV State Climbing Championships, Bishop, CA
3rd, NORBA Nationals Marathon, Snow Summit, CA
2nd, NORBA Nationals Marathon, Snowshoe, WV
1st, NORBA Nationals Marathon, Schweitzer, ID
4th, NORBA Nationals Marathon, Durango, CO
1st Solo Female, 12 Hours of Snow Summit, CA
1st, Vision Quest, Orange County, CA
1st, South Ridge Classic Series, Fontana, CA
With her win at the Snowshoe NORBA, Monique Sawicki locked up the National Marathon Series title for the second year (an incredible track record since she's only been racing as a licensed NORBA pro those same two years). She carried a four hundred-point lead after racing five of the seven marathons and the title was virtually assured. In order to claim the title by the rules though, Sawicki, who also won the NORBA Solo 24-Hours National Championship in Spokane earlier this season, needed to compete in six of the seven total races.
Since she missed the Brian Head, Utah NORBA (for financial and time-related reasons), her last chance to get her sixth event was the marathon finals in Snowshoe. Unfortunately, although she is producing the kind of results that sponsors know will get her (and them) press, she didn't have enough backing to pay her travel expenses. Which meant that she and husband Ron had to find a way to pay the bill themselves.
Cyclingnews: Your nickname is unusual. What's your background?
Monique Sawicki: I was born and raised in Hawaii and moved out to Southern California in 2002. Puanani is Hawaiian. It means heavenly flowers.
On the 24 hour podium
Photo ©: Team MATA

CN: What's your background in racing?
MS: Back in Hawaii I played a lot of soccer and ran cross-country. I went to college on a four-year scholarship for running. A friend on my team introduced me to triathlon. I borrowed his mom's bike and ended up winning my age group at this big triathlon in Oahu. I was top 15 in the women overall and I just fell in love with the bike. After that, I did a lot of road racing and road triathlon but it wasn't until I moved out to California, when I met my husband Ron, that I got into mountain biking; he was a mountain biker.
CN: How long have you been racing mountain bikes?
MS: Last year was my first year. Well, that's not true. In 2003, I did one of the vision quest races - an epic mountain bike race put on by the warrior's society (a Southern California cycling club). That was my first real mountain bike race; 52 miles. Then I did a bunch of adventure racing. In 2004 we decided to see how I could do in NORBA races. The marathon had just come out, and I loved endurance riding, so we figured we'd give it a shot.
CN: Had you raced any cross-country before then?
"But financially, we only have help with entry fees and some expenses."
-Sawicki explains the situation financially.
MS: Just marathon in the 2004 season. This year I jumped into a cross-country race for the first time at the Texas NORBA (the season opener). They did this thing called the Iron Grind award where you got points for all three events (Time Trial, Cross Country and Short Track). We thought 'cool, let's try that.' I did the marathon. Then I did the time trial. Which was funny because it was right after the marathon and I had to rush over to it right after I finished. And then I raced the cross-country and short track. I had just received my pro license so it was kind of a crazy experience. I did all the events again in Phoenix and at Sea Otter.
CN: How did you discover that you had legs for marathon?
MS: At the first NORBA marathon I ever did I took third. This was before I turned pro - they allowed anybody to enter the open category. So there were all the pros and I was an amateur and I just jumped in and got third place. Then I got second at West Virginia and first in Idaho and ended up taking the series. It just kind of happened.
CN: You freelance your sponsorship. Did the sponsorship picture improve for you when you won the marathon series?
Born in Hawaii
Photo ©: Team MATA

MS: At first, we were completely on our own. And even though I won the marathon title, I think sponsors looked at me and thought that I came our of nowhere, and wanted to see if I could keep it going. People haven't wanted to fully jump on board. They didn't want to turn me down but they weren't sure about going all the way with sponsorship. So we've received a lot of product, and the product has totally helped - we have every piece of equipment and supplies we need. But financially, we only have help with entry fees and some expenses.
CN: It's amazing that you can be a National Series champion but still have to struggle and compete for sponsorship?
MS: It was kind of weird for us too but we didn't really know what to expect. But it's okay; things are going really well for us. We decided to jump in on the NORBA national twenty-four hour race and even though it was my first 24, I was able to take it. And now we're going to Worlds (24-Hours of Adrenalin World Solo Championships in Whistler, BC). But it all comes back to the money thing. It's expensive to compete in this sport (and there is rarely prize money). We're actually doing a benefit fundraiser out in Orange County with all our friends, for me to be able to go to Worlds.
CN: Your husband races as well?
With husband Ron at NORBA Schweitzer
Photo ©: Team MATA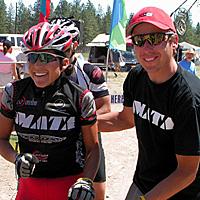 MS: He does; in the expert class. He would love to race more often and would love to do marathons - he won the amateur national title in his age group - but since it's just the two of us and he supports me all the time, he can't really race. It's so crucial to have the support, even if he doesn't have to do much. He'll hand me a bottle, a camelback, take care of my nutrition or if something goes wrong with the bike...it's too hard for us both to focus if we're both racing. So he focuses on my bike to make sure everything is perfect and ready and all I have to concentrate on is the race.
CN: What do you do outside of racing?
MS: We are contractors. We install custom window coverings. You know, blinds, draperies. We're also designers. Which is nice because we're independent and we make our own schedule and can work around the demands of racing.
CN: Flexibility. I'm sure that's extra helpful since many of the marathons were held on Thursdays?
MS: That's true. Everyone we work for is really super excited about what we're doing and they love hearing about it. But when we had the block of races in Schweitzer then Aspen it was stressful because we drove to both races and were gone so long that we'd get work calls on the road and knew we needed to get back to take care of our customers. But it's all worked out.
Riding the World Cup marathon in Quebec
Photo ©: Team MATA

CN: You had the opportunity to race on the national team for Marathon Worlds?
MS: I was selected but we had to turn it down because of two reasons - we wanted the NORBA title and Worlds conflicted with Snowshoe, and the race is in Norway and we couldn't afford it. We are going to Whistler though.
CN: 24 Hours of Adrenalin Worlds? Is this your first time out of the country?
MS: I went to the marathon in Quebec and that was an incredible experience. It's amazing how people love riding in Canada. I'm pretty excited about racing there and hope I do well.
Photography
For a thumbnail gallery of these images, click here
Images by Team MATA