An interview with Mario Cipollini, January 29, 2005
Looking for number 188
Mario Cipollini still racing to win
By Tim Maloney, European Editor in Milano
Super Mario
Photo ©: Sirotti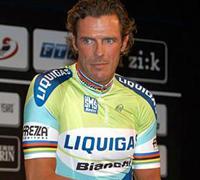 Call him what you will: Re Leone, Cipolla, Super Mario, jet-set cycling superstar, the Lion King, Cipo, Mega-Mario...no matter what you call him, at 37 years old and counting, Mario Cipollini is by far the winningest active rider in professional cycling. With 187 career wins, they take up so much space (an entire page) in his new Liquigas-Bianchi's team guide, there's practically no space left for an autograph.
Cipollini began his seventeenth season as a professional bicycle racer at the Doha International Grand Prix this Saturday in the Gulf State and if looks are any judge, Tuscan speed merchant looks lean, cut and ready to rock. But even Cipo admitted at the Liquigas-Bianchi presentation last Tuesday that although his leadout train might seem solid, it was he himself who is the real question mark. As Linda Perry and the other Non-Blondes wailed away in the backround, Cyclingnews had a rare chance to ask the always articulate and outspoken Mario Cipollini at the Liquigas-Bianchi presentation earlier this week.
Cyclingnews: Mario, what do expect to bring to your new team in 2005.
Mario Cipollini: I think it will be constructive, because I'll bring a lot of experience; and I'm sure that it will be positive.
CN: We've heard that in the last few seasons, you might have overcompensated by overtraining; doing too much work.
Liquigas' three captains
Photo ©: Liquigas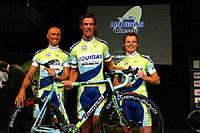 MC: Perhaps that's right...in any case, in the basic work you do, it might be better to actually do less work than too much. When you make that kind of a mistake, back to back (when you've do too much), it's not easy. On the other hand, if you don't do enough, you're always trying to make up for lost time. For my part, this year I'm convinced that I've worked in a more balanced way through the winter and I'm ready to confront the first races of the season. Then I hope to continue to improve my form and be ready for an appointment that is one of the key races of the season for me. My key races this season with Liquigas-Bianchi will be Milano-San Remo, Gent-Wevelgem and then the Giro d'Italia.
CN: And if things don't go exactly as you want this season?
MC: That's just something that can happen; it's part of the fear that every man has. I think that any of us [professional cyclists] has some fear inside. That's part of the dark side of one's personality...but as far as I'm concerned, I'm very relaxed right now. Because if I look back, I've gotten what I wanted to get from my talent, my world (of professional cycling). I'm a happy, relaxed guy right now; I have a beautiful family and a great life that's waiting for me at home. So once my career is over, I'll have a life that's a great ahead of me. For sure, because I know that in a short time my career will be over and has given me a special knowledge.
"Basta...I'm ready to be in front again."
- Mario Cipollini expresses his contiued will to win for the up and coming season
CN: Do you have any idea what you will do when you finally retire?
Mario Cipollini (Ita)


MC: I think that sometimes it's better to just take things day by day and not plan everything in advance. Right now, I'm in a completely new situation (with Liquigas-Bianchi) with a new challenge and I also feel like an entirely new person, with a completely different set of responsibilities than I've had in the past. I'm ready to ride this season with a relaxed attitude and I've done my work. If the success comes, great; if not, I'm ready to do my job for other riders and the team just like so many have done for me. I have a different status (here) than I've had in the past. I'm part of a team that isn't just living off Cipollini, but has other riders that can can be competitive in any race. So I can be important to the team, but I don't have the entire responsibility for the whole team. So that's a good thing; I'm here and have done my maximum to be at my maximum.
CN: So you really only have to be yourself...
MC: That's why I'm so relaxed here...
CN: But when you see the flamme rouge at the 1km to go mark and you are riding on the Liquigas-Bianchi sprint train, will you still have the same feelings, the same will to win?

Stars were right
Photo ©: Sirrotti
MC: For sure; when you are going out to race your bike, it's because you feel it. The effort and the work you have done and your teammates have done in their work with seriousness and professionalism, you just need to get to the end of the race to give it your all. Basta...I'm ready to be in front again.
CN: So on Saturday, when you and your Liquigas-Bianchi teammates are lined out in the last kilometer, what do you think will be going through your mind as you go for the win?
MC: Those are special emotions that happen in those moments, feelings that give you a lot of power. The fact that I have a team that will ride for me after 28 years of racing is something special for me; it's very gratifying. Then there is the desire to be at the right moment (and ride the right sprint) to pay back the trust and support my teammates and team have in me."
After the Liquigas-Bianchi meet and greet, Cipollini left the gig to head back to his hotel for some rest before he and the rest of the team headed for Qaatar and a date with destiny.