An interview with Juan Manuel Garate, June 6, 2005
'Italy tastes like home'
After finishing fifth in this year's Giro and adding to his list of impressive performances there, Juan Manuel Garate looks set to take on the Tour and maybe a race that passes right by his door. Cyclingnews' Hernan Alvarez Macias caught up with him while resting after this year's action-packed Italian festival of cycling.
Juan Manuel Garate
Photo ©: Sirotti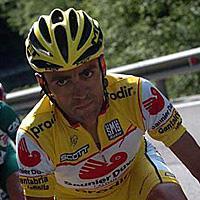 Age: 29
Date of birth: April 24, 1976
Turned professional: 2000
Teams: Lampre-Daikin (2000-05), Saunier Duval-Prodir (2005-)
Career highlights
2005
5th overall, Giro d'Italia
5th overall, Tour of Andalucia
1st, Mountains Classification, Andalucia
1st, Most Combative, Andalucia
2004
10th overall, Giro d'Italia

2002
4th overall, Giro d'Italia
1st, stage 7, Tour de Suisse
1st, stage , Giro del Trentino
2001
1st, stage 14, Vuelta a Espana
Garate's fifth place Giro finish follows his 10th overall last year and fourth in 2002. He feels comfortable riding in Italy, having ridden for the Italian Lampre squad until his move to Saunier Duval-Prodir in the off-season. His 2005 has been a good one so far, after settling in easily to his new team and putting some strong results on the board.
Although quite content with his fifth overall, Garate was disappointed with his start to this year's Giro, and his determination could be seen on stage 13, where he tried gallantly to make as much time as possible on the leaders after a poor opening week. Although he didn't take that stage, his performance was a warning shot for July and his ability to make the big moves stick - a good sign only weeks out from the Grand Boucle.
Cyclingnews: What do you think about your performance in the Giro d'Italia?
Juan Manuel Garate: It was good, I think. I would have signed to end up fifth before the start of the race. When you are very near the podium, you always want more, but...in the end, I've got that fifth place. It probably wasn't high enough, considering the position I had the last week - but thinking back on it, it was a pretty strong result.
CN: And what did you lack to finish on the podium steps?
"but thinking back on it, it was a pretty strong result."
- Juan Garate reflects on his 2005 Giro d'Italia
JMG: It was more than what I was lacking; I had too many rivals. In the end, I lacked a little bit of strength during the first eight or nine days, lost time with a fall, and there were a series of problems inside the team that acted like ballast during the last week.
CN: It's been noted that the Giro is a race that suits you really well. Not only this year, but also in previous years - does it?
JMG: Yes, the results I've achieved show that. The first Giro I rode [in 2001] I was working for Gilberto Simoni who won it that time. I stayed working with him until the end [Garate finished 20th, racing for Lampre]. The next year [2002] I was fourth. Then I had a problem in my knee, so I couldn't race until last year when I finished tenth. And this year, with the motivation of changing teams and support of my teammates, I was able to get amongst the top contenders once again.
CN: How about that move from Lampre to Saunier Duval this year?
JMG: It's been a good move; I came back to a Spanish team, a squad where I knew the directors from the past. I have a relationship with Matxin [Joxean Fernandez] who is Saunier Duval's director since I rode in younger categories. The truth is that many current teammates were partners of mine in other categories and the change was positive, especially for my motivation.
CN: How do you see yourself for the next Tour de France?
"the change was positive, especially for my motivation."
- Garate has settled in Saunier Duval easily, with great effect.
JMG: I'll ride the Tour willing to learn, to gain experience in order to race another year with another idea. This year I gave everything in the Giro and I'd like to ride the Tour to fight for some stage wins, but not with the intention to fight for the general classification.
CN: Which achievement do you value most: the fifth place in this year's Giro or the stage win in the 2001 Vuelta a Espaņa?
JMG: They are two completely different things. That victory came when I was very young and gave me a big push in my sporting career. But this fifth place was based on well-organised work with a plan to reach the Giro d'Italia in good condition. In the end, this year's Giro has been a completely different race from the rest and I think the value of this fifth position is very big.
CN: How was your Vuelta a Andalucia in February?
Pushing hard during the final time trial
Photo ©: Sirotti

JMG: Good - I think I had a pretty good result. I think I ended up fifth, I'm not sure. [his memory served him well; he did finish fifth in Andalucia - Ed.]. I began the year well after having some problems until January, then recovered pretty well, and in February I was at a very high level, ready to perform. The truth is that it [the Vuelta a Andalucia] motivated me to keep working so I could start the Giro in good condition.
CN: Speaking of the Giro,, it's been 12 years since the last Spanish rider won it - Miguel Indurain in 1993 - when can we expect to see a Spaniard victory in Italy?
JMG: Next year will be the 13th time that a Spanish rider hasn't won there, and I hope it brings me luck - it's not the bad-luck number. I hope next year, 13 years after Indurain's triumph, I am able to win as he did. I think I changed my mentality in order to ride this race, and I believe I'm able to do things even better in Italy in 2006.
"I hope next year, 13 years after Indurain's triumph, I am able to win as he did."
- Juan Garate on his ambitions for Giro '06
CN: It seems the Italians dominate the Giro and there aren't many surprises each year. What do you think?
JMG: They prevail because they know their race so very well. In the last few years there has been less participation by foreign teams, and so the Italians dominate the race because they know it - but the race is open. The race doesn't have any obstructions to clear-cut racing at all; it's a totally open race, and the fact that [Jose] Rujano [Selle Italia-Colombia] performed so well demonstrated this as he could have won the Giro.
CN: But the Italians try to avoid breakaways in order to go for a bunch sprint, looking for a Petacchi or Bettini win.
JMG: This is normal. Fassa Bortolo is Alessandro Petacchi's team and is exclusively in the Giro to win stages. So, they have nine riders working exclusively for stage victories. It seems there's an absolute race control, but in the last stages the team was beaten with attacks and more attacks.
CN: What do you think about Paolo Savoldelli's victory?
Garate and Ivan Basso climb
Photo ©: Sirotti

JMG: I think the winner was a rider who, instead of being the strongest, was the one who knew how to get the most of the time he gained in the time trials. Because he wasn't the strongest rider in this Giro. In my opinion, the strongest cyclist was Ivan Basso and due to some problems he had was out of the fight.
There were riders stronger than Savoldelli during the last week, like Simoni, who didn't get much support - or maybe Rujano. I also felt pretty strong. We were able to leave him [Savoldelli] behind on almost every uphill, but he rationalised his gap very well. In the end I think he won because he was the one who used his head best, not necessarily by being the strongest.
CN: What do you think about the argument between Paolo Bettini and Baden Cooke?
JMG: I think things were exaggerated a lot. It was a very hard crash, a sprint where Bettini did change his line to the left - he didn't follow a straight line and that would be the cause of the sanction placed upon him. But I don't think that was the cause of Baden Cooke's fall.
The cause was Cooke's brake lever becoming hooked under Bettini's saddle, which made the incident much more spectacular. But if that brake lever hadn't been caught under the saddle, nothing would have happened. Nobody would have protested; I think that Bettini wouldn't have been disqualified.
CN: Do you think what Bettini did was legal?
JMG: No, I think that considering the rules it wasn't legal. Because in a bunch sprint there are two rules: the first is that you must not get your hands off the handlebars during the last 200 metres, or is it the last kilometre? I'm not sure. The other thing is that you mustn't change your line. Bettini did change his line, so in respect to the rules he should have been disqualified. But I still believe what he did wasn't the sole cause of Baden Cooke's fall.
CN: Did the racing during the Giro improve as a result of the new Pro Tour?
"The Pro Tour's existence helped in increasing the interest level of fans and the attention of the media."
- Garate believes the Pro Tour helped the profile of the Giro in 2005
JMG: I think it improved in quality. It improved overall in terms of media attention because without being a Pro Tour event it seemed the Giro was being forgotten a bit. It didn't have the importance it required. The Pro Tour's existence helped in increasing the interest level of fans and the attention of the media.
CN: How was that 13th stage when you were about to win and Ivan Parra grabbed the stage?
JMG: The night before the stage I had told my director I will try to break early in the stage in order to recover the time wasted over the first 10 days. So, I risked it a long way from the finish, with my goal being to recover time for the general classification. The stage win wasn't the main thing and I didn't think of it. At the end of the day, after much wear I suffered three attacks. Rujano made the first attack and I reacted quickly; then attacked [Pietro] Caucchioli [Credit Agricole] and I came after Caucchioli. [Ivan] Parra [Selle Italia-Colombia] made the third attack and I couldn't come after him because I had Rujano on my wheel, and if I caught him he [Parra] would smash me again. I tried to talk with Caucchioli to keep Parra as close as possible and to see if we can risk it all on a sprint. But Parra was going strongly and he didn't concede a single metre; in the end he escaped from us.
CN: How does your calendar look from now on?
On route to winning a stage
Photo ©: AFP/Franck Fife

JMG: I will ride the Spanish National Championship on the last Sunday of this month, then the Tour and the Clasica a San Sebastian, which passes right in front of my house.
CN: Really? That's amazing.
JMG: Yeah, the race passes precisely in front of my door.
CN: I think this must be really weird for a person like you who goes riding from town to town, from city to city...
JMG: I've only raced it one year - my first professional year - and I got so excited that I got on a 200-kilometre breakaway, winning the mountain prize and others. Finally they caught me and I couldn't get into the final sprint, but... I would like to see how I finish the Tour to do well in the race.