An interview with Juan Antonio Flecha, March 25, 2005
Shooting for much more
Juan Antonio Flecha
Photo ©: Reuters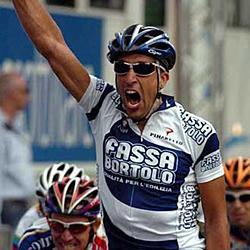 Juan Antonio Flecha is a man that seems to just keep growing in his sporting career. His triumphs in Zurich and the Giro de Lazio last year prove that's the case, and his stage victory in the 2003 Tour de France is by no means going to be his only one - 'the Arrow' [his surname means 'arrow' in Spanish] is going back for more. His biggest challenges are the classics in Belgium: the Tour de Flanders and Paris-Roubaix take prime positions in his personal calendar.
Cyclingnews Hernan Alvarez Macias contacted him at his home in Sitges, Catalonia, in north east Spain, to see how 2005 has treated him so far, and what he thinks his chances are in the year ahead.
Cyclingnews: How was Paris-Nice for you?
Juan Antonio Flecha: Fine, except the last two days when I felt bad. In fact, the last day I had fever and I vomited at night. Today [March 15] I didn't train either. I think I've got a virus, some stomach virus. During the last few days [of Paris-Nice] I felt very bad. I suffered a lot, and on the day of the second stage I felt like vomiting - the same day in the airport I had fever, I was actually physically sick.
CN: So, you have to stop riding races, right?
JAF: At first I was down to ride Milan-San Remo, but I decided not to race it. San Remo is a very important race for the team [Alessandro Petacchi won it for Fassa] and I can't compete if I don't know whether I am at my best on the day. The first thing is to recover well, get out on the bike, and see how I am - then I'll see which races I should ride.
CN: Have you noticed any changes with the new UCI Pro Tour?
JAF: At the moment, I can't judge anything, I can hardly comment, as we've had just one month of the season. I've ridden two races - let's say 'big' races - the Vuelta Valenciana and Paris-Nice. They maybe two extremes - one is a Pro Tour race and the other isn't. The difference is very big because there were 20 teams [in Paris-Nice], and they were the big ones; high profile teams like those that ride the Tour de France. We discussed it among the riders, and with the obligation teams have in recruiting for all the races, I think people take the Pro Tour more seriously.
"From inside the race, I found it very close to the atmosphere of the Tour de France - really impressive!"
- Flecha finds his first impressions of the ProTour mostly positive, though questions the points system
Or it's maybe it's because this is the beginning of a new era. I had the sensation, during Paris-Nice, of been riding the Tour de France. In terms of speed, competition rhythm and everybody's nerves. Everybody wanted to get ahead in the peloton, and few people were relaxed during the race. There was a greater sensation of competitiveness - I think that the one-week Pro Tour races that aren't the Tour, the Giro or the Vuelta, will take on a very close feel to the big three. The level of competition is very high and there's so much competition. I don't know if the public saw it like that, but from inside the race, I found it very close to the atmosphere of the Tour de France - really impressive!
Flecha surprised many
Photo ©: Sirotti

CN: The victories in Zurich and Italy in 2004 were important to you?
JAF: Yes, they were very important because it proved my successes don't just come through luck - they were two important races where I was able triumph. They are the kind of races that I marked as goals for the season because they are very high level one-day races.
CN: Spring classics are very close, how do you see yourself performing there?
JAF: I am very focused on the Belgian classics from the first part of the year, which are the Tour de Flanders and Paris-Roubaix. All will begin on The three days of La Panne, Tour de Flanders, Gent-Wevelgem and Paris-Roubaix. These are the races that I have more expectations on.
CN: Although there are a few problems at present, do you think you can perform well?
JAF: Yes, I'm very calm. I think the worst part were the last two days of Paris-Nice when I suffered a lot because I didn't know what had happened to me - I felt so much weaker than usual. After Nice I had to rest. After such a hard race I think you should rest at least three days with very light training. I hope I can be ready in time for the Belgian classics without any problems, and I'm quietly confident about this.
CN: You won one stage in the Vuelta a Valencia with Alessandro Petacchi winning the general classification. Any secrets to the team's strength?
JAF: The truth is that in the Vuelta a Valencia we could be strong throughout the whole race. It was, let's say, an easier route with plenty of bunch sprint finishes. The most difficult stage was the stage I won. The peculiarity was that the end was uphill, and because of the snow the finish had been altered - the finish was in the town that was actually below the climb. We had very bad weather conditions but the peloton still broke a lot, and I managed to take the victory even though I was working for Petacchi.
CN: What do you think about the UCI Pro Tour classification?
Confirmation for Flecha
Photo ©: Sirotti

JAF: I think it is a bit unfair; a bit unbalanced that a stage victory has such a small value. For us riders, a stage win has immense value. A win can't really be compared at all with tenth position on general classification; nobody remembers that, no one retains that image. Fans can recall much more the image of a stage victory like the one [Fabian] Cancellara got in the Paris-Nice, for example.
CN: Sure... so in this case Bobby Julich, who won Paris-Nice, got 50 points and the riders who won a single stage just received one point.
JAF: Exactly. The rider who ended up tenth received three or five points, I don't know how many [Tenth position gets one point, but ninth position receives five points-Ed]. It is the worst aspect of the Pro Tour so far. It isn't necessary to give 50 points for each stage victory, but one point is not nearly enough. One point is a bit ridiculous. If they want to increase the magnitude of the general classification in the Pro Tour, they can't give so little importance to a stage victory. A stage win has much more prestige - I think it's a huge, huge mistake.
CN: Do you think a good pre-season is vital for a good performance in the spring races?
JAF: Sure, the work during December and January does count for a lot. January is the key month; it is the month when one can really work hard. When you start competing in February or March, you can't train as much as you like because you need to recover from races that take it out of you. You can train, but not nearly as much as in the pre season. This is vital if you want to perform well in April. For a rider who wants to do well in the Tour, there's no problem because they have the time, two months, to get into shape. But April is a month you need to prepare for very well during December and January.
CN: How do you see Fassa Bortolo this year?
Flecha (L) just as happy
Photo ©: AFP

JAF: I believe we are in a very united group, with a perfect team spirit. And overall we work very much as a team. I think we are a team capable of doing big things. Many people think of Fassa Bortolo as just Petacchi and the bunch sprints. I think that this year our results are to the contrary. Different team riders are getting different types of victories. What we did in the Paris-Nice was team work. The day Cancellara won was down to absolute team strategy and it was good for the spectators. I think fans were amazed with us because of the high level we were at.
CN: Is there special training to win on pave?
JAF: Where I live in Spain there is no pave. To train on pave all the time can become really traumatic on your muscles. You can't just smash yourself on pave. You have to become accustomed to the intensity of riding on pave. The pedaling over pave requires another technique - it has to be more circular to avoid losing traction.
CN: Did you train with Jose Antonio Hermida in Catalonia in the winter?
JAF: No, because when it was good weather in the Pyrenees in December I was training more in the beach zone. And I was in Italy the whole of January with Fassa's training camp - I spent the whole month there. CN: You spend a lot of time traveling during the year. Do you have time to visit, to see interesting places apart from riding all the time?
JAF: No, you don't get the chance to visit many places, it's very limited. When the places are on the race route there are very few you can actually enjoy, but personally I try to get the most out of the few things I can see. Because I'm conscious of the unique position I'm in, I try and get out for a nice look. Everything is more or less the same throughout Europe, but you get the chance to observe the different cultures and ways of living. The truth is that it enriches you, even though you don't get to visit that much. I think we are all happy to having the chance to just see other ways of life.
CN: Which place is your favourite from those you have been to?
JAF: In terms of cycling, I liked the Argentinean Patagonia very, very much. It's a place I would like to come back to, but I would need at least a month. I love pure nature, with mountains and cooler climates. The Alps are very nice, gorgeous, but everything is massive there.
CN: Euskaltel Euskadi's Egoi Martinez said in an interview that in a race "one should have a head and an attitude like the one Juan Antonio Flecha has". Do you think that is your strong point?
JAF: I'm glad other guys recognize a virtue of mine. I think he's right - throughout the years what counts is perseverance, and to always think positively. I look at everything that comes along in my life in a positive manner, and I like a lot of what I do and I do it with some romanticism.
CN: Are you going to ride the Giro d'Italia?
JAF: At the moment, I will be focused on the Tour de France, and I don't know whether I will ride the Vuelta a Espaņa. It is question of thinking about it. So far, I plan the season centered on the Classics and the Tour. It is also difficult to ride two big stage races and the classics. Your body feels so much, and it's important to maintain a good level of strength throughout the year.
CN: The fact that Alessandro Petacchi will not race the Tour gives you more freedom inside the team?
JAF: I never feel restricted with Petacchi in the team. In fact, I was working for him during the stage I won in Valencia. It gives the team more strength when you work for a leader like him, because he's not selfish at all. When he sees your mistakes, he helps you; he gives you advice in order to prevent mistakes happening again. It is not the case that if Petacchi is racing you have no options.
Everybody knows me, knows what kind of rider I am, so does our director. It is certain that in a stage with a very probable bunch sprint, there's no freedom for a rider in Petacchi's team and for a rider outside Petacchi's team. Theoretically, the possibilities of a bunch sprint are 90 percent. If there's a breakaway or a cut in the last kilometres, then I already have the freedom to go. It's a natural freedom. I think I would have less freedom on a team with a leader who fights for the general victory. That really makes you aware of that rider who goes for the general [classification] all the time. But not a sprinter. A sprinter knows perfectly well which days are likely to have flat sprint finishes. There's no need to work for him every day.