An interview with Jens Voigt, November 17, 2005
Defending the riders' rights
As one of two rider representatives
Photo ©: Frank Rud Jensen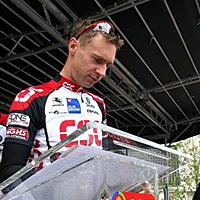 German Jens Voigt (Team CSC) likes it on the attack - be it in races or within his new job as rider representative in the UCI ProTour council. As he told Cyclingnews' Hedwig Kröner in between a training ride and taking care of his son's tenth birthday back home in Berlin, the father of four is happy about this new direct line from the peloton to the decision takers of top-level European cycling.
On top of that, Voigt was satisfied with his 2005 season, which brought him the yellow jersey at the Tour de France for the second time in his career, just after an very successful spring. But above all, the conversation was fuelled by the ProTour changes, and Voigt had many interesting things to say on the cycling's most recent structural reform.
Cyclingnews: Jens, how did your new job as the rider representative in the UCI ProTour council come about?
Jens Voigt: Within the structure that makes up professional cycling - the race organisers, the teams and the riders - the first two were always well-represented within the UCI, only the latter did not have their proper organisation and acted like a herd of sheep. That's why we had to organise ourselves in the form of the CPA [professional cyclists' association - ed.], to make our voice heard. Because in the end, it's us who end up on the tarmac if the roads aren't in good conditions!
So within the ProTour council, there are two persons from the AIGCP [representing the teams - ed.], then two from the CPA - that's Francesco Moser and myself. Then there's Charly Mottet representing the organisers and of course the representatives of the UCI. So now, we have a direct influence on certain decisions. Just yesterday, for example, the CUPT [ProTour Council - ed.] passed on a request from the Giro d'Italia to do two half-stages on the last day of the race. I rejected it, for a lot of reasons.
Half-stages require a lot of time and effort, and for what? For a 3 kilometre-time trial and half the prize money. You're working from 7 am until 8 pm, and that on the last day of a three-week stage race! It's nonsense. Of course, I can understand the organiser: it's great for the public, and there are two stage towns, each paying their rights. But I'm in charge of the riders' interests, and those are the ones I defend. [In the meantime, the Giro d'Italia has announced its route for 2006 that includes plans for two half-stages on the last day of the race - ed.]
CN: Who do you talk to within the peloton?
JV: All sorts of riders. They come to me and tell me what their problem is, and then I decide if it's important enough to be brought forward in the council. The UCI president is also given the information, so that we have a relatively direct line from the riders to the top of the pyramid.
"... details of the ProTour still need to be changed, that was clear from the very beginning as the new calendar was installed very quickly. So now we're in the phase of evaluation."
- Voigt says the ProTour's inaugural year was a trial and error period, hinting that there will be changes in 2006
CN: What are the important concerns of the riders at the moment?
JV: Every rider is different, so the requests are, too. And there are various interests in each country as well, so it's not easy to unite them all. But generally, the riders stress the safety side of the races: the course should be properly barred, no cars on the road of course - which still does happen quite often! - and especially no dangerous finishes. Sometimes you clearly see that this or that curve in the finale of a race simply cannot be safe... Another issue are the riders' insurance, contract matters and so on.
A lot of riders think that there are too many races in the ProTour. Personally, I disagree. Like Bjarne [Riis, Team CSC manager - ed.] said: it's not that there are too many races on, it's that the teams aren't organised accordingly. Too many teams send their riders in training camps for too long periods of time, and then they have nobody to ride the races. In the ProTour, you can't do that, as it was designed to increase competition all year round.
CN: Still, there are a lot of riders who target specific races on the calendar - that hasn't changed since last year.
JV: That's true, but the overall winner Di Luca was present all year. Apart from that, this first year is like a trial and error period; details of the ProTour still need to be changed, that was clear from the very beginning as the new calendar was installed very quickly. So now we're in the phase of evaluation.
CN: So increasing the size of the teams is not an issue for you?
JV: That would be very hard to realize, also financially. When I first started as a pro in 1998, we had 18 riders for two race programmes of eight riders each. But now, we're at 30 riders already. So that's also 48 additional bikes [three road bikes and one time trial bike, for 12 additional riders = 48 - ed.], 50 additional pairs of shoes, 100 shorts etc. etc. It all adds up. There are two additional mechanics, two or three masseurs, doctors and so on. If you've got four races programmes at a time - and it happened this season at CSC - then you've got to multiply all of this accordingly. So the teams' structure has expanded immensely since I started at Gan/Crédit Agricole. At the time, we had 35 people on the team; now, we've already got 30 riders!
CN: What are the consequences of this increase?
JV: It's much harder to finance it all, that's for sure: it's much easier to cover a budget of five million than one of 10 million. But team assistance is much better now, also medical assistance. The UCI now asks for ultrasound images of the riders' hearts every two years. We make ECG's once a year anyway. There are also blood checks every three months, which are supplied to the UCI, too.
The downside of it is that with some riders on the team, I get to ride only one race the whole season, or none at all. So you see the whole team only in the training camp in January, and then at the end of the year you bump into that person and remember - oh, yes, you were here too! That's a pity.
Grand Tour murmurings
Voigt clenches his fist
Photo ©: Sirotti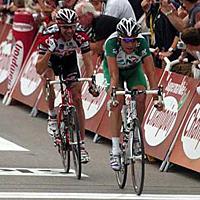 CN: What do you think of the proposed shortening of the Grand Tours? Will this happen in the future?
JV: Without a doubt, there's a lot of races who deserve to be in the ProTour, on the grounds of their tradition, their public response both on the parcours and on TV, as well as of their organisation. Being German, I'm a supporter of the Henninger Turm and Rund um Köln races. But the calendar is too full, so it would have to be loosened up a little to do that. Nobody's talking about the Tour de France - it will keep its three weeks. It's about the Giro and the Vuelta. The idea is to cut a week off these races to run them over three weekends: the prologue on a Sunday, then two additional weekends. Heras and Savoldelli would have won these races also after two weeks. So this would generate the space to include other races.
And who says that Grand Tours have to be three weeks long? Cycling is a very traditional sport, but maybe it's time to make some races shorter, also to generate more suspense. The Vuelta doesn't have a lot of TV audience - no wonder, as many of the stages are located in the middle of nowhere, in a desert so to speak, where even the TV commentators can't find anything to talk about anymore. So the race would be more interesting for a lot of reasons, if it was to be shortened.
CN: What's the response of the organisers?
JV: They don't want to give anything away, of course. They would lose one week worth of stage towns' fees; maybe they're afraid that some sponsors will back out... Of course I understand that, too. They also have their race tradition. So it's a matter of finding a compromise between all the parties involved.
CN: Regarding the Grand Tours, what's the riders' point of view of the great divide between the Grand Tour organisers and the ProTour?
JV: Well, all the riders want to participate in the Tour de France, with or without the ProTour. The Tour will always be the highlight of the season. Giro and Vuelta, in my point of view, have gained from the ProTour. All the big teams were there, and really good riders too. So I don't understand why they're against the ProTour. Their races were more exciting, more international and could therefore address a greater audience. This also has an impact on the TV broadcasts in the neighbouring European countries: if the races stay international, they'll continue to get coverage.
The right balance
"So why shouldn't the UCI integrate more German races? Great TV coverage, great organisation, lots of spectators, good roads, fancy hotels... So the other races in my point of view just have to get better - and stop lamenting about their fate."
- Voigt responds to the complaints that non-ProTour races in traditional cycling countries have trouble attracting top names
CN: One argument of the Tour de France organisation is that the calendar is closed, and should permit an exchange with the Continental Circuit. Is this also something that the riders consider?
JV: We know that this is an issue. Of course, every rider who's in the ProTour is happy about it, that's logical and understandable. My personal fear was that the support of young riders would be neglected. This year, the rules were that you had to have a 25 rider roster in a team, but you could extend to up to 28 if these three riders were U23. This year, you can have up to 30 riders, but two more U23 [riders]. So it's a simple calculation: if the three riders you signed this year were 20 years old, they'll be 21 next season, and the additional two would be 20 again, for example. In 2007, you'd have three 22 year-olds, two 21 year-olds, and another two 20 year-olds - that's seven out of 30 already! But don't forget that you need experienced, mature riders to score the victories, so a good mix is essential.
Regarding the relegation/promotion idea: this year, the problem fixed itself as there were no ProTour license applicants except Ag2r, and there is only one licence left by Fassa Bortolo. Nobody had the financial resources to get promoted into the ProTour. It would become an issue - and that's hypothetical - only if a big business like Sony would want to invest big money in cycling. If there's no licence available, it would need to co-sponsor at first, buying the license from the previous sponsor - and that's very costly and not really practicable. So in that case it's difficult to enter the ProTour, almost impossible.
CN: One side effect from this evolution is that smaller races and teams have trouble finding sponsors. In Spain and France, the smaller race organisers complain that their country's ProTeams don't attend all of their races anymore basically because they lack the time...
JV: Well, in France, for example, there's the Coupe de France which is pretty important on a national level, too. But many riders from the French ProTeams will take it a little easier there, thinking about the next ProTour races they'll race, because these are really hard - the teams give their very best there, and you can't race them as preparation: you'll be dropped. Take Lance Armstrong at Paris-Nice this year. He didn't expect the race to be that fast. If you can't even ride inside the bunch without being on the limit, and it's too early in the season to be on the limit all the time, then you go home. So the overall level of the races in the ProTour is much higher now.
Back to the non-ProTour races. I've seen it happen that a break won the first stage with 15 minutes advance on the bunch, because the ProTeams aren't interested and the smaller teams don't dare to chase or speculate that the ProTeams will. So that doesn't make the scenario more interesting... Of course many organisers complain. Especially in those traditional cycling countries [such as France and Spain] there were always many races that attracted well-known riders. But why should this situation prevail? Maybe in five years time we'll have 30 racing days in Russia, ten in Poland and a week in Slovakia? The UCI has to open up new markets; it has financial considerations, too.
Germany is a great market as well. A lot of money is being invested in cycling, both in races and the industry, and there's a great public response when you look at the Deutschland Tour, for example. Cycling is very popular in Germany. Even the Tour de France organisers admit that the race attracts more people in the streets in Germany than in France! So why shouldn't the UCI integrate more German races? Great TV coverage, great organisation, lots of spectators, good roads, fancy hotels... So the other races in my point of view just have to get better - and stop lamenting about their fate.
Some of these races still have these dangerous itineraries where it's downhill with 15 traffic islands and things like that - you just think 'What on earth are you doing?' If it's like that because it's always been like that, then the organisers have failed to adapt to the new times.
CN: Some of the ProTour races overlap on the calendar. What do you make of that?
JV: You can't really avoid it, I guess. Right in the beginning of the season there's Paris-Nice overlapping with Tirreno-Adriatico in Italy, which ends a couple of days after the French race. So when you win Paris-Nice, you can't even try to defend the white jersey at the next race, because somebody else might take it; that's what happened to Bobby Julich this year: Freire took over his jersey after three days, because he had won an additional stage. I guess you can't please everybody in such a reform, can you! You just start from somewhere... Not everything is perfect yet, but they're working on it.
Now, about me...
Donning the maillot jaune
Photo ©: Roberto Bettini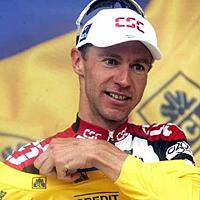 CN: On a personal level, are you satisfied with this last season? How did it go for you?
JV: It started out really well, my shape was perfect until I had to abandon the Tour de France. I had eight victories then, and the yellow jersey... but after this illness I never fully recovered. I was never up to a 100 percent again, although we did win the pair time trial in Bühl. The Deutschland Tour certainly didn't turn out as I wanted. But overall, I'm very satisfied: nine victories, the yellow jersey.
CN: As for 2006, what are your goals, and how will you achieve them?
JV: I'll start out a little calmer in the spring. I won't win the Tour Mediterranéen next season, and I might participate in the Tour of California. Our sponsor, CSC, is an American business, so they asked us to include some American races, and we'll have a training camp in California. I want my first peak of form to be at the end of Paris-Nice, for the Critérium International [Voigt has won it twice already - ed.], and then the Ardennes classics: Amstel Gold, Flèche Wallonne and Liège-Bastogne-Liège. I hope to be in really good shape for those.
Then, I'll take a break before preparing for the Tour de France. The Tour is our biggest goal this year with Ivan Basso being the top favourite, so they'll be some changes to the strategy: no more attacking for stage wins or trying to get the yellow jersey for me. That won't happen. We'll do it like Lance showed it was best: one chief and eight helpers.
It's all for Ivan - everyone at the start will know that he'll have to be a perfect part of the machine, and that Ivan is the captain. Of course, you can try for stage wins, but only when general classification is settled. Unless Bjarne wants me to put some pressure on the other teams, I won't go for the yellow jersey again in the first week. I'll start the Tour as a domestique, and I'll still have a kilo or two to lose in the beginning: the stages where Ivan will really need me are in the second and third week, and this will hopefully prevent me from getting ill. That'll be the great challenge for next year: timing my shape to that exact point.
CN: Do you already know where the famous CSC team camp in December will be?
JV: Probably Denmark - but it's still not clear. That's one of Bjarne's tactics anyway: never tell the riders what they should expect, because in his mind, we should be flexible to quickly adapt to new situations. It's like that in the training rides, too: I really don't like it not to know how long we'll be out... but Bjarne never tells me. He'll take on this very slow voice and say 'Well, Jens... maybe three, four or five hours... maybe six?' And I'll say 'Bjarne! I need to know how many bidons I should take with me!' And he'll go 'Just take some more to be safe.' Then I'll ask him 'How many intervals?' and he'll say 'Ooh... some longer, some shorter, some quicker...' It's clear that he doesn't want to tell us. It's part of his strategy: even if you've already given everything, you still need to be able to ride one more interval.
CN: You seem to enjoy this approach a lot. One gets the impression that the spirit of the team matches your individual character perfectly.
JV: Yes, that's true. I don't want change teams anymore, that's for sure. Although you never know, but I would like to end my career at CSC. I don't know when that will be yet - with my four kids, if life continues to get more and more expensive, I'll have to ride till I'm 50!