Recently on Cyclingnews.com
An interview with David McKenzie, November 2, 2005
Dream a little dream
Perennial hard man and one of Australian cycling's real characters, David McKenzie has decided to call an end to his professional cycling career. Tough times with the Linda McCartney team and he and his wife's attempt at a subscription-based cycling team, iTeamnova.com, have been well documented, but despite it all, 'Macca' has continued to land on his feet. Anthony Tan relives some of his happier days with him, as well as a new venture he's got in store that could be a first from the land Down Under.
Dave McKenzie
Photo ©: Mark Gunter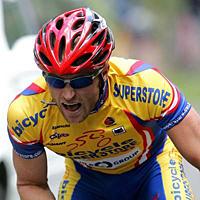 Age: 31
Born: June 8, 1974
Place of birth: Ballarat, country Victoria, Australia
Teams: Wismilak International Team (2005), Navigators Insurance (2004), Flanders - iTeamNova (2003), iTeamNova.com (2002), Linda McCartney - Jacob's Creek (2001), Linda McCartney (1999-2000), Kross (1997-98)
Career highlights
2005 - Wismilak International Team
1st, Stage 2, Tour of Japan
3rd, Stage 3, Herald Sun Tour
3rd, Stage 5, Herald Sun Tour
4th, Herald Sun Tour
2004 - Navigators Insurance Cycling Team
1st, Stage 4, Tour of Queensland
2nd, Herald Sun Tour
2nd, Ronde Van Drenthe
2nd, Stage 2, Herald Sun Tour
2nd, Stage 2, Tour of Qinghai Lake
3rd, Australian Road Championship
3rd, Stage 1, Herald Sun Tour
3rd, Stage 9, Herald Sun Tour
2003 - Flanders - iTeamNova
1st, Tour of Queensland
1st, Stage 3, Herald Sun Tour
1st, Stage 4, Tour of Qinghai Lake
3rd, Stage 2, Gp Cycliste De Beauce
2002 - iTeamNova.com
1st, Stage 1, Herald Sun Tour
2nd, Stage 2, Gp Cycliste De Beauce
2nd, Stage 3, Gp Cycliste De Beauce
3rd, Groningen-Münster
4th, Herald Sun Tour
2001 - Linda McCartney - Jacob's Creek
1st, Stage 6, Tour Down Under
2000 - Linda McCartney
1st, Stage 7, Giro d'Italia
1st, Stage 8, Circuito Montanes
1999 - Linda McCartney
1st, Stage 3, Tour of Langkawi
2nd, Stage 7, Tour Trans Canada
2nd, Stage 3, Tour of Britian
3rd, Stage 5, Herald Sun Tour
1998 - Kross
1st, Australian Road Championship
1st, Stage 5, Herald Sun Tour
1st, Stage 10, Herald Sun Tour
3rd, Stage 9, Herald Sun Tour
3rd, Stage 14, Herald Sun Tour
1997 - Kross
1st, Stage 14, Herald Sun Tour
"There's something about that last split second before you cross the line, you're in a world of your own and no one can ever take that away from you. And it's the most amazing feeling - and I'm not just talking about a stage win at the Giro, I'm talking about a stage win at the Sun Tour, a national title, whatever, it's just an amazing feeling and you're on top of the world... It only lasts for about three seconds, but it's so good, and I'll really miss it. It's little special things like that that I'll miss."
On Saturday, October 22, after finishing 19th in the 299 kilometre-long Melbourne to Warrnambool Classic, David McKenzie decided to call it a day.
It's been a funny career for this likeable 31 year-old from Ballarat in country Victoria. Always a stocky rider with chunky, powerful thighs, short blonde hair and blue eyes, McKenzie began competitive cycling at the age of eight, and like many Aussies before him, he started his career on the track, making his first appearance in national colours at 16 years old. "It's all I ever wanted to do," he said about his entry into the sport.
"Every now and then, I wish I could have it just once more"
- It may have been five years ago, but Dave McKenzie's Giro stage win still brings back strong memories and emotions
Those young legs saw him compete in the Kilo and teams pursuit, but through his Victorian coach Dave Sanders, McKenzie came to realise he had both speed and endurance. Three years later, he was whisked away overseas with the Australian Institute of Sport under the direction of former East German coach Heiko Salzwedel, where he raced and raced and raced until his name caught the attention of a Spanish amateur squad from Valencia, Porcelavatta. It was tough but that's the way he liked it, and by the start of the 1997 season, McKenzie had turned professional.
A neo-pro riding in Italy was no holiday, either. "But I never really got to a point where I thought this is too much, too hard," said McKenzie in an interview with Cyclingnews back in 2001, where he described the anxious moments when his Italian Kross Montenaria team was deciding whether or not to include him as part of their line-up for the 1997 Giro d'Italia.
"I mean, you think - Oh my God, I'll never be good enough to be able to ride a three-week tour. They [the team] got a start in the Giro and they were thinking of putting me in about three weeks before. Then my form started to go downhill and in the end, I was hoping to God they wouldn't put me in!"
"Nothing beats it."
Photo ©: AFP

They didn't, but riding for the ill-fated Linda McCartney outfit three years later, 'Macca' got his chance. Entering the 83rd edition of the Giro d'Italia as write-offs and told they'd never finish the race, McKenzie and his team decided to prove the Italians wrong. Finishing high on the overall classification was out of reach with names like Francesco Casagrande, Gilberto Simoni and eventual winner Stefano Garzelli, but a stage win? Anything's possible, thought McKenzie.
On May 20, 2000, apart from a team car, a commissaire's car and a TV motorcycle for company, Macca was on his own 18 kilometres into a 182 kilometre stage from Vasto to Teramo. The peloton had decided that for now, the Australian would be the one that got away, but rather than his lead ballooning to 20-plus minutes, his advantage was never more than 12 minutes.
"I guess it wasn't until the last 40k that I started to believe I could do it," McKenzie recalled. "Then I thought, 'Well it's only an hour... if I ride fast enough!' All sorts of things were going through my mind. As the gap started to come down and down I kept thinking I was going to be caught in the last kilometre. I was thinking: 'Oh well, at least people will be sympathetic towards me.'"
In the end, there was no need for sympathy - simply esctasy: Holy shit, he'd done it!
"Nothing beats it. You wish you could go back and have the last three hundred metres of the stage... " The voice trails off, and although we're talking over the phone and McKenzie's back in Ballarat, I sense he's somewhere else. "Every now and then, I wish I could have it just once more," he says.
Do you ever wake up in the middle of the night, thinking you were there...
McKenzie belts out a few hearty chuckles. "Nah - maybe if I'm watching a bloody DVD in 10 years' time, I'll be going, 'Orr yeah, look at that!' It's funny; I was talking on the radio last night and they were asking me the same question.
A home win
Photo ©: John Doggett-Williams

"What I get a kick out of is that at that time of year in Europe, it was probably one of the biggest sporting events on, and that day, it was probably televised to about 300 million people - and I managed to get four hours of airtime. So on that day, my name was broadcast over the airwaves over and over again - they probably got sick of it! But that was awesome for me - it couldn't get any bigger that day."
For McKenzie, it didn't get any bigger after that day, either. Some big wins did follow, including a stage of the Tour Down Under, overall victory in the Tour of Queensland and two more Herald Sun Tour wins, the latter event a race McKenzie desperately wanted to win before he retired, but barely missed out on.
"I'm not going to deny it," he says. "A race I watched growing up as a kid, growing up in the country in Victoria; I really wanted to go out this year winning it myself, and if not myself, someone on the team to win it and it looked like Dom [Dominque Perras, a Canadian ex-team-mate McKenzie has long been friends with] was ready to step up and win it.
"I just hand-picked seven other riders that I hadn't raced all year. I was nervous, because I really wanted to do my best for HLP because they were a sponsor and Bicycle Superstore, who I've had a big involvement with in the last two or three years, so it was important for me to put my best foot forward for them."
When Baden Cooke and Perras broke away and finished half a minute ahead of the next group on the fifth stage, the wiry Canadian took the race lead. Just two stages remained: an 11 kilometre uphill time trial and a one-hour criterium, and with a leading margin of 31 seconds, it appeared McKenzie's ambition was destined to come true. However, one rider that may have underestimated was 25 year-old Simon Gerrans, a talented, boyish-faced neo-pro from McKenzie's home state riding for AG2r Prévoyance, and a hardened neo-pro having ridden his first Tour de France this year.
"If we're talking financially how we're talking now... we'd be shooting for the top, to go to the Tour de France."
- Big plans are in store for McKenzie and what may be Australia's first Professional Continental team
Dave Macca on...
McKenzie finished his final year
Photo ©: Mark Gunter

This season with Wismilak
"Not that the guys on the team spoke a lot of English, but a few of them did, and I actually really miss them. Obviously, Scott Guyton [a former team-mate] being directeur-[sportif] for the year... Scott was really organised and did a great job. I reckon we were one of the most organised teams at races; we had great staff looking after us, Scott was a really good directeur, everyone got along well and it was a really good atmosphere.
It was a totally different set-up trying teach the Indo's how to race, but I have nothing but respect for the company and the riders, just really nice people. But I guess one of the things that got me thinking about retiring was that I only did six races with them for the year. It wasn't like I wanted to do a full season - I was happy with that - but it makes it a bit hard to stay motivated.
I guess you want to commit yourself to something full-on or...
" ... not at all. Yeah, that's right. I've always been like that; I never thought, 'I'm going to milk this and take advantage of it.' I just never been like that - I always thought I'm representing the sponsor, I'm representing the company - you want to put your best foot forward."
So no more racing at all, then?
"It's funny, because if a Div. 1 team came to me and said, 'Do you want to go back to Europe?' in the middle of the year for whatever reason, yeah, I'd love to do it and I would do it and I'd commit full-on. I'm not actually sick of training or sick of training - it's just that this is the stage I'm at in my life and the opportunity's come along with a great company to get involved with them and I thought I'd be crazy not to. I don't have the motivation to race in Australia, but I'll probably do the 'Hell Ride' on a Saturday morning.
A brilliant ride by Gerrans coupled with Perras' slightly sub-par performance saw him turn a 32 second deficit into a 14 second advantage, which is the way things stayed at the end. "I was a little disappointed, more so for Dominic getting beat by 14 seconds. I just wanted to be part of a winning team while I was racing in the Sun Tour," McKenzie says. "But I feel really lucky in a way, getting a name for myself in the Sun Tour winning 11 stages, always being motivated for it."
While McKenzie may have exited stage left from life as a professional cyclist, a slow, steady momentum is gathering afoot, and by the sounds of things, it sounds big.
The chairman of HLP Group, the principal sponsor behind McKenzie's team at this year's Herald Sun Tour and a privately owned financial services company based out of Victoria, happens to be interested in cycling. In fact, he's so interested that the idea of forming what may be Australia's first Pro Continental Team - "and we're not talking Div. 3, we're not talking a small, struggling Div. 2 - if it goes ahead, it's going to be a pretty big time team," McKenzie says - is very real indeed, and may happen as early as 2008.
Riding his last Herald Sun Tour
Photo ©: Mark Gunter

"We basically told him all about it and how much it costs, just basic sort of things, and he said, 'If it starts up and you want to manage the team, the job's yours.' So I had the option to keep racing next year, but I had the option to step out and get involved with the company. The whole infrastructure, we'd be starting out from scratch, but just with our knowledge... " his voice gradually fades out once more, dreaming for a brief moment.
"Y'know, Susan [McKenzie's wife and former manager of iTeamNova.com] might help out to help me get it off the ground; in my mind, I'm hoping Pro Continental's what we'll start at. I think we will. If we're talking financially how we're talking now, by the second or third year, we'd be shooting for the top, to go to the Tour de France."
"The decision [to retire] was sort of easy - the hard thing is to be honest with yourself, it's hard to let go. I'm a bit of a believer that we all have our destinies. I never look back."