An interview with Daniele Pontoni, December 9, 2005
A farewell in the Far East
Daniele Pontoni (L)
Photo ©: David Alvarez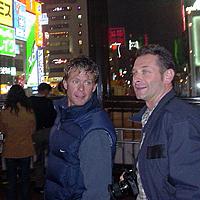 Before two-time world cyclocross champion Daniele Pontoni retired at the start of the month, he traveled to Japan for a three-race tour. Starting in Nagano, he contested two races of the 20 year-old Shinshu Series, and then continued westward to the Kyoto-Osaka area for Japan's only UCI cross event.
Despite strong challenges from the local racers, Pontoni was able to sweep all three events. Over a dinner of Teppanyaki, David Alvarez spoke with the diminutive 39 year-old about his inaugural visit to Japan, and plans for the future.
CN: First of all, why have you come all this way to Japan?
DP: I have always wanted to visit Asia, and I decided to come to Japan because it was the only place I had not raced yet. Last year, my teammate Stefano Cappitelli came here to race and enjoyed himself. He told me I needed to come and see Japan for myself. After that, I met some of the Japanese racers at last year's world championships at St. Wendel, and they invited me to come.
CN: Last year you traveled for some time in the US, how was your experience there?
DP: The trip started well, when we were in the west. But in Boston, I got a virus and didn't ride well, and that wasn't fun. But from the last time I visited, the [North] Americans were much faster. Kabush was very strong, and also those two tall boys from Portland [Barry Wicks and Ryan Trebon - ed.]. The level of 'cross has risen very much there.
CN: How was cyclocross in Japan, in terms of both riders and venues?
Pontoni finished off his career in style
Photo ©: David Alvarez

DP: Cyclocross in Japan is good, and still developing. There are many strong riders. Tsujiura [current national champion - ed.] is an interesting rider. Where they are lacking most is in technical areas. They lose a lot of time in corners and technical sections. In terms of races, I have only done three, the first and last were very nice, but the second race was a mountain bike course and a bit of a disaster. Most of all, I enjoyed the atmosphere and the experience after the races.
CN: How was your overall experience?
DP: Japan is wonderful, much nicer than I had expected. I'm amazed at how organized and on schedule everything is. The food we have eaten has been fantastic.
CN: So, what are your plans for the future?
DP: Well, first of all, to head back to Italy! There, I will help organize the 2008 cyclocross world championships in Treviso, Italy. The jersey I am wearing in these races, Trevigiana, is the society that is promoting the race. As for racing, this should be my last year, although I am thinking about returning again to Japan next year, and it would be nice to work with the kids to help develop technique in cyclocross.
Talking 'cross over dinner,
Photo ©: David Alvarez

CN: You have dominated cyclocross in Italy for the last 16 years... what is the state of cyclocross in Italy today?
DP: [Italian champion] Enrico Fanzoi is very, very strong. I think he is still young and has room to grow in terms of tactics, but he is very strong. In Italy, sadly the level of TV coverage has dropped, and as a result, there are fewer sponsors and fewer races. However, we are working to grow the sport again.
CN: You have 215 international [cyclocross] victories, including two world championships, two Superprestige titles, and one World Cup. Is there any race that stands out in your mind?
DP: Absolutely - the 1997 world championships in Munich. I'm a huge soccer fan, and I loved finishing in the Olympic Stadium!