An interview with Constantino Zaballa, April 27, 2005
Riding with his heart and head
A man whose name is never far away from the break, Constantino Zaballa was a supporting actor during the 2003 and most of the 2004 editions of the Vuelta a España, until he played the starring role late in 2004. The Saunier Duval man put many frustrations behind him on September 24 last year when he won his first Vuelta stage after a lonely 108km breakaway in Villalba.
Zaballa wins stage 19 of the 2004 Vuelta a Espana
Photo ©: Unipublic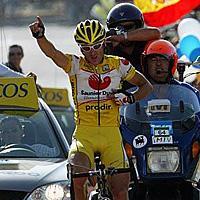 That victory was the beginning of a sweet period for the Spanish rider. He raced the World Champs in Verona for his country; he led the Vuelta a Valencia on the first day, and he stood on the bottom step of the final Paris-Nice podium with Bobby Julich and Alejandro Valverde - illustrious company indeed. Cyclingnews' Hernan Alvarez Macias caught up with Zaballa during his massage session in Liege the day prior to Liège-Bastogne-Liège, which represented his last race from the first part of a pretty busy 2005 calendar.
Cyclingnews: Was it important for you to take third in Paris-Nice?
Constantino Zaballa: Yes, of course. I think it is an important achievement and one that can change me for better as a rider. This makes me see that at certain moments, when I am fit, I can fight for one-week tours.
CN: That represents a big step forward in your career, right?
CZ: Yes, I think it is like a reward for all these years of work. Little by little I am improving and taking quality steps in performance terms.
CN: I guess that winning the 19th stage of the 2004 Vuelta a España was meaningful for you?
CZ: Yeah, that's another triumph based on perseverance and the daily work that I'm proud of. I think it was a nice way of winning and it was something I always had in mind; to try to win a big tour's stage out front by myself.
CN: You were always there in the breakaways. I remember in the 2003 Vuelta, where you got into most of the breakaways, but you found it difficult to finish them well.
It's always thirsty work in Spain
Photo ©: Unipublic

CZ: Well, everyone who knows about cycling realises it's very, very difficult to get into long breakaways and make them work with a victory. I had been trying for years and in the end…I was able to make it. I think it's important.
CN: How did you find being a karate fighter in terms of being an athlete?
CZ: During my youth I didn't do many sports until I start doing karate. When I had to be in shape for a fight I started running as a way of attaining that fitness; I ran a lot! In the end I liked running more than doing karate, so I decided to change.
CN: Tell us about your chance beginning in cycling...
CZ: I was going to take an effort test and the 'rolling tapestry', where the tests were then broken down for analysis. The doctor who made the tests decided that I should ride a fixed bicycle, something I've never done before. So I took the effort test, something that is now an ordinary thing for me, but I had never done it before at the time. The results impressed a person who encouraged me to change the sport.
CN: When did that happen?
CZ: I was a teenager; I guess I was 16. I rode three races at youth level and moved to my first amateur year.
CN: What is the Saunier Duval team aiming for this year?
CZ: Saunier Duval is having a good year, but we aren't lucky at times in term of victories due to the ProTour calendar, which sometimes makes thing very difficult. I think the Saunier Duval 'A' team is focusing on the ProTour, and it's really tough to get wins. I think the group feeling is good and we won't take too long to get a win - maybe in Romandie or somewhere else.
Zaballa at this year's Paris-Nice
Photo ©: Hedwig Kroner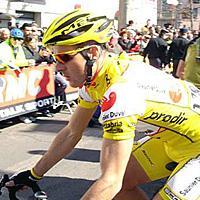 CN: Is it a good position to be - seventh - in the ProTour team ranking? Do the riders pay much attention to that?
CZ: Well, I don't know whether it's important or not for the riders. I think it's a classification team directors and team owners should look at very much. If we are seventh, I think it's because of our good solid work.
CN: Would you like to become a more 'complete' rider, or do you prefer to concentrate on winning single stages?
CZ: I would like to keep on progressing as I am progressing now. I also want to learn how to be a more calculating rider, not wasting my strength. I know perfectly well that when I'm in shape, I can fight for some one-week races, one-day races or the stage of a longer race.
CN: How did you do in the Flèche Wallonne?
AC: As I was explaining before, I am on my last days of a performance peak period. Other years I did better; last year I ended up in a better position. This year I tried very far from the finish but there was no luck. In the end the front group was very big, something that hadn't happened in recent years. I finished 32nd, which I should be happy with, considering it's my last performance peak.
CN: What about your experience in the Verona World Championships?
CZ: I think that was also something unforgettable, and it was very important for me because currently it's very tough to be a Spanish national team member, with so many great riders around. I think it was a reward for the work I did throughout the whole year. I played my small part in the big success story of our national team for another year.
CN: Tell us about your leadership during the Vuelta a Valencia. I guess it was a great joy for you.
Zaballa is an important part of Saunier Duval's plans for 2005
Photo ©: Unipublic

CZ: Yes, this winter I worked so hard and I started with very good legs; I was sure I could get good results. I told my closest people that I was going to fight for the first day bonus in order to work hard on the little uphill that I liked - then I could become leader. [Alessandro] Petacchi was incredible those days [Petacchi won the stage], as he is nowadays, and I finished second which meant I became leader due to the bonuses. Afterwards, certain race situations, the weather and the fact that I rode more with my heart and not my head, meant I was putting in far too much unnecessary effort. This meant my ability to get to on podium in the Vuelta a Valencia was pretty much ruined.
CN: What do you think about the Lance Armstrong's future retirement?
CZ: I think he was part of an era; he made a great career in cycling. I always think that a star must leave cycling before his decline begins.
CN: Whom do you see as his successor?
CZ: Mmm…I don't know. I think there can be many successors right now because it's very probable there won't be a six-time Tour winner again, at least for a long time! When Armstrong doesn't race the Tour in the coming years, it will be an opportunity for Jan Ullrich who has been trying for a long time. Also [Ivan] Basso, [Damiano] Cunego, [Alejandro] Valverde. They are riders who are coming from the shadows with great results.
CN: What are your next commitments?
CZ: I'm going to take some holidays in May. Then, I will get into similar training to that which I did during the winter in order to come back for the Dauphiné, and I'm also thinking of the Tour de France and the Vuelta a España as the next big goals for 2005.
Photography
For a thumbnail gallery of these images, click here
Images by Hedwig Kroner/Cyclingnews
Images by Unipublic