Recently on Cyclingnews.com
An interview with Bradley McGee, December 18, 2005
Cycling's Harry Kewell
Bradley McGee got a taste of V8 Supercar racing
Photo ©: Anthony Tan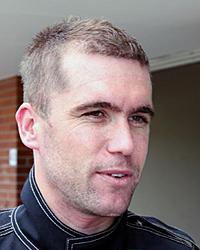 Born in Sydney's western suburbs. Precociously talented. A hit with the ladies. Gets picked up by big-time pro team. Enjoys early success, but later on, an injury sends them to the sidelines.
In many ways, the careers of English Premier League football star Harry Kewell and Française des Jeux's Bradley McGee have followed similar trajectories. However, in the recent nail-biting World Cup qualifier against Uruguay, Kewell, after 32 minutes on the bench, rose to the challenge of playing for his country, the midfielder/striker for Liverpool instrumental in ensuring Australia's berth in next year's FIFA World Cup in Germany. Many believe this to be a turning point to greater things for Kewell.
If granted permission, Bradley McGee also has the opportunity to play for his country once again at next year's Commonwealth Games, create history, and hopefully, rejuvenate himself. Anthony Tan asks: can he do it?
Flying the sole Australian flag at Française des Jeux is something Bradley McGee hasn't done for three years, but in 2006, that's exactly what he'll be doing.
In the space of a few months, the 29 year-old has seen sprinter Baden Cooke, Cooke's domestique Matt Wilson and talented youngster Mark Renshaw - all riders who McGee brought onto the team - leave for different pastures. "I can't say I'm happy about it, but it's just the way it is," he says to Cyclingnews.
Probably the biggest surprise is seeing 27 year-old Cooke, a former Tour de France green jersey winner, opt for a non-ProTour team after four years with FdJ, he and Wilson signing with Unibet.com (formerly MrBookmaker.com) earlier in October. His last two years have been leaner than the incredible season he enjoyed in 2003, but Cooke still managed 11 victories, as well as winning the points classifications at the Three Days of De Panne and the Tour Méditerranéen in 2004.
"In my current situation, I can't see a fair dinkum assault on a Grand Tour happening again"
- Brad McGee says it's time to 'get real' in 2006, and concentrate on objectives he know he can achieve
"I mean, Cookie, I think it's a good move," answers McGee, dispelling any notion of a fall-out between the two. "He basically lost the respect he deserves at FDJ and a team's picking him up that's backing him one hundred percent. Sure, it's a non-ProTour team at this stage, but everything else suits him to a T; the races the team wants him to achieve results in are Cookie-style races, and again, they've backed him one hundred percent.
"When you've got a sprinter, more than most, they run on confidence. FDJ were basically killing his confidence, not working with him at all - and you can't be asking for results at the same time, not working with him." McGee adds that he spoke with Cooke just a few days before, and could already tell by the sound of his voice that he was "on another level".
"Matt Wilson was basically Cookie's right hand man and domestique, so it was a natural move as well. Mark Renshaw was a different case altogether; he was basically offered a better team at Credit Agricole - FDJ didn't want to match it - so again, you go where the confidence is. It's not only a question of money, the money is a show of confidence, really. And good luck to him; I've supported him fully in the move."
________________________
Flying the sole Australian flag at Française des Jeux
Photo ©: Kristine Seeto

I caught up with McGee in late November, at a race-track of all places. Enjoying a hoon with his three brothers at Eastern Creek International Raceway, belting around in 'suped-up' V8s, the boy from Sydney's western suburbs - a self-confessed petrol-head - was loving every minute. Still, I couldn't help but notice a sense of dissatisfaction brewing within when talk turned to cycling.
"Yeah, I am disappointed on a few aspects," admits McGee. "At the end of the day, like I said to Marc [Madiot, team manager], basically I've run my career at FDJ; even if things at the moment are a bit wayward and communications aren't the way they should be, it's been a fantastic episode.
"Eight or nine years already, and whatever happens after next year is to come. I'll be reflecting more on the great times and success we've had over these eight or nine years before I get into a bitch-fight with the media about the problems we're having. At this stage, we know we're having problems and we're just working through them."
As well as losing three of his compatriots, 2005 has been a year of big ups and equally big downs for Bradley McGee. It was supposed to be the year the Sydneysider was to show himself as a Grand Tour rider, and after a shaky start to the season, he showed his worth on the final stage of the Tour de Romandie and throughout the Tour de Suisse; come the Tour de France, it appeared the transformation would be complete.
However, right from day one, things didn't go as planned. 18th place in the opening time trial would have been more than satisfactory for some, but for McGee - a favourite to win the stage - it was an ominous sign of things to come. After the first mountain stage to Courchevel that saw him lose fourteen minutes to Alejandro Valverde, he was never in contention, and a high-speed crash soon after caused his back problems to flare up again. He almost salvaged a rotten Tour with a last-minute dash on the Champs-Élysées, but that too came to nought when the wily Vinokourov stole the show right under him to win the stage.
"In my current situation, I can't see a fair dinkum assault on a Grand Tour happening again," he says flatly.
"They'd have to be a change of team and a change of mentality, but also it's about fixing up these [back] problems as well. But if you wrote down the positives and negatives, there's an even amount for both sides to say, 'Yes, this is possible' or 'No, this isn't possible' - at the end of the day, it's just having confidence to go for it. After what's happened this year, I won't next year, but it's not saying it's going to be that way forever."
Grand Tour aspirations have been placed on hold
Photo ©: John Flynn

Those last words seem to indicate that beneath the slightly downcast exterior, there lies a glimmer hope to realise what he thought was entirely possible after his breakthrough year in 2004, where he finished eighth overall at the Giro d'Italia and declared an assault on the following year's Tour de France.
"I had a disappointing Tour, but if you look at the results from [Tour de] Suisse, sure I dropped down to eighth in the final GC, though it was only that one last hill on the last day that nailed me. Our good friend Aitor Gonzalez attacked in the big ring - but now we know how he did it," retorts McGee, one of the peloton's most outspoken advocates on the war against doping, referring to the Spanish race winner testing positive for an anabolic substance at the last Vuelta a España.
"And that changed the whole course of the race; take him out, or at least have him riding naturally, things would of changed and I could have got through... a podium result at the Tour de Suisse would have been a major result for Brad McGee. With those sorts of things, I hold on to a bit of hope," he says. "Regardless, I will still attack those [week-long] races with GC intentions."
For now, attacking week-long stage races and stages in major tours appear to be the way to go, the latter à la his 2002 Tour stage win in Avranches. Says McGee, "Those sorts of things I know I can comfortably achieve; next year, I need to get back up winning.
"The goal will be to win four, five, or six races, and I don't think that will suffer in my GC riding. I've done the work now, and extended efforts [in training] will just carry that on. I've got to get back to a bit of raw power," he says with a grin, the high-octane surroundings giving those words extra resonance. "That's why I've been in the gym since the day I stopped racing."
________________________
"Two wheels before four anytime!"
Bradley McGee takes to the track - the race-track, that is...
"If it's not my DS having a go at me, it's you!"
Photo ©: Anthony Tan

"Ford or Holden" was the call from the supervisor, whose 15 or so trainees had just been given their 10-minute induction to V8 Supercar racing.
"Holden! Holden!" says a youthful, skinny looking bloke in his jump suit, smiling away like Christmas had come early. It happened to be Française des Jeux pro Brad McGee.
And it turns out the four McGee bros - Brad, Rodney, Craig and Andrew - do something wild like this every year. "Last year it was go-karts; this year, we've stepped it up a notch," says Rod.
28 year-old Brad, the best-known of the McGee clan, tells Cyclingnews he's still got his Holden Monaro when he's in Sydney, but confesses it's an auto. "But don't tell anyone!" he adds. Okay, Brad...
"What about your car in Monaco - everyone drives a manual in Europe, right?" I ask.
"It is," says McGee, "but it's one of those Tiptronic things. A Porsche Cayenne," he admits, albeit a little bashfully, also looking a little more nervous as he's told to go find a helmet and stand by the pit area.
Click here to read the rest of the story.
"They're not positive about it at all, but I hope they see the importance for myself"
- McGee is still debating with Française des Jeux team management over his participation at the 2006 Commonwealth Games
At this year's Vuelta, McGee showed his ability to do both, setting himself up with an excellent prologue before capturing the maillot oro a day later. In so doing, he attained his objective to become the only Australian to have worn all three Grand Tour leader's jerseys.
It appeared then that he was just the man to lead Robbie McEwen to a medal at the world road championships in Madrid, as well as realise some individual success in the time trial, but his back problems re-emerged and decided to strike himself out. "I came out of the Vuelta with that back injury again and I just didn't get on top of it. And I've been to the world's that many times just getting my arse kicked, and it's not a good way to finish off the season.
"The priority was to finish the season healthy," he says, "and the efforts required on the time trial bike could have blown the back out again."
Surprisingly, the back injury didn't happen as a result of an accident on the bike - it happened when moving house to his current European base in Monaco, which he tried to do a week before last year's Tour. "I still get ribbed about that by my brothers," McGee smiles, although unable to laugh about what's been his Achilles' heel the last year and a half. "We did an MRI and they basically peeled back the layers; I should have done that years ago.
"What it's shown is that there's a couple of vertebrae displaced, a bit of degeneration on the discs. Nothing major, but it's enough that when I'm in that riding position, you can see where it's pinching on a few nerves and that's what's giving the pain and lack of performance. So, with that, the chiropractors and physios that I work with, they've been able to do their job and they know exactly what they're looking at."
Towards the end of last year, McGee began experimenting with a new, lower and more powerful time trialling position. With his seat jammed high and forward, the over-exposed position proved great for outright power, but once fatigue settled in, his lumbar (lower back) muscles were trying to compensate, triggering his old back problems and leading to a sudden loss of power. As a consequence, he's had to drop his seat a little and change his position, and he'll be using this off-season to adapt to that. "We realise now why I'm getting that pain; definitely in the comfort it feels great - it's just a matter of being able to generate the same power I used to," he says.
If Brad McGee were to win gold at next year's Commonwealth Games,
Photo ©: epicimages.us

"The planning and programming starts here for season 2006, which involves everything from gym work to training to personnel - it's taking what we did last year and revamping it. That's done, the bike's set-up, I'm pumping it out in the gym; the rest is basically getting all the rest of the shit happening."
This 'getting my shit together' and rediscovering his raw power that made him a wanted rider in the first place has a lot to do with his ambition to create history at the 2006 Commonwealth Games in Melbourne. Should McGee win the individual pursuit title on March 16 next year, he will become the first Australian in any sport to win four consecutive gold medals. But first - and what seems to be his biggest hurdle - he must convince Française des Jeux boss Marc Madiot it's a good idea.
"It's still up in the air... I'm debating with FDJ; at this stage, they're not positive about it at all, but I hope they see the importance for myself," he says wistfully.
"I think most people can understand that these chances don't come around very often. To win one, two, three... and now maybe four in a row, it says it all."