Recently on Cyclingnews.com
An interview with Ryan Bayley and Shane Perkins, November 6, 2005
A golden summer on the boards
For Ryan Bayley and Shane Perkins incidents during the past two years at the AIS academy in Adelaide are a distant memory, and now it's simply a matter of hard work, plenty of learning and a hectic schedule for the 2005-06 track season. Cyclingnews' Les Clarke caught up with these two fast men for a chat.
Ryan Bayley (l) and Shane Perkins
Photo ©: Gerard Knapp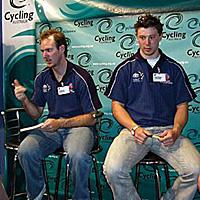 Mark French and Jobie Dajka had been considered two of Australia's rising stars in track cycling, and until the scandals surrounding both these riders put them out of the sport [in Australia, at least] they represented part of the next generation of male sprinters following the likes of Shane Kelly and Brett Aitken to the top of the track sprinting tree. French was involved in a doping scandal before last year's Olympics, and earlier this year Dajka was involved in verbal and physical outbursts against the administration of the sport in the country.
Many observers saw this as an indication that something was wrong with the AIS programme, and the claims of these two athletes pointed to an institution aimed at developing strong working bonds within an elite group of riders that was in fact breeding something quite the opposite. That couldn't be further from the truth, says dual gold medallist Ryan Bayley, one the most experienced riders in the AIS squad. "It was only those two individuals," he says, "They made a decision to do what they did and that doesn't really reflect on us." This is something 19-year-old sprinter Shane Perkins believes, saying, "I just believe we're a lot better off at the moment. I think the group that we've got now has become kind of a little family to help each other through things. I wasn't around for very long beforehand, but I get the impression there were mind games and things like that going on, but now it's a lot better."
Bayley saw everything that went on and is philosophical about the effect of the actions of some individuals. "In the past there were a lot of head games being played - instead of people backing each other and supporting each other it was just a few stronger people trying to mess with the weaker people. It made things very difficult; obviously the programme received a bad rap because of the couple of idiots that went through the programme. It's a lot better now - the support's there and we help each other out. Unfortunately people still see the bad side of things, but we know where we've got to go - we just have to jump a few hurdles to get there sometimes."
Bayley wins gold
Photo ©: AFP

This season is busy for both riders; the highlight being a Commonwealth Games on home turf. But not before a hectic schedule involving plenty of travelling and some high-level competition. "The season's really weird at the moment because we've got the international and domestic seasons happening at the same time - normally summer is domestic season over here, then we go over to Europe and it's international season over there," says Bayley. "But unfortunately this season it's really stuffed up - one week we're here the next we're in Europe. It's made it really hectic, so we have no way of knowing exactly how to prepare for the sort of season we're up against. We're just trying to do everything we can - train hard, support each other and push it to see how it works...if it doesn't work we change it all for next year."
Bayley had a quieter season in 2004-05; after coming off an amazing Olympics campaign with two gold medals and newly-born celebrity, he injured himself while racing in Rockhampton in January this year, putting on hold most of his racing for the remainder of the season. For 2005-06 he's back, and looking to reassert himself in the sprinter's ranks, although he doesn't expect to be at the top of his game quite yet. "My form's coming up ok - I was supposed to go to Moscow [the first round of the track world cup], but my form's not quite where I wanted it to be, so it's just a case of getting a good training block going and then coming out and doing something special at the next world cup round in Manchester."
Shane Perkins
Photo ©: Mitch Friedman

Perkins represents the future of elite men's track sprinting in Australia, recently joining the senior ranks and hopeful for a solid first season racing against some of the world's best. Having the presence of a rider like Bayley around most of the time cannot be underestimated, and he knows it. "I think it's awesome - Ryan's got a pretty relaxed approach and like I said before there were head games going on in the past, but there's nothing like that with Ryan; everyone enjoys each other's company and everyone's there supporting each other. You're living with these people and sometimes little things come up, but at the end of the day you have a laugh and get over it."
The 19-year-old Victorian is definitely fast; he won the men's sprint at the 2004 junior world championships, defeating American rider Michael Blatchford on home turf. He's hoping to perform well at next year's Commonwealth Games in the team sprint, but isn't hyping up his chances, saying, "The thing for me is the team sprint - getting a good start for these guys is what it's about; obviously there's a little bit of pressure because I'll be 19 and Ryan won it when he was 19 so it'd be nice to do that, but...hopefully we can get into the final for first and second - that's the ultimate goal."
Ryan Bayley all dressed up
Photo ©: John Veage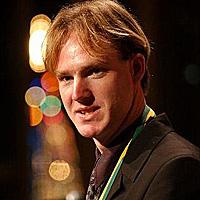 Bayley, as one of the more experienced members of the track squad, is optimistic about the Australian team's form ahead of the Commonwealth Games, particularly the women. "Looking at the group generally, everybody's form's coming up; we've got a lot of good competitors coming up - especially in the women, where there are three girls that could go either way. They're very competitive at the moment," he said. "In the men, we haven't quite got the numbers we had in the past; we had about five or six people that could ride the team [sprint], now we've got about three or four. The way training's going at the moment, things are picking up - Shane Kelly's getting really quick, and this Shane [Perkins] is really starting to step up into the team, coming up to the level we're at right at the moment. So the team's looking really comfortable for the Commonwealth Games."
He's under no illusions, however, that the competition will be stiff, saying, "Now we've just got to figure out where the rest of the teams are at; the British and Scottish teams, and people like Barry Ford - if you give him an inch he'll take a mile. He's an unbelievable rider and he's always nipped at our heels. In the last few month's we've seen him ride and he's done some unbelievable things - he's been really fast. Josiah [Ng] from Malaysia is a really crafty rider and in the keirin he can pull off anything - he made the Olympic final and he's obviously a really class rider."
Ryan Bayley with sister Kristine
Photo ©: Events du Monde

Both Perkins and Bayley believe the team sprint may be an area of weakness, but they're certainly not writing off their chances. "Probably our biggest battle is the team sprint - the other countries have got some really strong teams; we're kind of developing a team at the moment. Shane [Perkins] was saying he's focussing on the team sprint, but obviously between the two of us we've got some really good chances in the individual men's sprint. The keirin's a new event for him but he's developing into a fairly decent sprinter and hopefully I can back up and do what I did a few years ago. So as a team we're doing really well and we'll see what we can make of it," said Bayley.
Overall, Bayley believes the team can perform well if managed correctly, something he's sure will happen. "We've just got to manage everything - the team's looking after each other really well - and we've got really high goals after the last Commonwealth Games, so with the team we've got we can do really well across the board," he said. And with the track season upon us, all looks in good shape for another golden Australian summer on the boards of the world.