An interview with Antonio Cruz, March 23, 2005
The breakthrough
Antonio Cruz was a regular member of the US Postal squad, and continues to be so as part of the Discovery Channel outfit. The popular rider went four years in Europe without a win, until August last year when he won stage two of the Tour de l'Ain. Thing are looking good, and Shane Stokes discussed what could be a stellar 2005.
Antonio Cruz heads out
Photo ©: Steve Dascomb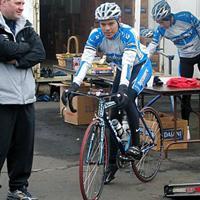 A big turning point in the career of US rider Antonio Cruz came on August 11th last year when the then US Postal Service rider sprinted to his first European career victory on the second stage of the Tour de l'Ain. José Azevedo, Benjamin Noval and Daniel Rincon were all clear with their teammate in a break towards the end of the 142 kilometre stage to Oyonnax and helped set him up for what was a very important win.
Four years in Europe without a victory had been a big mental block, but smashing through that barrier helped change his mentality. 'It was a big moment for me all right,' he agrees. 'It was good to show the team that if I had guys to set up something like that for me, that I can win. Taking that first European victory did a lot...it gave me confidence and really motivated me.'
Cruz went on to ride the Vuelta a Espana, taking fourth place on stage 16. He had been gunning for a win but says that while the legs were strong, things didn't work out tactically. "I got on the right breakaway, but played the cards sort of wrong. Di Luca and I put ourselves out of the victory trying to watch each other. But those two rides gave me a lot of confidence so I will try to do something special this year."
The 33-year-old is a former criterium specialist who took the US title in the discipline in 1999. One year later he won the U.S. Olympic Trials road race, earning a spot on the team for the Sydney games, a victory he considers as perhaps his most important of his career. He landed a trial with US Postal Service team and fitted in well, earning a contract for 2001. Since then he's been part of Lance's squad, migrating with most of the other riders across to Discovery once sponsorship changed. But with new colours comes new ambitions and, confidence buoyed by that win last season, he's setting his sights higher this spring.
Cycling News: What have you been up to since riding the Tour de Langkawi?
Antonio Cruz: Just a lot of training. It is kind of funny, because we have so many riders on the team now that there just wasn't enough racing for everybody. So it was a little weird, but at the same time it was useful because I had moved house. All the work I have had to do on the new place got really delayed due to the bad weather we've been having in California. Once an electrician or plumber can't come out and do his work because of the weather, things just keep snowballing and getting worse.
We had just sold our house, so we had to move into the new place. I had to make it work so my family can move in and not wonder what's happening while I am over here.
I actually did one race in the US; it was the opener for the US calendar. It was more to test my fitness and see where I am at, and I felt just fine. I placed 10th the first day and sixth the next, but all the teams were out there so I felt pretty confident that I was going alright.
CN: So when did you get back to Girona?
Antonio Cruz
Photo ©: Steve Dascomb

AC: It was last Tuesday, I think. I have been averaging about four and a half hours on the bike each day since, with a good amount of climbing. My next race is the Circuit de la Sarthe. I want to go there and at least try to win a stage. I feel really good, so... I am not sure, I have to check up the course profiles, but I will definitely try to get a good breakaway or maybe go for the overall.
CN: So you're pretty happy with your form...?
AC: Yeah. I have been training with some of the guys that have been doing some racing and I am up there. Except for Danielson; man, that guy is flying right now. We did some intervals together and he is just...I told him that he needs to at least win a stage in Setmana Catalana, or even go for the overall. He has got the form right now.
CN: So does that mean he is ahead of schedule, or is that what was expected of him?
AC: I think he is right on schedule. But the thing is that we don't really know yet what all the new guys are capable of. The team are trying to test them in events. I know that Paris-Nice was pretty tough for him, fighting for position. That was the hardest thing, to be in the race at the key times. I just told Tom that it is going to be like that in every big race and that you're not here to make friends, unfortunately. You have just got to go for it.
CN: You say that you've got the Circuit de la Sarthe up next ...what will you do after that?
AC: After that, I think we have about 10 days until we go to the Tour of Georgia. Then there is another week or so until the Giro. I should be on the team for both. There might be 10 or 11 of us on the roster for the Giro, and I think only nine go, but I shouldn't have a problem. I have enough experience doing the Vuelta. I know that Max Van Heeswijk wants to try to win some stages there, and I would like to win a stage there too. We could do something in the sprints, that's for sure. I told the team that I want to try to win at least one stage.
CN: How is Lance? Was his morale dented after Paris-Nice?
AC: I think he left at the right time, basically, so he didn't get too sick and have any problems afterwards. The funny thing was, the two and a half weeks extra that I stayed at home in the US, he was on television on what seemed like every other day. It was weird. My wife was calling me, telling me that she had just seen him on another talk show...he is a busy guy. It is no surprise that after doing a load of hard training and then going straight into racing, you can get sick pretty easily. But he will be fine.
CN: You had a win last year in the Tour de l'Ain, your first European victory...
AC: Yeah, it was. Guys like Azevedo and Noval set it up for me. It was good to show the team that, you know, if I had guys to set up something like that for me, that I can win. It wasn't a pure sprinter's stage, but I still had to sprint against a good 25 guys to get it.
CN: It must have been a big moment for you, psychologically, to get that first win...
AC: It was really big. It gives you confidence and really motivates you. Four years of racing in Europe and no victories...to finally get one does a lot mentally.
CN: You were also fourth on a stage of the Vuelta a Espana last year. I presume that, again, was important?
Antonio Cruz leads the pro 1 pack
Photo ©: Russ & Nancy Wright/AbbiOrca.com

AC: Yeah, it was. I told the directeurs there that I know I can win a stage in the last week and I am going to try to go for it. They were happy to hear it and they encouraged me to do so. I got on the right breakaway, but played the cards sort of wrong. Myself and Di Luca put ourselves out of the victory trying to watch each other. But those two rides gave me a lot of confidence so I will try to do something this year.
CN: What do you consider is your most important career moment?
AC: Well, I think winning the Olympic trials in 2000 in the US was the biggest career highlight for me - that, and going to the Olympics. Also, I did the Tour of Poland as a stagiaire with Postal and did pretty much everything that Johan asked me to do. So he was pretty happy with things. A lot of guys, when it comes down to following through the orders that you are given, just sort of clam up. The pressure is too much. But I just figured that I should just get on with it and do the job.
CN: How would you define yourself as a rider?
AC: It is funny. I grew up admiring cyclists like Merckx, Hinault, LeMond, and those are guys that could win stage races, they could win stages or they could win World Cups. That was always the kind of rider I wanted to be. I didn't want to just focus on one thing. So I have days where I will be in the first group on a really hard mountain stage in a stage race, or trying to sprint against Zabel and Pettachi. I don't know...I try to do a lot of things. And it changes a little bit too, with the role that you have during a race for the team, whether you are going to have the liberty to do so. But I like to try it all.
CN: What goals do you have for this year and beyond?
AC: The two biggest things right now for me, in the short-term, are a stage in the Giro and then coming back directly from the Giro to the US National Championships and winning that title.
CN: Riding the Giro could set things up well, in terms of building form for the championships. Especially if you won a stage there...
AC: Exactly. That's how I look at it. I know I can do it and when I do it, it will give me that extra confidence to go for the nationals.
CN: So, in light of your win last year and your good ride in the Vuelta, do you think you came into this season with more confidence and ambition than before?
AC: Oh yeah. A lot. It is funny, with that victory, it has really changed things so much for me mentally. When you know you can win and you don't doubt yourself as much, you are way more sure of things. It gives you a lot more motivation and drive. So I have a much more positive spin on racing, because you know that the ability to win is there...