An interview with Alison Dunlap, August 29, 2005
Ending an era
Three-time US National Cross Country Champion, 2001 World Mountain Bike Champion and two time Olympian Alison Dunlap (Luna Chix), ended her NORBA National Series career with a win in Mount Snow on Saturday. After a decade of racing during which she won a host of titles, the 36-year-old American left the sport in the best way possible. Cyclingnews' Steve Medcroft spoke with Dunlap about the end of an era and her plans for life after racing.
Alison Dunlap
Photo ©: Rob Karman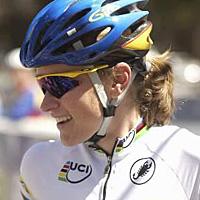 Age: 36
Date of birth: July 27, 1969
Place of birth: Denver, CO
Resides: Colorado Springs, CO
Racing disciplines: XC, road, cyclocross
Teams:

Selected Career highlights
2004

1st overall, Sea Otter Classic
US National XC & short track champion
5th, World Cyclocross Championships
2003:

1st overall, Sea Otter Classic
US National Cyclocross Champion
2002:

UCI World Cup champion
US National XC & short track champion
4th, World Cyclocross Championships
1st overall, Sea Otter Classic
2001:

UCI MTB World Champion
1st overall, Tour of Willamette (road)
2000:

1st overall, Redlands Classic
7th, World Cyclocross Championships
2nd overall, UCI World Cup
7th, Olympic XC race, Sydney
US Cyclocross champion
1999:

1st, Pan American Games (XC)
US National XC and short track champion
1st overall, Sea Otter Classic
US Cyclocross champion
Dunlap has said she wanted a NORBA National win during her final season to feel like she was going out on top, and although she had podiumed in four 2005 NORBAs before Mount Snow, Dunlap had only this one last chance to win. The Luna Chix rider slipped into the lead ahead of Willow Koerber (Subaru - Gary Fisher) after the end of the first of three six-mile laps and never looked back, winning the race in front of family, friends, and the mountain-bike community she has given so much to in the past decade; a fitting finale to her NORBA Nationals career.
Dunlap is now one race away from ending a cycling career that started with road racing in the mid nineties. She took up cycling after being cut from her Division A Colorado College soccer team, and became the only female member of the school cycling club, winning the womenís National Road Racing Championship in her senior year.
After placing 37th at the Atlanta Olympic Road Race, she met professional mountain biker and future husband Greg Frozley and soon switched her attention to mountain biking. The rest, as they say, is history. Dunlap went on to win NORBAs, US National Championships, Pan Am Games, World Cups, a World Cup Championship and, ultimately, the 2001 UCI World Championships in Vail, Colorado.
Cyclingnews: Knowing that your career is coming to a close, how were you feeling coming into this weekend?
Alison Dunlap: Iíve been mentally getting ready all season for the day when Iím done so Iíve been sad at every race I do - I think about how Iím never going to do that one again or that Iím never going to be at Mount Snow again. Or last week, I was like "thank God, Iím never going to be in Snowshoe!" But at the same time itís been really exciting to go do these races. So I would say that I was excited coming to Mount Snow but Iím definitely ready to be done with the season and done with my career.
Taking third in the Sea Otter XC
Photo ©: Rob O'Dea

CN: Whatís been your motivation for training this year?
AD: Knowing that Iím going to retire. I have a lot of pride and it doesnít matter what Iím doing at the end of the season - thatís the end of the season - I still have a full commitment ahead of me. I committed myself to riding on the Luna team and I donít want to let my teammates down. I also have a commitment to myself; I donít want to let myself down. I want to go out on top. The only way you do that is to train as hard as you always have.
CN: Congratulations on the Cross Country win at Mount Snow. How did that race unfold for you?
AD: It was a great day, it really was. I was motivated. I had like thirteen family members there. My goal for the season was to win a NORBA National and I hadnít done it yet so I knew this was my last chance. I donít want to say I was desperate but when you get to that point mentally, you can make your body do some amazing things.
Winning the World Championships, 2001
Photo ©: Rob Karman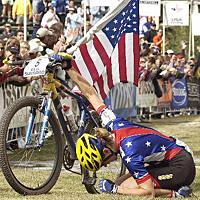 CN: How did you find yourself in the front of the race?
AD: Willow Koerber led the first lap. My teammate, Shonny [Vanlandingham - Luna Chix], was probably ten seconds behind her. I was another fifteen seconds behind Shonny. I passed my teammate really close to the bottom of a long descent and then I caught Willow right by the feed zone heading into the second lap. Once you start passing people and get into the lead, you get a lot of adrenalin. This was the first time all year that I was actually leading a race and so I had a huge amount of adrenalin and felt like there was no way I was going to lose once I got the lead. It was one of those days where you donít feel any pain. My legs felt strong, the body worked, I felt fast on the descents. I had fun and I havenít had fun in a race in a long time because Iíve been suffering. Iíve been in the top five or top ten and Iíve been struggling mentally. It was nice to have it all come together.
CN: You donít plan to race the World Championships after Mount Snow?
AD: Since I decided I wasnít going to race the World Cup series this year, I didnít want to go to Worlds just to say Iíve gone to Worlds. Iíve gone to something like 13 World Championships; I donít need to just go and be pack fill. I want to go only if I can be competitive.
Dunlap enjoyed the World Champ's jersey in 2002
Photo ©: Rob Karman

CN: So that means US Nationals in Mammoth will be your final race?
AD: Yeah. Itís crazy. One more to go.
CN: And then what? Whatís life like after Mammoth?
AD: Life? Lifeís so busy. We have our mountain bike camps (The Alison Dunlap Adventure Camps). Weíre running a camp in Moab in October. I have a trip to visit the in-laws in November. I think in the big picture though, weíre gong to expand our mountain bike camps and clinics. Iím also going to start coaching for Carmichael Training Systems.
Cross makes you strong!
Photo ©: Russ and Nancy Wright

CN: So itís not like the bike is going on a rack in the garage?
AD: Oh no. Iíll probably ride my bike as much as I always have, I just wonít be training. I wonít need to do intervals and I wont have to sit on the trainer for four hours when itís snowing outside. Those are all the things Iím ready to be done with.
CN: Without elite-level racing though, where will you get your competitive fix?
AD: Youíre right, Iím sure Iíll have to satisfy that craving to be competitive; Iím addicted to endorphins and adrenalin. Iíll probably still do local races. I race a lot with the men. My husband races and I can see doing the masters races with him. Or maybe even take up a different sport - do some Nordic Ski racing in the wintertime.
On the start for the anthem
Photo ©: Ken Keefer

CN: Do you have a coaching roster built up yet?
AD: No, no. I havenít even officially started because I wanted to get through this season first but Iíll be coaching mountain bike and road cyclists and Iím sure that will keep me plenty busy. Itís one way Iíll be able to stay involved with the sport. Because Iíve gotten so much from this sport, I donít want to hang up my shoes and walk away. Now is a chance for me to give something back because I donít have all the commitments of racing. I hope to still be involved with the Luna team in some capacity, maybe work with some junior women.
CN: What do you have planned to end out the season?
AD: Not much - my teammates go to Europe and I go home to train a little bit before Nationals. And then thatís it.