An interview with Alberto Contador, April 16, 2005
A new lease on life
Lance Armstrong isn't the only pro rider to benefit after overcoming a life-threatening situation: Hernan Alvarez Macias meets Alberto Contador, a man with a new lease on life.
Alberto Contador Velasco
Photo ©: AFP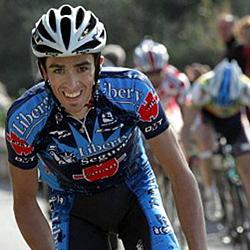 Age: 22
Date of birth: December 6, 1982
Turned professional: 2003
Teams: Liberty Seguros - Würth Team (2005- ), Liberty Seguros (2004), ONCE - Eroski (2003)
Career highlights
2005: Liberty Seguros - Würth Team
1st, GC, Setmana Catalana
1st, Combination classification, Setmana Catalana
1st, Stage 3, Setmana Catalana
1st, Stage 5, Tour Down Under
1st, Stage 5b, Vuelta al Pais Vasco
3rd, GC, Vuelta al Pais Vasco
4th, Mountains classification, Paris-Nice
5th, Young Riders' classification, Paris-Nice
15th, GC, Paris-Nice
2004: Liberty Seguros
1st, Mountains classification, Vuelta a Aragon
5th, Setmana Catalana
11th, Vuelta a Aragon
2003: ONCE - Eroski
1st, Stage 8, Tour de Pologne
4th, Vuelta a Castilla y Leon
Severe difficulties can sometimes turn into good fortune later on. That is what one should think when you hear a story like that of Alberto Contador, who last year overcame a life-threatening blood clot in his brain, risky surgery and a painful road to recovery to return the peloton.
His recovery took more than six months, and it was only this January where he was able to return to the elite level at the Jacob's Creek Tour Down Under. While Contador may have been Down Under, but he was far from outdone: the Liberty Seguros Würth rider proved his worth by winning the decisive fifth stage around Willunga, which ended in a 1-2-3 result for the team.
Since then, things have only got better, later winning two stages and the overall at the Setmana Catalana in March before finishing third overall and winning the final stage of the Vuelta al Pais Vasco - which is where Cyclingnews caught up with him after the first stage in Zarautz.
Cyclingnews: How do you rate your win at the Setmana Catalana?
Alberto Contador: It was a pretty big joy because I was at a level that wasn't possible before. My team supported me a lot since the first day of the race and I was able to win.
"it was a return to competition and it was the demonstration to myself that I was able to be there again"
- Alberto Contador rates his win on the fifth stage as the Tour Down Under as being one of the most significant in his career
CN: It probably wasn't nice for the Catalan spectators to see a rider from Madrid winning on their land, right?
AC: Not really. They showed much support to me even though I was from Madrid. I don't think there's the same rivalry in cycling as there is in soccer, for instance. I've got a lot of support coming from the Catalan fans.
CN: How was that victory on the most important stage to De Pal?
Contador with team-mate Luis Leon Sanchez Gil (in yellow)
Photo ©: Mark Gunter

AC: From the very beginning, my team thought of me as the main contender because of the route in general, taking into account the final day's time trial. At the beginning [of the stage], the strategy was to make the race harder and then try to culminate it with me up front. The whole team did great work: Roberto Heras made the big break in the race, showing he is already in good shape and I only had to centre on culminating the stage with one and a half kilometres to go.
CN: How did find Australia in January?
AC: Well, it was a big joy for me to be there. It was already a big satisfaction after the accident I had last year. To come back to the road and also with a victory [on Stage 5] on the decisive stage was... great! That victory was sweeter than the one in the Setmana Catalana.
CN: Really?
AC: Yes, indeed. Even though it has less prestige, it was a return to competition and it was the demonstration to myself that I was able to be there again.
CN: Tell us how about that accident you had last year?
AC: It was on the first stage of the Vuelta a Asturias. I was having some headaches a few days before and it felt like a vein was bleeding in my head while I was doing the stage. In fact, the bleeding was so bad that I started having convulsions and fell off the bike, and was lying unconscious on the side of the road. Then, 10 days later, I had the same thing at home. Later, they did some medical tests and I underwent surgery at a hospital in Madrid. After six months being off, I start riding again and I made my debut in Australia. The problem seems to be fixed and appears it won't happen again.
CN: That happened in spring, right?
Cyclist or Indian god?
Photo ©: Mark Gunter

AC: On May, on May 12. Doctors didn't prescribe me as being medically fit until November 17. I was recovering all that time without riding at all.
CN: It seems that a number of riders who suffered some severe problem perform better than the ones who haven't faced a difficult situation. The cases of Santiago Perez, Lance Armstrong or your own are good examples. What do you think?
AC: I think these kind of things really make you stronger in psychological terms. It makes you work harder, with more excitement; it makes you value everything in your life much more than before. That's why you should get the most out of every moment. Try to get the most of every opportunity that you have.
CN: It's like a comeback to life...
AC: That's right. On those moments I had much fear not for me but for my family. My family saw the TV images, they saw everything. I didn't remember anything and I wasn't conscious of anything at that time. Yes, indeed, it was a comeback to life for me.
CN: Your team director Manolo Saiz said you are a good climber with the ability to time trial. Considering that, do you think you are able to win some big races?
AC: I think it's good they have these expectations on me but it's a bit early to see if I will have chances in the big races; the condition is good, but it's a little early to make an evaluation. I think we have to wait for those races and then see how I am going.
CN: But the pressure on you has grown since your win in the Setmana Catalana, right?
AC: Yes, now rivals will watch me more, maybe there's more media pressure. I thought this would come sooner or later and this is something I should learn about.
CN: What are your goals for this year?
Setting things alight
Photo ©: AFP

AC: At first, my goal was to make a good performance peak at the beginning of the year, which I achieved pretty well. At the moment, I am in the Vuelta al Pais Vasco and I would like to do it in the best possible way. After that, I will rest, thinking of riding the Tour de France where I will certainly be of assistance; I will help my team and I will learn as much as I can there.
CN: How was your first day in the Basque Tour?
AC: Good, even though it was particularly hard because I feel down with 12 kilometres to go and it took me a big effort to rejoin the group. I reached the climb's start and then I had to make a big effort to be able to get in the leaders' group. We will see if the injuries are not serious and I am alright tomorrow.
CN: Given your characteristics, you look like a possible successor to Roberto Heras. What's your opinion?
AC: Well, it's praise for me to be compared with a rider like Roberto. I think it's too early to talk; we will see how I'm improving this year and the next years. Then, we will be able to talk.
CN: Do you see a big difference in level between the Setmana Catalana and the Basque Tour?
AC: No doubt about it, the Vuelta al Pais Vasco is bigger; it's a ProTour race. It noticeable there's a very big difference between each ProTour race and the rest of the races. All the riders come [to a ProTour race] to do their best and they come with the mentality to win the race. I think the Setmana Catalana is a good competition, but the Basque Tour's level is much higher.
CN: You said you are planning to ride the Tour. What about the Giro and the Vuelta?
AC: I'm a young rider and Manolo [Saiz] has decided that I do just one big tour. I think the decision is wise. Maybe it's not the right time to race two Grand Tours. I'm truly very happy. I can't wait to ride the Tour and with a little bit of luck, I will do that this year.