Driver's seat: The Scott Sunderland diary 2005
New tricks
Zottegem, Belgium, January 5, 2004
A very different Scott Sunderland Photo ©: Scott Sunderland & friends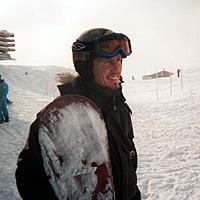 Dear Cyclingnews readers,
First of all I will take this opportunity to wish you all the very best for 2005; peace and good will.
My family and I spent the Xmas holidays in Europe this year. Exchanging the white sands and 30 degrees for white snow and -5 įC, we joined a group of friends to go snowboarding in Hintertux, Tirol.
Spectacular scenery Photo ©: Scott Sunderland & friends

We all had a great time, except for those few moments when our bodies came into contact with the slopes a bit harder than we had anticipated and bruised limbs were reminding us that we're no longer in our early twenties. Luckily "Chopper" from SmithOptics kitted me out with some great stuff; and even if I didn't go down those pistes as fast as I would have if I had taken up snowboarding that tad earlier in life, at least I looked the part. And after a couple of Gluhweins everything went that bit smoother.
My son SaŽn had a ball on the slopes and he learned heaps of new tricks on the board. We spent a ton of quality time together and SaŽn commented on how it is more fun now his dad is no longer a cyclist. The thought hit me that he has never known any different and that it must have been hard sometimes; when he had to be quiet 'cause dad had to rest, or when he would have liked to go and kick the ball with his father but that wasn't possible as it was the day before a big race.
On the way to rodeling Photo ©: Scott Sunderland & friends

SaŽn heads down the slope
Photo ©: Scott Sunderland & friends

But we're catching up big time and this holiday in the snow stood for great father-son bonding. Speaking of bonding; the rodeling experience gave me a momentary chill, as it brought back the recent memories of "Bjarne's team bonding boot camp" when we were taken up the mountain in an old army truck. As youngest competitor SaŽn absolutely killed it, and we finished a fantastic third! (rodeling is a Austrian tradition were they take you up a mountain, give you a drink for courage, beer, gluhwein, jšger tee or something else containing alcohol. Then they send you back down the mountain on a sled following the snow/ice covered roads you came up on. Normally 5 km to 6 km long. Great fun had by all!)
Getting used to it
Sabine - keeping an eye on our two year old rascal Tristan and also mothering her pregnant friend Siegrid - told me how relaxed she herself was, with me not thinking cycling 24 hours a day for the first time in the 12 years we've been together. It actually felt strange to me; to get up in the morning not worrying if the weather would be good enough to put in some big kilometres on the bike.
Tristan and his Ferrari
Photo ©: Scott Sunderland & friends

I'm still getting used to the idea that I'm no longer a pro; and I catch myself talking to the riders in team as if I still am. "When I do that type of training, I make sure of this or that..." it makes the guys laugh but they tell me it's cool. People ask me different questions now; I tend to answer them specifically from a riders' point of view still, and that's not a bad thing I guess. For the riders in the team it's good to know that their directors are profoundly aware what modern day cycling demands of a rider; just coming off the bike is a great asset for me.
Sabine and Tristan
Photo ©: Scott Sunderland & friends

Fact is that my legs were no longer sore after walking some solid kilometres with my family through the beautiful Tux valley, and I liked that! I'm still having to take good care of my injury beaten body, but at least I can have a bit more of a social life now. It was a fantastic holiday for my family, especially for my lovely wife as she never before had celebrated her birthday (New Year's day) in the midst of snowy mountains.
Back to work
But, after the relaxing and partying, it's time to get down to business. The riders I'm looking after have checked in and given me the update on how their training went over the last weeks. I've been sitting behind my desk again, answering mails, making phone calls and organizing matters handed to me. It's going great so far and I'm looking forward to the actual start of the racing season.
The team training camp is going to be held in Italy, from the 15th till the 25th; I'll catch up to you all after.
Ciao,
Scott