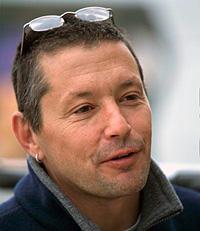 Photo ©: Chipps
Test to destruction: The Keith Bontrager diary 2005
Keith Bontrager is best known as the bike and component design guru behind his eponymous road and mountain bike components, but behind the scenes the man universally known as KB is an enthusiastic and well-respected endurance mountain bike racer.
KB has taken part in a over 50 24-hour races in the last few years, and in his diary takes us inside the mental, physical and technical challenges of long-distance mountain bike racing, starting with one of the sport's greatest tests, the seven-day TransRockies Challenge.
Post-Singlespeed World Championships - September 12, 2005
Your roots are showing
I'm back.
Jimbo gets everyone to listen up
Photo ©: Singlespeed Fellowship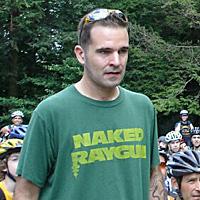 Things were fairly quiet after the SSWC (I've included a few last pics from the event). It had been pretty hectic in the month before that so it was time to chill a bit anyway.
I took a small tour of Amish PA. on the way from State College to Pittsburgh. It was an interesting drive. These folks live a very stark, rural existence. I stopped off for some baked goods, very tasty bread and pies. Of course, just driving through is not a good way to get into the details, so that will have to be left for the next opportunity.
Here is some Amish humour for you:
A Yoder got on a bus, sat next to a gentleman. After some time the gentleman complained, "I'm stiff from bowling." The reply - "I'm Yoder from Middlebury."
You get the idea.
This is, scarily enough, going back to my roots, in an indirect way. The first Bontrager (Johann Martin) arrived in Philly in the late 1700s. He was Amish. The clan spread west from there and many ended up scattered around PA. I am apparently the spawn of a black sheep though, so there was never a connection to the real deal for me. I learned about it in this book (a great read should you decide to research it further):
Descendants and Ancestors of Johann Martin Borntraeger of Treysa, Province of Hesse, Germany; Althornbach, the Palatinate, Meyersdale and Johnstown, Pennsylvania
The early Bontrager families descended from 1767 Immigrant (Johann) Martin Borntraeger have been added here by Dan A. Hochstetler. Frequent names of descendants include Bontrager, Christner, Eash, Hostetler, Mast, Miller, Schmucker, Schrock, Yoder. (291+pp. index. hardcover. 1993 repr. of 1923 ed. $22.50)
I do not get a commission on sales of this book.
Frank enjoys a new sports drink
Photo ©: Singlespeed Fellowship
I managed to find "The Strip" in downtown Pittsburgh (no, it's not what you are thinking...). It's a food market, with rows of fresh produce, specialty grocers, fishmongers and butcher shops - my kind of place. I couldn't take advantage of it because I wasn't cooking here, but I did manage to find some Japanese peppers (a small, mild cousin of a jalapeno) marinated in a sweet chili sauce, a huge bag of forbidden rice (black, sticky, nutty, makes a great Thai version of rice pudding with coconut) for a song, and fresh Scamorza (an Italian cheese I'd made friends with in Venice recently, similar to smoked Mozzarella). This is definitely a place I'll get back to on my next visit to the Burgh if I can line up a place to cook. Should be simple.
After all that I managed to get back to Santa Cruz in one piece.
I spent the next week taking it easy for the most part. I went running and rode my cross bike around a little to start getting ready for cross (and the 3 Peaks which is back on the calendar!). I run a lot, but cut back at least a month before an important event. The risk of starting up some sort of minor injury is too high when I run a lot. So the first time out was not much fun - it'd been too long since the last time out.
The second run was better though. It was on a 10km hilly course near my house, one I have run often over the years. It started OK, not great, but better than the first a few days before. About half way around, after the second steep hill, things started working. There is this feeling I have on runs sometimes - I stop feeling my legs, things start to flow and speed is easy, more comfortable than going slow. That's what happened yesterday. My time was as good as I have ever had on the course going back about 15 years (including my soccer years when I ran a lot).
Surely you're gonna open that...?
Photo ©: Singlespeed Fellowship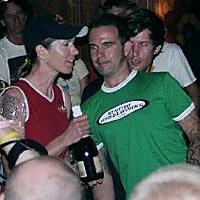 That's not shocking from a fitness POV. I should be fit by now, and my rides last week have been fine in that regard though I haven't pushed it. It's a good reminder that the fitness from one activity doesn't automatically transfer to another, and that the efficiency required for the other can come back quickly. I'd be a runner if they could all be that way. It would be nice to feel what it is like to be an elite runner one day. That's only a dream for me and most people of course.
The main activity during the week off was cleaning out my garage. This was similar enough to long days on a bike that I counted it as training. You'd have to see my garage to get a feeling for that.
The stuff I got rid of was largely what was left from the shop when we closed it, or things I have had around forever, so most of it was dated. But it was still good, useful to someone and a fair amount of it was "collectable" in the sense that it was old enough to be useless for someone who rides seriously, but just right for those who like to have the old bikes around but who are not actually getting them dirty. I gave most of it to a guy at a local repair shop who works on a lot of these kinds of bikes, some of it to a local junior racing team, and the rest went to the charity shop. It was all well received. There is, unfortunately, still quite a bit more. The work paid off though, and the garage is much lighter now, easier to navigate, and there are quite a few homeless black widow spiders in Santa Cruz too. Sorry.
Scheduling the cleaning session was probably not something that should have happened, if resting was the primary goal. But there is this weird thing that happens after an extended trip racing - I am lost afterwards. My brain is so accustomed to the routine required to do the races that it doesn't cope well without something similar. Pointing it at the clean up was just the ticket.
Now I am off to Winter Park, Colorado to become familiar with the effects of riding at high altitude. I am going to ride with some dealers and sales guys for a few days to ease into it, and then there's a 24 hour race on the weekend to make sure that any fun I had getting used to the altitude with the lads is completely erased.
More to come,
KB