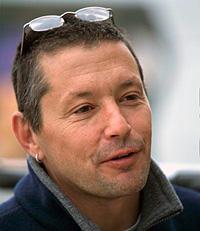 Photo ©: Chipps
Test to destruction: The Keith Bontrager diary 2005
Keith Bontrager is best known as the bike and component design guru behind his eponymous road and mountain bike components, but behind the scenes the man universally known as KB is an enthusiastic and well-respected endurance mountain bike racer.
KB has taken part in a over 50 24-hour races in the last few years, and in his diary takes us inside the mental, physical and technical challenges of long-distance mountain bike racing, starting with one of the sport's greatest tests, the seven-day TransRockies Challenge.
Singlespeed World Championships - August 24, 2005
More singlespeed wonders
First I wanted to finish off the last post by adding some of Rudy's art and a shot of Ivan. Check the photos. Rudy is good. Ivan rules.
Back to the race.
Marla, Frank, Eric and Brian
Photo ©: Singlespeed Fellowship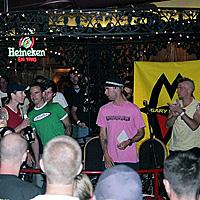 The rest of the prologue legs were uneventful and quiet for me, though there was some mayhem downtown. I managed to escape the serious drinking by staying 20 miles from the pubs in an old beat down 4H camp with some of the folks I'd been staying with in Pittsburgh. Secretly I had hoped for something like this because, as much as this goes against the traditional pre-race programme laid out by the Mullahs of the One True Single Speed Jihad, starting a hard, technical, three hour race, with lots of climbing, in heat, with only one gear, while feeling bloated and hungover just seemed like the wrong way to go about it. I know some folks that can do it that way, but I have never been able to. Dunno - maybe I won't make the cut for martyrdom...
Anyway, the only pre-race highlight was the last six miles of gravel road that led to the 4H camp. I drove it at night even though the Chevy I got from Avis was very underpowered with a strange automatic transmission that wouldn't stay in the lower gears. The evening there was quiet except for a ping pong death match that went on pretty late.
Some of Rudy Nadler's art
Photo ©: Singlespeed Fellowship

The woods around State College are laced with singletrack. If the devil rides, and I am pretty sure he does (when he is not running along chasing pros up the cols in summer) it is very likely that he had a hand in laying these out. They are about as rocky and evil as they can be and still be called trails. In fact, it is occasionally not obvious that they ARE trails. There are a few big rock gardens that make one think they must have taken a wrong turn - the trail just seems to stop at this big pile of rocks... Then with a closer look, the trail doesn't stop. It goes out the other side, so these rocks are part of it. It just goes straight into those rocks, intentionally.
If you think you are good at riding rocky singletrack, or you just want to appreciate how good the locals here actually are, this has to be one of the stops on your knobby life tour. The folks at Mt Nittany Wheelsworks will be happy to show you the good lines. Watch them closely. And give it a couple of days too. You'll want to do it all properly, and it takes a few rides in the rocks to get the knack. Maybe more than a few.
If nothing else the experience will give you a refreshing reminder about the simplicity of road riding. The trails are listed here. Check with them for the most current details should you decide to take a shot at it.
Ivan bounds ahead
Photo ©: Singlespeed Fellowship

After that build up you'd be pretty disappointed if the course wasn't pretty damn gruelling. Here's what I consider to be an apt description from a local, swiped from a web forum (that I lost the url to - apologies to the author):
"I rode this course (probably pretty much the same course as ECNASSCU*) a few years ago....brutal. Make sure your dental insurance premiums are up to date. There are so many rocks here I think they imported them from the rocky mountains. Sharp, jagged, pointy rocks. And beside the start the first couple of miles are a rocky ridge ride, either up or down. Of course, I liked the uphill better. One section that I remember that was particularly brutal was the 12 minute white knuckle descent. It was by far the most exhausting. My arms were on FIRE at the bottom. I had to have the race promoter peel my fingers from my handle grips. The second notable section of terror was the downhill from hell with a monster rock garden of death at the bottom for which spectators gather to watch 80% of the riders endo, faceplanting on the rocks."
(* ECNASSCU - East Coast North America Single Speed Championships of the Universe - another Mt Nittany Wheelworks production)
Get the picture? The lads at Mt Nittany set up it up, making the most of the area's natural bounty of mineral deposits. It isn't anything unusual for them though - it's actually their unofficial "training ride #4". Eric does it all the time, in a little under two and a half hours. Too bad he wasn't racing. I know it was painful for him to watch.
Eric Roman organised the event
Photo ©: Singlespeed Fellowship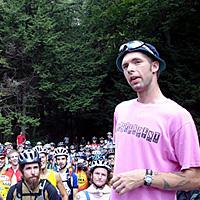 Other than a three-mile stretch of gradually descending double track in the middle of the course, the only places to relax on the route were the fire road climbs. There were rocks on the descents, rocks on the climbs, rocks on the singletrack, and even in the flat sections (though there weren't many of those - it was either going up or down most of the time. A few of the rocks were covered in moss, and wet. There were some logs scattered along the route too, some were big ones. But the rocks made them seem easy.
In addition to legs and lungs, forearm fitness is important in this race.
I've ridden here before. A couple of years ago I got in a day of riding after a long flight from the UK (and a 24 hour race the weekend before). In spite of the foggy state all of the travel and racing left me in, I knew, more or less, what was coming, and prepared appropriately. I have two single speed bikes - one a rigid steel hardtail that is great in Santa Cruz. The other is an old Sugar that I'd raced in the TransAlp many years ago and had put out to pasture. In the end I brought the Sugar because it has a little suspension travel in front and back, and that would be a good thing in the rocks.
It can be a little tricky to set up a suspension frame as a single speed because of the problems with chain adjustment. But the bike had vertical dropouts so that was something that was going to have to be dealt with anyway. A very old Sachs Aris rear derailleur, the one in the box of dead mechs that had the strongest return spring, did the trick. I pulled the chain as tight as I could so the derailleur cage was pointing almost directly at the chain ring to get the chain tight. The other key component I added to the mix were some tubeless wheels and the biggest tubeless tires (Jones XR) I had around, along with a pint of sealant in each. I knew that I would not be graceful enough to ride the line through all of the rock gardens, so this set up I could ride straight through a lot of the rock sections with decent control and no pinch flats. 32x18 gears proved to be about right for me.
Bontrager blood...
Photo ©: Singlespeed Fellowship

After all of the early starts in Canada this race went off at a very civil hour. There was a rider's meeting/social hour starting at about 9:30am and the race was to start at about 10:30am. These races typically start with a short run, something called a 'le mans start'. The bikes were left in a clearing where the trail pixies would move them around to eliminate all pre-race tactics (where's my damn bike?), and 400 of us stood around in a gravel parking lot admiring the novel team kit some decided to show up in (can you actually ride in that?). Eric read us the rules (not many) including "no bike upgrades after the run". Then he wished us well and said go.
I had no idea which direction we would be running. I thought I was at the right end of the lot because Eric had been pointing off in my direction. It turned out that I was at the wrong end. Travis (Brown) gave me the winning tip at dinner that night. Watch where the local fast guys line up. Travis knows the tricks. The wrong end of the run is no place to be if you want to go off at a sporting pace. There is a simple rule of racing off road when there is singletrack early on the course - get as close to the front as possible as early as possible to avoid being stuck behind too many riders with no place to pass. But I was boxed in with no where to go, and walking, or shuffling; definitely not running. Barely half way through the running course, while I saw the first riders on their bikes and away. Oh well - it's a long race and at least this way I have some folks to talk to for a while. Eventually it thinned out and I got to stretch my legs a little before I got on my bike.
You'll never guess who this is...
Photo ©: Singlespeed Fellowship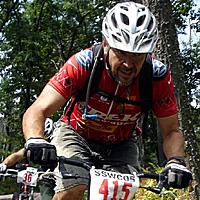 The first part of the climb was good, wide open fire road. Then it funneled into the singletrack and that was that. I rode where I was more or less, did a little cyclocross stuff to get around riders stopped on the rocks, and waited. But the singletrack was long and hard, and things thinned out pretty quickly, so I was happy and anaerobic soon enough. After the first big climb I was riding with people who were going the same speed as I was more or less, so that was where I'd be racing.
At one point I saw DJ Birch standing along the course (actually I saw his Hawaiian shirt first). He is fast, so something was wrong. Apparently, someone had grabbed his bike at the start, and he was left to ride the other guy's bike. Same bikes (Fisher Rig), same color, and apparently close enough to the same saddle height to work. The bike DJ ended up riding didn't have the tubeless wheels he was accustomed to so he pinch flatted right away. That led to the next issue - DJ rides with tools, tubes and CO2 on his bike. The other guy put it all in his Camelback. So the other guy had lots of tubes and tools, and DJ had none. That left DJ to begging for tubes and quick fills along the course. (One ironic aspect of that - DJ works for Innovations (rest of name?) - a company that makes quick fills.) Eventually he got going again.
Other than having to deal with serious levels of lactic acid in odd spots on the course (when you are used to riding on a bike with gears) there is one aspect of racing single speeds that I am starting to really like. Riding such small gears means you are spun out immediately on any descent that is not brake limited.
With Michael (Starsky and Hutch) Browne
Photo ©: Singlespeed Fellowship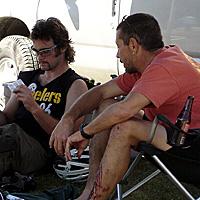 The game at that point is to spin it up as fast as you can, and then just roll as fast as you can. That means adopting the usual tight tuck and staying away from the brakes, just as it does on a steep road descent. But, unlike road racing, there are some other variables you get to tweak on the way down. You have to find lines on the trail that cause the least energy loss. If you ride into something that slows you down, soft sand for example, the speed you lose is gone. There is no way to get it back at the moment because you are going too fast to pedal effectively.
Sometimes these decisions are easy. A smooth, hard packed line is always best. But what if there isn't any line like that? Riding on rocks can be faster than loose sand or gravel, or not if they are too rough. Riding on the grass by the trail, or the edge of the dirt right by the grass, can be fastest sometimes. But the grass can also be slow if it is too thick, and of course grass can obscure rocks. You get to experiment, cautiously, or just know. It's pretty fun to catch the rider in front of you just because you rolled down a faster line. And, of course, you get to be pissed off when you give up spots you worked so hard to get when you blow it, lose speed, and riders come by you while you are helpless.
There was one last highlight for me. I rode up the last climb on Marla Streb's wheel.
And there was a lowlight. I tipped over on the last descent and managed to lose some skin. Actually, given the number of rocks on the course, any tip over was likely to end up in blood letting. But it wasn't too bad apparently, at least not when compared to the history of races on this course. There were only four trips to the hospital all day! After the race Eric was pretty happy. That was their best result so far. Funny, I don't recall reading about that in the race info.
Keith Bontrager, singlespeed warrior
Photo ©: Singlespeed Fellowship

There were many mechanical lowlights for the racers too. Rocks + speed = pinchflats. There are some pretty nice payoffs for switching to tubeless some times, and this was one of them. The hassle of having to unlearn and re-learn how to change a tire in the comfort of your garage is nothing compared to the hassle saved fixing multiple flats on a day like this. I might be accused of hawking again but we are not the only company selling, and I am not mentioning brands, right? Back to the race...
The winners finished in under two and a half hours, and I got back in three hours and change. Dunno where that is going to work out overall, but it's a fine day for me in this type of event. It also means I am probably going well after the race in Canada, so there is some hope for finishing off the rest of the season right. At 50 that's never a sure thing.
The race was not over though - the bike bit was only a qualifying heat. The finals and the world championship would be settled on the track - the go-kart track. The top 20 men, 10 more selected at random, and the top ten women raced for the ink.
Jessie Lalond finished first
Photo ©: Singlespeed Fellowship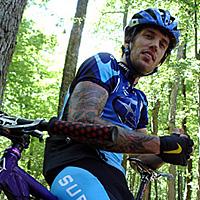 There were some technical complexities with the karts. They were powered by lawnmower type 4 stroke engines, and had big flat bumpers all around. They were slow, and safe. That meant that no one had enough snap out of corners to pass, they wouldn't get sideways, so bumping was the only way to go forward. And nudging in the corners was going to be tricky because the bumpers deflected most attempts. Only the most precise aggression (or luck) was going to pay off if you didn't get the hole shot.
The winners on the bike (Jessie Lalond and Abigail Hippely) didn't fare well in the karts. Jessie went through to the finals, but wasn't paying attention and got into a kart at the back of the grid to start. He moved up, but the leaders were gone by then. Abigail's race went about the same way. Tiffany Mann got my nomination for most aggressive driver. She's small, but she snarls well.
In the finals Brian Keech made his way artfully through the qualifying and then, after the leader had some (brain) fade in traffic, overtook everyone in one swoop to win the men's race. Marla Streb dominated the women's race wire to wire, with Carol Clemens (crossbike, tsk tsk) coming through with a steady drive for second. There was a big stack early in the women's race, and Marla had a huge gap that never shrank. She seems to have a knack for speed no matter what sort of wheels are underneath her. Marla and Brian have some new ink to show for their efforts, and Jessie and Abigail got bottles of a very nice, very old single malt whisky.
Abigail Hippely drives hard
Photo ©: Singlespeed Fellowship

The afterparty was the easiest, though potentially the most painful, stage of the event. I won't go into the details, other than to say that there was quite a bit of free beer available for everyone, and there wasn't much left at the end, and there were no visits to the emergency room (another record?).
Last thing - I wanted to clear some things up about singlespeed culture, or confuse things worse. We'll see. For an alternate take on singlespeeds and a clarified view of the way the Mullahs of the One True Single Speed Jihad think things ought to be, check this site out.
There are some decent points hidden in all of the tattoed, pierced, anarchist dogma. It makes no sense for this type of event to go full NORBA. That doesn't even work for NORBA. But I thought SSWC was about riding a bike without gears, racing a bit if you are into it, and hanging out, having some beers, and doing all that with others who did the same.
It is, in my book, and I admit my book is thin and simple, not about how many things you didn't like about the way the organisers decided to glue it all together.
For whatever reason, the guys who put on the race decided to formalise things to the extent that they did (and it was not very). I don't know exactly what they had in mind, but I suspect that getting permission to use the land and not donating their shop to a lawyer after the mayhem played a part in that. Eric has been to a lot of races, formal and otherwise. The thing seemed to work. No one had to sing uplifiting songs around the campfire. And, as far as I can tell, the prizes kicked down by the many sponsors, including Fisher, were fairly well received. Dunno. That could have been due to the amount of beer consumed.
Whatever the case, the event went well. The people I talked to had a good time, before, during, and after. In particular, the organisers were racers, very talented racers in fact. The course they came up with was brutal and demanding, their daily deal. It worked you, going up or down, and made you ride well in order to get around it with anything that resembled style. Frank McQuire and Eric Roman, the guys who arranged this deserve thanks for that, and respect. They even have tatoos...
Keith