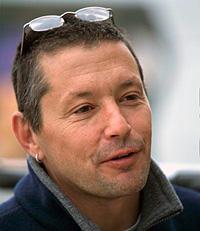 Photo ©: Chipps
Test to destruction: The Keith Bontrager diary 2005
Keith Bontrager is best known as the bike and component design guru behind his eponymous road and mountain bike components, but behind the scenes the man universally known as KB is an enthusiastic and well-respected endurance mountain bike racer.
KB has taken part in a over 50 24-hour races in the last few years, and in his diary takes us inside the mental, physical and technical challenges of long-distance mountain bike racing, starting with one of the sport's greatest tests, the seven-day TransRockies Challenge.
August 22, 2005
Many prologues, one stage
I had a day in Santa Cruz after coming in from Calgary and then I was off on the plane to State College, PA for some decompression and a bit more riding at SSWC05 [Singlespeed World Championships 2005].
Singlespeed worlds is a different sort of event. It's an endurance race with a unique character and format. In addition to the various associated social activities (many of which increase one handed fluid lifting strength, and later on in the evening, balance...) there is plenty of riding to do.
Check Hurl's report from the UK event held a few years back for background: [http://www.carsrcoffins.com/bikedown2.html]
As I see it, the weekend will be divided into stages, with many prologues and then the race at the end.
The first prologue for me was getting there. The weather in Chicago was going wrong and every air route in the nation going in that direction backed up. I was supposed to get into Pittsburgh at 11 PM. A two hour delay made that unlikely, and I was resigned to a hotel room in the Windy City. But when I finally got to Chicago they'd held the flight, and all of the other connecting flights in order to get as many people to where they were going as possible. Apparently UAL didn't want to buy 10,000 hotel rooms. Can't blame them for that.
The first flight was uneventful until we were descending into Chicago. We hit some turbulence, one of those seat belt stretchers where the plane drops 50 feet in a blink. This one had a shear component in it too, so the plane did a little roll in addition to the huck. There were some shrieks (not me - really). But the highlight of it all was an exclamation from the 10 year old sitting right behind me, in his most excited amusement park voice: "That was AWESOME - let's do it AGAIN!". It got chuckles from everyone, with the possible exception of the shriekers.
The lowlight of the flight was sitting on the runway waiting for a place to unload the plane and listening to the same ten year old whine the entire time. Trying to jam all of a day's flights into a few hours is not a simple, flowing process - he didn't get it. My MP3 player rescued me.
The last flight was only bad. I sat next to a fat midwestern businessman who had some attitude issues. I used the MP3 player again.
The next day I met up with Jeff Guerrero, Dirt Rag's art director, and some other one gear folks from around the country, including Rudy Nadler, and DJ and Jake, the singlespeed fast guys. DJ won the 24 hour nats in the single speed category. He makes that Rig fly. 'Nuff said.
I also had a good opportunity to refresh my memories of PA summer weather. It was like a sauna and it was only 10AM.
Back to the cast (SSWC is really about the cast), and to Rudy in particular. Rudy does some very cool posters for bike events like the RAAM and the 24 Hours of Old pueblo, and lots of other stuff I don't know about. He also rides a fixed gear bike off road. You can see his bike here: [http://www.fixedgeargallery.com/2005/apr/RudyNadler.htm]
The trails he usually rides on in Tucson, Arizona where he lives are steep, rocky, cactus strewn, and difficult. He spins along on that merciless sled turning the pedals at ungodly high cadences, while flowing through all of the technical sections like he owns them. You see him making timely little adjustments, skidding and hopping the bike around a bit as he lines up his pedals to do what he needs and to avoid ending the ride with collisions with rocks. He's a master. He did the same thing here on foreign terrain. I figure some of you who do a bit of track racing or fixed gear road riding can relate. Singlespeeds are tough to ride off road. Fixed gear bikes are much harder.
A local named Ron and his dog Ivan led us on a ride in Frick Park, a quick way to shake some of the rust out of the legs from the travels. I hadn't been on a bike since the last stage of the TransRockies so I wanted to take it easy. It was not an easy ride. Nothing is easy on a singlespeed. But my legs were fine and the ride was very fun, pretty amazing since the park is within a few minutes of downtown Pittsburgh. Ivan won of course - he schooled us all.
The ride ended at a parking lot filled with singlespeeds (though Carol was on her cross bike...tsk, tsk). The usual post ride BS flowed, along with pints of sweat, followed by the (first) pub crawl, where there were pints waiting to replace the pints lost. A short traffic law ignoring twiddle through town and we stopped at the first bike friendly dive bar. PBRs were $1.50 and they had lots, so the stop lasted an hour or so and was conducted largely on the sidewalk in front of the place, which gave us a way to monitor the large pile of bikes left alone and unlocked, as well as a way to excape the standard levels of tobacco smoke in the building.
Finally the route to the next pub was negotiated and the trek was lined up. No dinner was in sight. It was 9:30, and, between my dehydration (I went easy on the beer), hunger (the shitty road food had not been very motivating), and sleep deprivation (I am getting old and am not strong enough for much of that anymore), I was ready for some dinner. I convinced some others to mutiny and we went off to to enjoy an Indian curry feast along with some Kingfishers to put out the fire and wash it down.
We were only two blocks from Jeff's house, so the last leg of this stage was easy.
Keith