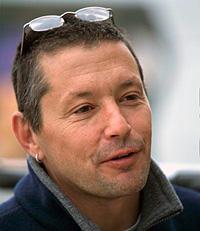 Photo ©: Chipps
Test to destruction: The Keith Bontrager diary 2005
Keith Bontrager is best known as the bike and component design guru behind his eponymous road and mountain bike components, but behind the scenes the man universally known as KB is an enthusiastic and well-respected endurance mountain bike racer.
KB has taken part in a over 50 24-hour races in the last few years, and in his diary takes us inside the mental, physical and technical challenges of long-distance mountain bike racing, starting with one of the sport's greatest tests, the seven-day TransRockies Challenge.
August 12, 2005
Repairs & recovery
The day's stage started in the rain. It was a light rain, and it didn't really effect much. It had rained overnight off and on and the first section of singletrack was pretty sloppy in spots. But this was a good day if you like singletrack, rolling or steep. A little rain wasn't going to spoil the party. And I was getting used to it. We'd been racing in mud for the last two days.
There was some road, then a lot of rolling singletrack, then a big fire road climb, then some steep singletrack climbing, with a nice mix of sun, rain and even a bit of hail thrown in.
After all that the course pointed us back down. The last summit and descent of the day are about as good as riding gets. You are above tree line with epic views in all directions. Then you roll off the edge and down a very steep twisty descent, with just the right mix of rocks, roots and switchbacks, and it goes on and on almost to the finish line. It's great payback for the effort it took to get up there. Other than a bonk after racing too hard on the first 40 km of single track (there was no place to eat really, I was having fun, and knew it was coming so it wasn't a panic), and getting lost in exactly the same place my teammate Steve Hess and I did two years ago (duhh... navigation decisions after 6 hours of racing are not always reliable), the stage was good. Hard, but good.
I spent a fair amount of time yesterday afternoon repairing my bike. The clay here is tough to ride through, and it's also hard on drive trains. It's a certainly that you will be replacing parts after a few wet stages.
The basic problem was that I'd smacked the rear derailleur on a rock without knowing it on stage 5, and, without spending time on the mysteries of an XT rapid rise derailleur, the consequence was that I couldn't get the chain on the largest two cogs. That made a few of the tougher climbs that much harder, so it had to be dealt with. While I was at it I replaced the chain and worked over the cables a little. The chain was shot. So were the cables but I didn't have the time or energy to sort them out, so they got the clean and oil treatment.
It worked out fine today. It's always nice when a bike runs smooth. Of course, the joy was short lived since there was only 9 km of road before the 30 km of mud that "seated it all in" very thoroughly.
Doing the math, you can see that repairing a bike can be issue for a rider, especialy when it rains. It's all you can do, and often more than you can do, to recover between stages. You need to eat, wash, and rest on a schedule that it fairly demanding. I use an extended version of my 24 hour racing routine (more on that below) but extensive bike repair throws that off badly. That was the case for me last night.
The fast riders, and the well organized amateurs have mechanics along with them at these events to take care of repairs and maintanence. They come in, hand the bike off, and it's ready for them the next day. That's the deluxe way to do it. I tried to get my friend Chris Garrison to come along and take care of our bikes, but she had to work and couldn't make it. Bummer. She's good.
There is another alternative. The Bike Shop in Calgary is a shop that provides technical support for the racers. They bring in a flock of mechanics to work on racers' bikes. On a dry day they have a handful of wrenches working all night. On a muddy day the numbers double or triple. They have a huge trailer of parts so it's likely they have what ever you need. Kevin runs the show there and has sorted things out well over the years. The charges are reasonable. They are sharp, and often perform miracles.
His advice on the equipment you ride is also worth mentioning - "Vanilla" (keep it simple). Use stuff that works, period. Stay away from things that are ultra light, finnicky, and, unless you have the wallet for it, the most expensive stuff. You'll be chewing through it if it rains.
Back to recovery. In 24 hour races I go through a simple routine between laps. Come in, start rehydrating immediately, and clean up. Then I eat a fairly specific mix of carbs and protein within 45 minutes of the end of the lap. There are many drinks that have the right mix of carbs and protein and also help with rehydration when they are mixed with water too. But I like real food - rice pudding in fact. It works. I also take some mineral supplements when it is hot to avoid cramps. Then I like to sleep for an hour or so about an hour and a half after finishing. That's about the time I start to feel a little sleepy, when the adrenalin is wearing off. The same sort of steps work here. After the nap I eat dinner, re-hydrating constantly.
That's what works for me, and I have had a few serious failures in this area, so the processes are not trivial. When I don't do that in a fairly specific order and on a fairly tight schedule, I suffer.
Even when it all goes right, I don't really feel 100% on the line the following day. How many times have you ridden hard for 7 hours and then done it again the next day, and the next, and so on? This is one of the aspects of stage racing that amateurs get to experience in the Transrockies that they probably won't ever get to do in any other event.
One of the most important things you learn is to trust your body. Do all the right steps to recover, and you will. If you are younger, you will recover better, and at 51... well, you better get it right. A little ways into the stage you start to feel good, things start to loosen up, and you have some power. It's a very cool feeling.
There is one short, and very fast stage to go. Some of the singletrack on the trails in the Canmore Nordic center are off limits, so this is going to be a new course for me. I am looking forward to it, and a beer in Canmore.
Cheers,
KB