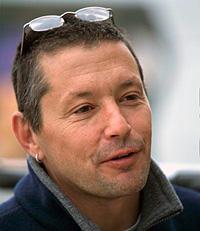 Photo ©: Chipps
Test to destruction: The Keith Bontrager diary 2005
Keith Bontrager is best known as the bike and component design guru behind his eponymous road and mountain bike components, but behind the scenes the man universally known as KB is an enthusiastic and well-respected endurance mountain bike racer.
KB has taken part in a over 50 24-hour races in the last few years, and in his diary takes us inside the mental, physical and technical challenges of long-distance mountain bike racing, starting with one of the sport's greatest tests, the seven-day TransRockies Challenge.
August 10, 2005
A testing day - for riders and tyres
Keith tucks into some post-race food
Photo ©: Dan Hudson

Today we raced from the rustic setting in Etherington Creek to the equally rustic campground at Sandy McNabb. Different places, similar situations. Very remote. Not a Starbucks in sight.
This area of Alberta is noteworthy for its scenery and for its geology. The scenery is Canadian Rockies, like riding in a postcard. Still haven't seen any bears, but I think they are getting interested as I get fatigued. They like easy chases. I did see a herd of mountain goats though, and managed to chase them off the highway the other day while riding.
Alberta geology is not always as stunning from a cyclist's point of view. There is a lot of clay in the dirt here. Tire sucking, brake pad eating, frame clogging, snot slick clay. It's only a problem when it rains of course.
We were facing an easier day on the bikes. Sixty-three kilometres, 1600 meters of vert, with mostly singletrack. We could be done in three and a half hours or so, washed, happy, full of food and resting by late afternoon.
But the weather is not always on the same page with my racing plans. It rained last night. The word of mouth forcast predicted only an inch or so. That was optimistic, and that optimism was unfounded. It dumped off and on all night.
Rain on the course is often not a big deal. In Santa Cruz a little rain makes the trails faster. That is not the case everywhere though. Here it changes everything.
Two years ago I rode this stage in dry conditions. It was fast, bumpy and fun.
Three years ago I rode in this event and it rained early, then sleeted on the top of the last pass. We were so cold we rode the descent with the brakes clamped in one position with hands so cold there was no hope of modulating them. Then, as we approached the 15 km to go point, the sun came out. Bliss. Then the mud we'd been riding in turned into clay, and went from a little sticky to modeling clay texture. End of bliss.
The bikes would not roll through it without collecting thick layers on the tires. That built up and jammed the V-brakes, and then we stopped. Fifteen kilometres to go, and no way to roll. We rode from puddle to puddle, straight through the deepest spots, trying to flush off the collecting mud. When there were no puddles, we rode with sticks to scrape the mud off the brakes, forks, tires and swing arms. Fifty feet forward, stop and scrape, fifty more feet forward, stop and scrape. It was a long day on a short course.
Something like that happened today, but with a few tweaks. The sun never came out so the drying process was much slower. There were some wheel stopping sections, but not that many. And we came prepared with disc brakes and mud tires. We rolled where we had pushed with no puddles or sticks required. More on that in a minute.
There was a short middle ring climb right out the start and the pace went up right away. The front runners rolled away, and we felt the wrath of age when we turned it up to stay with them. That's fine, we aren't after the overall. Our pace came down, and we rolled to the finish with the long stage tomorrow in mind.
Looks like rain tomorrow again, so this could get a little harder.
The last bit is about the tires. If you are put off by a discussion of bike parts that might be to commercial advantage, click off to somewhere else at this point. I am not selling you on anything though, just sharing some of the joy of a part designer who gets to sample his work in the field.
The mud tires we rode were the first out of the mold. My design. This event in mind. I didn't design them only for this event of course, but it was the clogging and pushing that motivated most of what I did on them.
I really dislike riding on traditional skinny mud tires, unless they are in deep mud. They are lethal on pavement, wet or dry, they do not work well in dry conditions, and they are slow rolling in most situations, so fixing this was the other motivation.
I made the casings 1.8in, tried to get a knob profile, pattern and height that would simulate a larger tire. The knobs are tall, but not the extreme height and wide spacing of a traditional tire so they are stable on hard stuff. The outer profile is the same as a 2.1 tire instead of the smaller radius of a traditional tire. And (this is the important part) they are designed in the new tubeless configuration we've been using for a year or so (I've been racing on them for 3 years), the one that requires sealant. They mount easily and can be run at low pressure without risking burping air out at the bead.
The low pressure a tubeless tire makes possible, along with the light, supple feel of the new casing configuration should let a small tire feel as plush and grippy as a fatter one.
They worked. Very well. Some of the descents we rode today are fast, rocky and rooty, and the soft tire gripped everywhere without any surprises. They felt like real tires everywhere else too, on the hard packed gravel and pavement. The only drawback with the small tire is that you have to choose lines that avoid rocks large enough to kill the rim, and that is not a big deal.
I was stoked. There are not that opportunities to close the circle like this when I design something, on the same course with such different results. It is definitely a more satisfying result when it is my ass in the saddle that benefits from it too.
No podium this eve, but that gives us more sleep. We even moved up to second in GC, so that will keep us motivated. Got to look on the bright side, eh?
More tomorrow.
Cheers,
KB