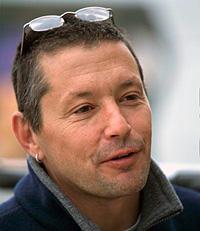 Photo ©: Chipps
Test to destruction: The Keith Bontrager diary 2005
Keith Bontrager is best known as the bike and component design guru behind his eponymous road and mountain bike components, but behind the scenes the man universally known as KB is an enthusiastic and well-respected endurance mountain bike racer.
KB has taken part in a over 50 24-hour races in the last few years, and in his diary takes us inside the mental, physical and technical challenges of long-distance mountain bike racing, starting with one of the sport's greatest tests, the seven-day TransRockies Challenge.
August 8, 2005
Bears, recovery and getting in the running
Dunno how many of you can actually look at the course profiles, and I am not sure if it is online anywhere, but if you can you will know that the profile I wrote up yesterday was for stage 3. That much brain fade after a short stage means that this rambling is likely to go much further off course as we get deeper into this thing. I'll apologize in advance.
One aspect of the race that differs from pro stage racing is the recovery rituals and accommodations. This race is in a region of Canada where not that many people live. Other than the start and finish towns (Fernie and Canmore) there are not too many people around. Some of the stages finish in very small towns, and some finish where there are only bears and squirrels. I like squirrels, though only have had a few brief meetings with bears. They seem a bit standoffish, which might be a good thing I suppose. The bears are very large here.
On the first stage we finished in a place called Sparwood and that's where we stayed overnight. Sparwood is a nice little place, with a well stocked grocery store and a giant coal mining truck parked in the center of the town. The mayor of Sparwood, a great guy with a sense of humor ("my advice to you if you are going to ride in an area where there are bears is to always ride with someone a little slower than you.") said that the TransRockies was the biggest thing to happen to Sparwood. You get the idea.
There are no nice hotels or Italian restaurants for post race feeds like there are at the TransAlp. The organisers put up tent villages for the racers, and the community prepares an evening meal for everyone. Showers are in the local hockey rink (even the smallest towns have an ice rink - this IS Canada, eh). The tents are fine, simple two person arrangements that do the job after a hard day of riding. The pasta feed won't win any culinary awards, but everyone is so hungry by then it doesn't matter. It's always great. As a sometimes pretend chef, serving food to a swarm of hungry cyclists always results in a successful meal, even if you don't soak them down with wine first.
Recovery rituals are a little less organized than it would be with modern surroundings. You have to find a way to get yourself re-hydrated, washed, and fed, and that requires some planning. Finishing early helps.
I really enjoy the rustic aspect of the race. The place is quiet, except for the coal train that rumbles by at 5 AM, and the large clap of thunder that just boomed not far away. It smells good. There are trees everywhere. And the people that live around here are as friendly as it gets.
The course we rode today had two big climbs; the first at 30 km and the second at 100 km, with a long stretch of very scenic, slightly uphill leg-punishing fire road in between. The descent off the second climb ranks among the most treacherous technical sections in a formal race. It's called "Rock Pile Road" for good reason. The wide lane is completely covered with tennis ball to bowling ball sized rocks of irregular shapes. They move as you ride on them. Some stick up out of the base and are large enough to stop your front wheel. You can only ride it with some speed or you can't balance, and the moving rocks determine your line for you. You only get to try to avoid the big ones when you are unintentionally lined up on one. It's fun, sort of. You've ridden 107 km by then, so quick reflexes and good motor skills are in short supply.
The day went much better for most riders than they expected, probably because it wasn't too hot. Steve and I thought we'd won the stage but there was a team up the road a half hour so we came back down when we heard that. It's tough keeping track of things on the course, and there was a scrum across a foot bridge at 3 km that strung things out, so we never saw them. That might have been good in a way. We'd decided to ride a steady pace and not get sucked into a death race early. I don't think we could have stayed with them, and we could have really blown badly had we tried. It's still a long race, and we had some time on them from the first stage, so nothing is set yet. On the other hand, they were flying today, and if they can keep that up, it's all theirs.
The Rocky Mountain Team were flying again. It's sick how fast they are, and how fresh they look afterwards. Very cool.
Got to go eat.
Cheers,
KB