Recently on Cyclingnews.com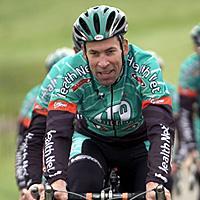 John Lieswyn
Photo: © Rob Karman
The John Lieswyn Diary
John Lieswyn is one of Cyclingnews' most popular and sometimes controversial diarists. John started road racing in Florida in 1985. After college graduation in 1990, he raced three seasons for the US National team in Germany, France and Italy, turning professional in 1993 for Coors Light. In 1995 he returned to Europe, scoring numerous top ten results and winning the Delemont (Switzerland) mountain stage of the Regio Tour. After taking a hiatus in 1996, he focused on the US domestic scene with over 40 major wins. In the pre and post season (US) he competes in South America, Australia and New Zealand, notably taking three stage wins in the Herald-Sun Tour (Australia), and overall victory at the Southland Tour (NZ) and Tour de Beauce (Canada). He has written for Cyclingnews.com since 1999 and continues this season with Team Health Net presented by Maxxis.
July 30, 2005
Swapping jerseys at the Tour de Toona
NOT NOW JEFF!
Photo ©: Mark Zalewski

Four men have held the yellow jersey in the last five days. Three of them from my team! Room 131 of the deluxe Comfort Inn (sarcasm… the place needs to be razed) is the room of US Pro Champ Wherry and former track world champion Henderson, and they've just been swapping around jerseys; yellow GC leader, green points leader.
I came into this race optimistic after my surprise return to form second place in my final Superweek race. Until I managed to re-injure a not-yet-healed adductor muscle where in attaches to the pelvis. So I soft-pedaled the time trial. Amazingly, even a partial effort netted me tenth in a completely unsuitable (to me) short and technical prologue.
On the second day I browsed a local car dealer, killing a bit of free time. The following letter to the editor resulted:
I'm writing from the unique perspective of one of your much loved and simultaneously reviled annual visitors: a bicycle racer. I've spent one week of every summer here since 1991, and seen many changes to your beautiful yet sad city. A conversation I had with a car salesman today, followed by an article about your struggling downtown, provided the impetus for me to write in.

I own an older Dodge minivan and decided to swing by the Dodge dealer on Plank road to check out the new products. I rolled in on my bicycle and it wasn't long before a salesman sauntered over, unsuccessfully trying to keep his baggy pants up around a waist that wasn't really grown to be belted, and obviously unhappy about leaving the airconditioned sales floor to have to come speak with a weirdo in Lycra on a bye-sickle (incorrect spelling intended). He did take advantage of the moment out-of-doors (if you can call the acres of pavement that is all Plank road and it's environs represent) to light up a cigarette. "Where ya from?" he ventured. "North Carolina" I responded. "You ever ridden with that, what's his name, Lance?" "Yeah, back when we were amateurs".

Now he was getting to his main point, which obviously wasn't selling a new minivan. "I'll be honest with ya… I hate that Tour de Toona. Don't get me wrong, I like sports just fine, but that bye-sickle race is just an inconvenience to motorists!" OH BOY! I get to be honest too! "Well, sir, it seems that many American cities turn out in the thousands (Chicago, Charlotte) or hundreds of thousands (Philly, San Fran) to see bicycle racing. In the more than decade I've been coming to your town, most stages of the Tour de Toona get twenty spectators if any. It's representative of the choices you and your fellow residents have made: to abandon a walkable, public downtown and replace it with this…" I waved my hand to indicate the car centered, garish, noisy and ugly strip mall of a street around us. "Yeah! This road is the NEW downtown!" he said proudly, not quite getting my drift. I kept on hammering: "long term, this kind of development will only lead to bigger people, higher medical costs, and the loss of a civic (social) life. But, it'll be really good for you!" He was now looking at his shoes as he extinguished his cigarette on the melting hot pavement underfoot. "With all these people unwilling to ever get out of their vehicles, you'll sell lots of them!" I pedaled away to a guilty sounding "good luck in your race!". After having spent a time training car salespeople in the mid 90's, I had much more to say to this too-honest gent but I hoped to leave him thinking a bit.

Rick Geist should be commended for trying to introduce a healthy, interesting sport to Blair County and Altoona. For bringing in thousands of dollars in taxes generated from the money we spend here over eight days. It's a world class event, featuring athletes from as far away as New Zealand. Rick is able to pull together hundreds of thousands of dollars in sponsorship and many hundreds more in-kind contributions for one of America's best stage races. But even with all the money, the 25 state troopers and their squad cars and motorbikes, the race couldn't happen without 400+ community volunteers. So to that extent, the people of Blair county and Altoona aren't all ticked off about road closures and road hogging cyclists out training. Many residents are tremendously supportive.

So why are residents like my car salesman so hostile? Could it be the way that the Mirror covers the event: "LIMITED ACCESS TO DOWNTOWN FOR MOTORISTS" instead of "here's how to get in to downtown to see the race". Or is there a bias, a fear of downtown, perhaps fostered by the entire page the Mirror devotes to "CRIME REPORT"? The article on the struggling downtown quotes a city manager saying that downtown has a liberal parking policy. How much money do the meters really bring in? As long as we are a car based culture, the only answer for downtown parking is NO meters. Rip 'em out, you'll save money on meter collectors and maintenance. Think about it; would you rather park on-street or in a parking garage? For those of us raised in suburbia, we have a parking garage aversion. Removing the meters will be your first step. Bringing back a major grocery store will give other businesses some assurance that downtown is coming back from dead. Citizens have a conscious decision to make: sit in the exhaust fumes of stop and go Plank Rd traffic to drive to each stop on your day's laundry list of things to do, or park once, grab your re-usable fabric sacks, and walk to stores in a human-scaled commercial zone. It's a choice many Americans are making today, and it's called many different things: "smart growth", "new urbanism", "multi-use development", or simply "walkable communities".

On the way back to the host house, I passed some of the most amazing road signs I've seen in my hundreds of thousands of miles logged all across America. They are "NO PEDESTRIANS" signs. Altoona, what future have you chosen?
Stage 2 - July 26: Johnstown Circuit Race, 108km
I like Johnstown. It's obviously hurting from a massive loss of manufacturing jobs. But the downtown looks alive, and features a ceramic tiled government building designed by a famous architect. Architects of the past decades seem to churn out more and more grotesque designs meant to evoke anything but humanism. This one bucks the glass steel and concrete trend.
Like last year, it rained on us but not too heavily. One positive result of the brief showers; a temporary respite from record breaking heat and humidity. The race flew by: something like 100 kilometers in just over two hours. We tried to deliver Hendy to the final corner…it wasn't pretty but our sprinter fixed the mess and delivered a win after we were drubbed by Colavita in the prologue.
Stage 3 - July 27: Johnstown - Altoona Road Race, 152.6km
I'm defending champ of this stage after having gotten away with Horner in the finale. This year I knew would be different. The pelvic fractures seem to be healed but the muscles and tendons are completely worked. I felt great for the first hour and then typically the injuries began to manifest in minor discomfort. We've come here with six GC/climber types, Sayers for selfless workman, and Hendy for the sprints. (Although he's in yellow now). Somebody has to step up and sacrifice to help out Sayers. Mike "so pro" Jones has already volunteered and soon I join in as well. Jones manages to make the big second group over the day's significant climb of Blue Knob, while I am the first guy not-to-make-it into what Moninger begins calling the "30 second club". Denoting the 37 riders who are within 30 seconds, plus or minus, of the race lead.
Stage 4 - July 28: Hollidaysburg Circuit Race, 96.6km
Stage 5 - July 29: Martinsburg Circuit Race, 123.6km
As far as racing goes, Hollidaysburg annoys me. In 1992 I was part of the total Saturn team domination of a circuit around this town, when it was the National Amateur Road Racing Championship and Race 1 of 2 for the Olympic Team. Defeated by Lance at the 1991 Road Nationals, I'd hoped to exact revenge in 1992. Some of the players: my then-teammate Chann McRae of Plano Texas. A training pal of Lance. Since Saturn had 6 riders in a 10 man breakaway, Lance didn't have much of a chance to win the championship this day. But he could factor in the selection of WHICH Saturn rider would succeed in riding away from the break. Each of us Saturn guys had a turn at attacking, and Lance brought each of us back time after time. Until Chann went! All that was left was determining the lead-out order for our 1988 Olympic 4th place geter and leader, Bob Mionske. Somehow I went first, which crucially meant that I would end up 10th and last out of the breakaway. Two days later I would miss making the Olympic team by a whisker of points… one of my great regrets. SO… Hollidaysburg and Altoona have a strange attraction and repulsion for me. Hard racing, every year. The best road courses in America. And, I've won stages and finally the overall win in 2004. Good and bad memories.
Back to 2005. We worked really, really hard to rein in a storming Aaron Olsen of Colavita/Sutter Home both days. He got in breaks that featured strong riders like Larkin, Lavalee, etc and were very hard to bring back. Had other teams not taken some responsibility for the stage honors or their men high on GC, then we very well may have had to give up the yellow. Had that eventuated, it wouldn't have been all bad. We had big plans for Saturday's "Queen" stage, the Altoona road race featuring three major climbs and an 8 kilometer fearsome ascent of the toughest side of Blue Knob Mountain.
Results - Stage 4
Results - Stage 5
Stage 6 - July 30: Blair County Road Race, 149.5km
The four leaders
Photo ©: Mark Zalewski

In '04 Moninger and I one-twoed Horner to wrest the yellow jersey off one of the hardest men to beat. Today we'll try the same thing. Sayers, Jones and I did our best to control a very agro field for the first couple hours. It seemed that EVERYONE wanted to be in the break. Nothing was sticking, because we were not going to let a group of more than six or seven riders go. During one flat stick jam session, I had finally worked my way to the front only to find us all misdirected. The pack weaved through stopped cars and gravel parking lots until we were back on course. Lots of shouting like "piss stop!" ensued. Someone quoted the cult movie "Anchorman", saying: "LOUD NOISES!". Hahahaha. After a 150 man pee break in an abandoned parking lot, we were underway again. A few more attacks had to be neutralized but we were now getting so close to the climb that most riders resigned themselves to the fact they weren't getting away and garnering a "head start" on the climbers. Two guys dawdled off but the three of us workers kept them close. Target Training (featuring none other than the same Chann McRae I referred to above, the guy who went on to ride for the biggest pro team in the world, Mapei, and finished fourth in the professional world road race championship. He's obviously racing for fun these days) took over and gave me just the rest I needed before the climb began in earnest.
I felt great on the ascent, considering, and was able to offer pace-making and encouragement to Hendy in the small fourth group. Colavita had most of their team in our group, so we knew that we'd be back in the race not long after the summit. By the time we got off the descent, Colavita had brought the 2nd, 3rd and 4th groups together into a thirty strong uber-group, chasing just Justin and Scott at about 20 seconds. A 70 km/h full-lean turn onto a metal surfaced bridge and we were onto a short steep climb. From the car, Jeff was suggesting and Scott was seconding a plan to shoot another Health Net pb Maxxis guy across to the first two. Failing that, Justin and Scott were to sit up and wait until the 2nd KOM climb. Unsure of my legs but encouraged after having climbed Blue Knob so smoothly, I took a big dig… instant gap! Jeff and Wherry were in my ear encouraging me, I'm away cleanly and my teammates are waiting for me ahead. Then there were three! Mark McCormack (Colavita) put in a huge bridge shortly after mine, but tactically we knew he wouldn't contribute to the break. Even though had he done so, it probably would have cemented 2nd overall for the tough Colavita rider. We knew that Mark didn't really care that much about 2nd; he was looking for a way to stay with Scott on the upcoming steeps so he could position himself for a real run at the race lead. Mark is a faster sprinter than Scott and with five time bonuses on the line during Sunday's final criterium stage, the Colavita man's strategy was obvious.
I was to "sell out", or give it everything, to get Justin and Scott to the final climb with a gap. While I didn't quite succeed (three guys bridged up) I was really just happy to be contributing so much to the team effort just six weeks after breaking my pelvis.
At the base of the final climb I was dropped from the break and subsequently couldn't even hold on to the less than thirty guys left in the peloton who came by me about 45 seconds behind the break. Too bad… I was dropped from this big group with just 1km to go to the summit. Had I made it, it would have been free ride for the final 13 kilometers mostly rolling and downhill. Instead I rode the last twenty minutes by myself, which was much harder. I was caught by three motivated riders within the last two kilometers, and was happy to sit on them anyway. At the team van I got the update: Scott had soloed away on the final climb to win the stage and take yellow, while Justin was in the four strong second group with McCormack and Hugh Moran of Aerospace Engineering. With 1 kilometer to go, an SUV driven by an elderly man pulled out right in front of Justin's group. Justin and Hugh went right over the hood. Hugh quickly remounted to finish 3rd or 4th, but Justin was bloodied, bruised (but otherwise OK) and his bike completely smashed. We think the 1km rule (or is it 3km now?) will be invoked to give Justin S.T. (same time) with the group he was with at the time of the accident.
Just one furious 45 minute criterium remains. Hendy has his eye on the green jersey, which he probably should have on his back now. Apparently the second intermediate sprint today he swore he was 3rd in, but the officials seem to have given the placing to the impressive Mercy Fitness rider Brad Huff. So Huff and Hendy are tied up going into a stage with a bunch of points available. Our priority will be defense of yellow, followed by the stage win, and finally we'll look for opportunities to get green too! Based on Colavita's sprinting strength here over the past few days, we'll have our hands full, though!
Final bit of news: our New Zealand work visas came through. Yippee!
Thanks for reading,
John
Email John at jlieswyn@cyclingnews.com